Philippe Carette, previously the president of Inmarsat's Aviation Business Unit, left the firm on 27 July 2022, roughly eight months after joining Inmarsat from Thales, RGN can confirm.
Company deputy president, aviation Niels Steenstrup has stepped in and is leading the Aviation Business Unit, on a temporary basis, between now and completion of the deal with Viasat, according to Inmarsat.
In a statement shared with RGN, Inmarsat said: "We will continue with our highly successful aviation business strategy, which is delivering strong growth for the company. This change is focused on ensuring continued execution of our key aviation business priorities and strong leadership through to completion of the deal with Viasat and beyond."
"We wish Philippe all the best for his future endeavours."
Steenstrup's updated LinkedIn profile states: "As president, I am responsible for leading Inmarsat's Aviation Business across commercial aviation inflight connectivity (IFC), business & general aviation (BGA), aircraft operations & safety (AOS) and advanced air mobility (AAM)."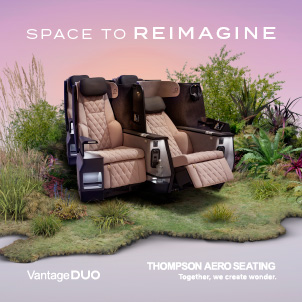 Other notable recent moves in industry include what could almost be seen as an executive swap between Panasonic Avionics and Intelsat.
To wit, Panasonic Avionics appointed John Wade as vice president, connectivity solutions, effective on 1 August.
Wade, who previously served as president of Commercial Aviation at Intelsat, oversees a team of network capacity engineers and satellite experts, while working very closely with sales, engineering, and product management to drive revenue and support airlines worldwide.
Prior to that, in May, Intelsat named Jeff Sare as president of the Commercial Aviation division. Sare previously served as vice president and Connectivity Solutions business segment leader at Panasonic Avionics. Since then, Intelsat has inked a global distribution partnership agreement with OneWeb, and detailed its plans for offering a new multi-orbit inflight connectivity service by 2024.
Related Articles:
Featured image credited to Inmarsat