Viasat is now eyeing an early calendar year 2022 launch of its first ViaSat-3 satellite, after experiencing program delays due to the COVID-19 crisis.
"The recent spikes in COVID-19 during the holidays and early part of calendar 2021 have led to intermittent supply chain and labor availability challenges as we work to complete the payload for the first ViaSat-3 satellite," explains the satellite operator and ISP in a letter to shareholders detailing earnings for the three month period ended 31 December 2020.
"While we were able to offset some of these impacts with schedule gains in other areas, at this time we believe the net effect is that the launch of the first satellite will most likely move into Q1 of calendar 2022."
Despite these challenges, and though work on the first two ViaSat-3 satellites has been affected by the intense wave of COVID-19 cases, management reports that Viasat is nearing delivery of the first satellite payload to Boeing, a milestone that starts the final phase of the countdown to launch readiness.
The three-satellite ViaSat-3 constellation will among other things enable Viasat to offer a near global, high-capacity Ka-band inflight connectivity (IFC) service to airlines and business aircraft operators. Viasat's current satellite footprint covers North America, Central America and the Caribbean; commercial air routes between North America and Europe; and European routes via the KA-SAT satellite, for which Viasat now has full control.
The first ViaSat-3 satellite will bolster Viasat's capacity in the Americas market; the second is for EMEA; and the third will cover Asia.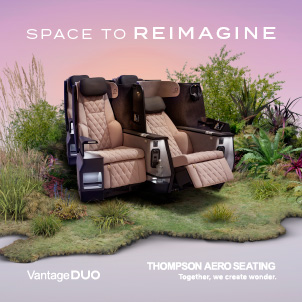 During its fiscal year 2021 third quarter, Viasat saw IFC revenue improve only slightly, sequentially, as many aircraft remained grounded. But the Carlsbad, California-based company remains "very optimistic" about its IFC business given three favorable tailwinds: the ramp up of COVID-19 vaccination rollouts, the Boeing 737 MAX's return-to-service and new IFC installations with Delta Air Lines and indeed KLM.
Together, these factors all offer potential for "meaningful growth", said the firm. The Delta contract, alone, will see Viasat's Ka IFC solution added to over 300 mainline narrowbody aircraft, including new deliveries and retrofits. Delta expects to have Viasat's IFC solution on board its aircraft starting this summer.
In the fiscal third quarter, Viasat reported overall revenue of $575.6 million, down 2% from the year-ago quarter. Net income grew over 4% year-over-year, and adjusted EBITDA grew 21% as margins expanded.
"Our keen focus on business optimization generated excellent financial results in the third quarter of fiscal year 2021  – even with ongoing COVID-19 headwinds in several business areas. We also earned important market wins, executed strategic transactions, and achieved key development milestones, which, along with the prospects of a potential end to the pandemic, create exciting potential for sustained growth in FY2022," said management.
Featured image credited to Jason Rabinowitz