Inflight Dublin, the popular airline content service provider that started developing its own software several years ago, and more recently built its own Everhub portable streaming entertainment and e-commerce server, is enjoying tremendous interest and take-up for its "one-stop-shop" approach. Now boasting an impressive roster of airline customers and trial partners, the Irish company shows no sign of slowing down.
"We've been busier than ever. Even during Covid, we've been busier than ever on the wireless side of our business. The number of clients we've rolled out over the last two years; it's just shot up," Inflight Dublin chief technology officer David Miller said at the APEX/IFSA EXPO in Long Beach.
Part of Inflight Dublin's value proposition is that it can provide the content, the Everhub hardware —  which can be powered by battery or aircraft power — plus the software and the design as a single offering from a single supplier. The cloud-enabled system comes with analytics built in. And this one-stop-shop model "works very well for new emerging airlines, people with smaller fleets. And that's why we've seen the uptake of it," said Miller.
"It also allows us certain flexibility. We've been offering a trial system over the last year or so where we basically … provide content and a live service for a couple of months. People could try and see what it's like. If they like it, they just basically turn it into a full deployment and that worked really well."
Favorable arrangements with studios
Being a content service provider (CSP) to airlines and having that legacy as its backbone gives Inflight Dublin a degree of enviable flexibility. During the Covid pandemic, for instance, some of the firm's CSP clients didn't want to switch on their seatback IFE systems. So they placed the Everhub server onboard aircraft as an interim solution to enable passengers to stream entertainment and buy-on-board portals to their own devices.
But Inflight Dublin's CSP positioning has other benefits as well. "So, we have special deals with some of the studios to have trial content onboard for a couple of months free-of-charge for the client. So even at this [APEX/IFSA] event you had at least three, if not four, say they want to start the trial with the system. So that's how we managed to get the growth," revealed Miller.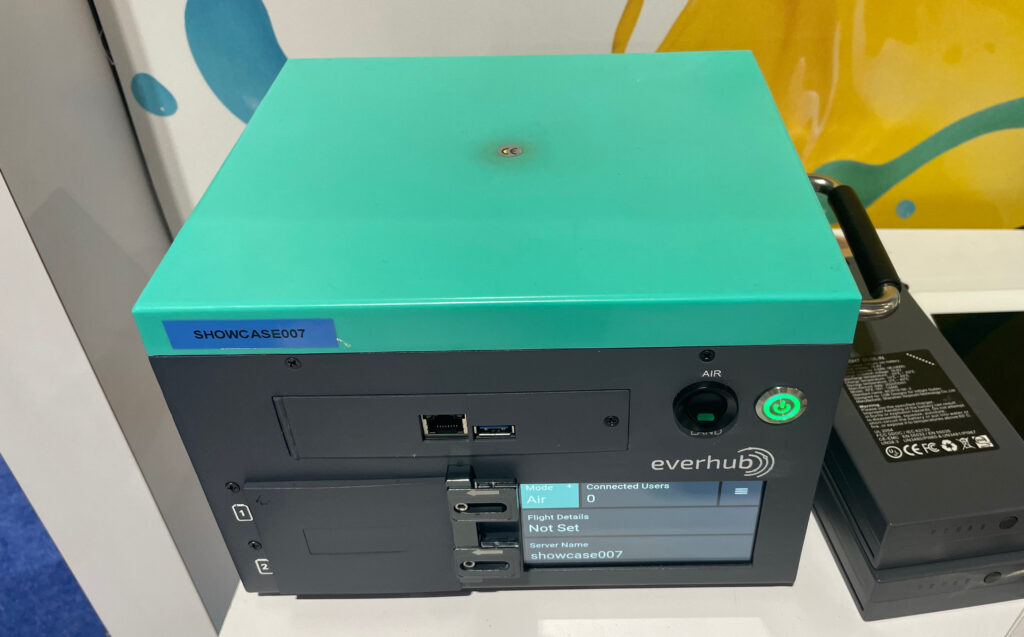 The Inflight Dublin CTO noted: "We've got great clients like, in Norway, we've got Widerøe. They did a trial for three or four months and now they've rolled out [battery powered Everhub] across 15 aircraft in their entire fleet." Inflight Dublin has also recently rolled out Everhub "on Neos in Italy, which is on aircraft power, and we're just rolling out on Condor. So, they're going across 35 aircraft on aircraft-power on their A320s, A321s and 757s."
Interestingly, for the Condor implementation, Inflight Dublin is adding external wireless access points in the ceilings of the aircraft. "So, you can actually connect 250 to 300 passengers to a single server," explained Miller.
This external WAP augment is also available to other operators, and indeed is in the pipeline for Ethiopian Airlines, one of Inflight Dublin's long-established content clients which will offer the solution on its Boeing 737 fleet. "And we got another one in the Middle East that we haven't announced yet — 25 aircraft for a Middle Eastern airline and that would be going with the aircraft-powered model. That will be announced in a couple of weeks," revealed Miller.
Technology partner agnostic
Several technology partner integrations, established in the last couple of years, have made Everhub even more compelling. "One of the things we've been doing during Covid and since is we've basically been packaging up our Everhub software platform which make it very easy to integrate with. So, we've got a number of partner integrations which we made available in the last couple of years," said Miller.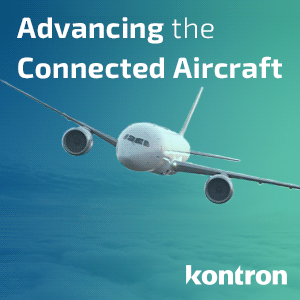 "So, we now have the Exploro product; their global Destination Explorer is available on the box [allowing passengers to investigate destinations across an airline's route network]. We have Gladi8tor games from the Netherlands, so their games platform is there; the PXCom ad server and the Retail inMotion retail system with Condor is there. And at this show we're announcing our first integration with Flightpath3D. So, you can now get the Flightpath3D moving map as an add-on for our product as well."
During the Future Travel Experience-APEX Asia Exhibition in Singapore, which is slated to open its doors on 9 November, Inflight Dublin plans to announce who will be the first of its content and Everhub clients to also license FlightPath3D, which will be onboard in a couple of months.
"What we're trying to do is be a best-of-breed software and content provider on a single platform. We've got an API approach which allows us to plug into third-party products," explained Miller. "So, we're not games experts; Gladi8tor are games experts, so their games portal comes as part of the system basically and that's actually … an advertising model so it's free for our clients to get access to some pretty good games. Same for the Exploro platforms, it's an advertising model, so they've got some great destination services that are available as part of the offer."
Everhub software rolls off the line under Airbus OSP
But Inflight Dublin's placement onboard aircraft is not relegated to the retrofit market. A couple of years ago, Airbus started inviting a cadre of new wireless partners to interface with its ALNA architecture to offer streaming entertainment solutions to airlines, initially for Airbus A320 and A330 family aircraft.
Under the so-called Open Software Platform (OSP) program, Airbus provides the embedded servers, routers, WAPs and operating software for a linefit W-IFE solution and then airlines have the flexibility to choose from a portfolio of partners who provide the software and content. Inflight Dublin was among the firms to subscribe, and indeed its suite was on display at the Airbus stand at the APEX/IFSA EXPO.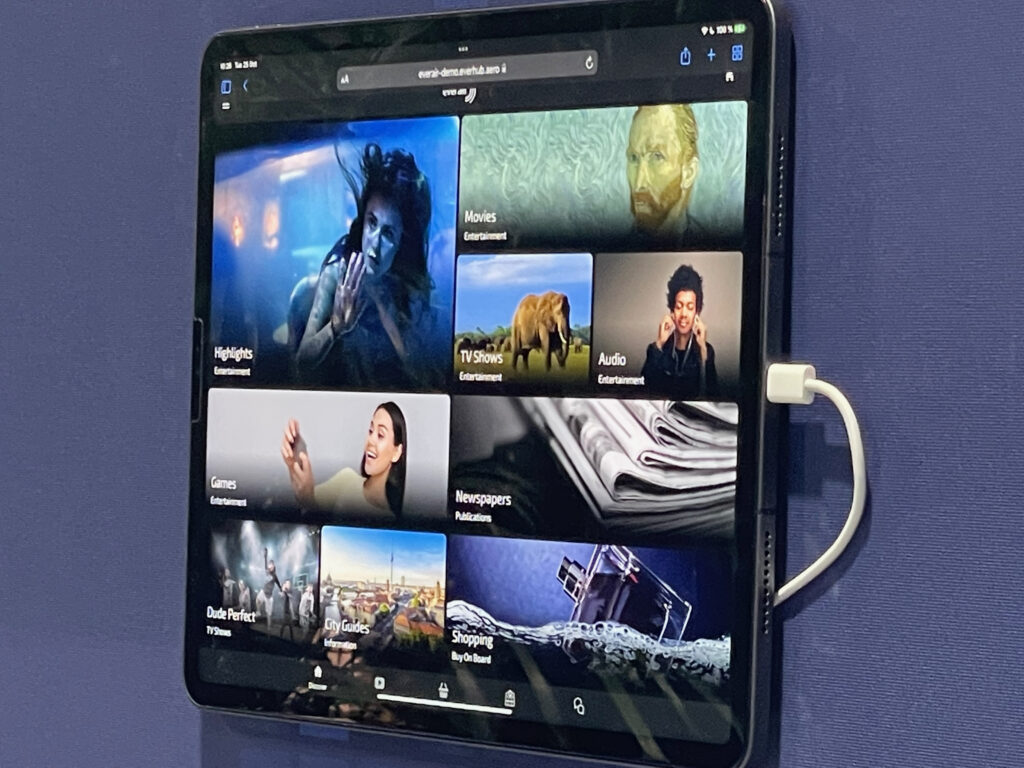 Miller told RGN that Inflight Dublin has already secured its first two customers with OSP — TUNISAIR and another as yet undisclosed customer, which have ordered two Airbus aircraft that will come with the OSP including Inflight Dublin's software and content. In the latter instance, the operator also flies with the Everhub server on some of its current aircraft. This ensures a consistency of service for passengers, whether they find themselves aboard an OSP aircraft or a jet with the portable Everhub solution onboard.
Related Articles: