Airbus has long offered an inflight connectivity backbone on board its aircraft, enabling approved aero ISPs to interface with the architecture to support their airline customers' various onboard Internet and connected in-seat IFE needs. Pioneered by Airbus and Kid-Systeme in 2007, ALNA – or Airline Network Architecture – was the first inflight connectivity hardware and software system available as linefit on all Airbus aircraft.
Now Airbus is inviting a cadre of new wireless partners to interface with its ALNA architecture to offer streaming entertainment solutions to airlines, initially for Airbus A320 and A330 family aircraft.
Under the airframer's optional new Open Software Platform (OSP) program, Airbus provides the embedded servers, routers, Wi-Fi access points and operating software for the W-IFE solution. Airlines then have the flexibility to choose from a growing portfolio of partners who provide the software and content (including 'airline native' apps) to load onto the Airbus platform for their passengers.
From an airline point of view, it's essentially about ticking a box for linefit hardware delivery and then contracting with one of the approved vendors to develop the wireless inflight services the airline wants, with the flexibility of changing software partners if they so choose at a future point.
"It's an absolute masterstroke for Airbus," says David Brown, business development director at Bluebox Aviation Systems, which is one of four wireless IFE providers initially selected to participate in OSP, and the first out of the gate to deliver its software and content to a customer as part of the program. Wetlease charter specialist Titan Airways has taken delivery of its first Airbus A321LR with Airbus OSP and Bluebox software.
For Airbus customers like Titan, OSP obviates the need to retrofit wireless IFE hardware to aircraft post-delivery. It "gets rid of the whole retrofit thing: you've got the benefits of a linefit hardware kit that comes with the aircraft, delivered. They've selected a small number of vendors [from which] the airline can choose which vendor they want to actually provide the software for the IFE and other services," notes Brown. However, airlines can choose to retrofit the package to older aircraft as well, ensuring consistency across their fleet.
Inflight Dublin, Collins Aerospace and Display Interactive have subscribed to OSP in addition to Bluebox, says Airbus, "with more to come".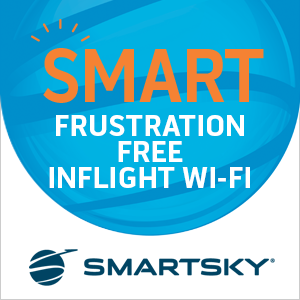 The airframer has long been eyeing a more flexible approach. Back in 2015, Airbus told Runway Girl Network that it was looking to offer the option for airlines to simply take the onboard wireless part of its ALNA system for content streaming.
"Flexibility for our customer is key," Airbus now tells RGN via spokesperson Martin Fendt. "The market of wireless IFE is very dynamic. For the airline this flexibility is provided by de-coupling the choice of wireless IFE partner from the underlying platform (hardware and operating software) that is provided by Airbus as the aircraft OEM. The OSP platform makes wireless IFE services offers much more comparable."
Battery and aircraft-powered portable W-IFE units have grown in popularity in recent years, with airlines adopting solutions from AirFi, Bluebox, Lufthansa Systems and others. Carried on board by catering or crew and placed in overhead bins or galleys, the boxes have provided a relatively quick and easy way to bring streaming content to passenger devices. But an integrated solution, whereby airlines can simply tick a box and order W-IFE as part of their aircraft – whilst using their preferred OSP-approved software and content partner – has its charms.
Airlines can customize their own onboard passenger experience "without any hardware or certification impact", notes Airbus, adding that this is an important benefit to simplify the process, especially as aircraft transition from one operator or aircraft lessor to another. "Another benefit of Airbus' integrated solution is that the W-IFE hardware does not encroach into the passengers' overhead bins or other personal space."
From the Bluebox perspective, OSP means that it can continue to sell its hardware-included systems for the retrofit market while providing software for the linefit-installed Airbus hardware.
Given that Bluebox is the first wireless IFE provider to unveil a customer for the OSP backbone, it has set up a dedicated Airbus lab at its headquarters in Dunfermline, north of Edinburgh. The lab contains the media server that hosts the Airbus ALNA-OSP platform, a 4G cellular link for on-ground data transfer, a wireless access point, and a test rig to simulate the interface between the platform and aircraft systems like the public address function, including the IFE pause modes.
ALNA is the hardware & software system that provides the environment for the optional OSP to run. "So, you can have ALNA without OSP, but you can't have OSP without ALNA," explains Bluebox head of marketing Catherine Brown.
The first Titan A321LR — which, RGN notes, appears to be using the two overwing exit and deactivated after-wing door Airbus Cabin-Flex layout — carried out its final system testing on a two-hour flight shortly after delivery from Airbus' factory, during the UK's COVID-19 lockdown, an impressive feat in itself.
The airline set up 150 iPads on the aircraft in order to confirm the performance of the system, including inflight connectivity, wireless content streaming, the moving map and the integration of third party apps into the Bluebox front-end hardware and Airbus back-end network.
Notably, the portal for Titan's landing pages direct passengers to IFE and connectivity, and Bluebox is handling the portal, not the connectivity provider. RGN is given to understand that the connection is powered by Inmarsat Global Xpress Ka-band.
"In this case, it's actually a highly complex and unusual operational environment due to the requirement for flexibility to cope with the different models Titan need for their different customers. And aside from the connectivity model, there were also several additional custom enhancements we developed for the TCS portal which demonstrate our ability to integrate much more than what is generally considered IFE," explains Catherine Brown.
Indeed, the Titan install is a particularly illustrative example of the benefits of the OSP platform: the aircraft will initially fly for luxury tour operator TCS World Travel, for which Bluebox has added a substantial amount of front-end branding, destination content together with a content management system, plus realtime flight information. But the aircraft could be deployed elsewhere in the future.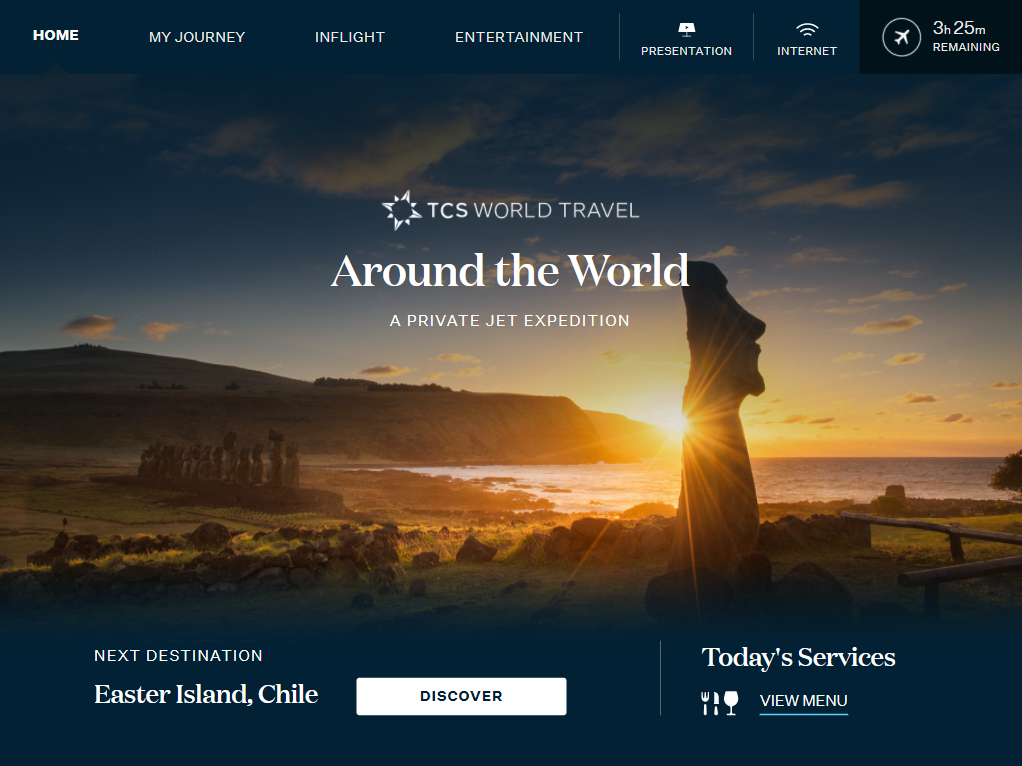 After the TCS contract, Bluebox's David Brown explains, "Titan are going to be using this aircraft for other customers. So we also have a Titan graphic user interface that can be used when they're chartering to football teams and things like that. But if they then have a charter, we can change the software completely within a day. We just turn up with our laptop and load a different software build onto the aircraft. There's not many other systems you could do that on."
While the Titan-Bluebox launch is the first announced installation for OSP, Bluebox tells Runway Girl Network that another A320 family aircraft has the solution installed but is currently in storage as a result of the COVID-19 pandemic.
Bluebox also sees an opportunity to deploy on more twin-aisle aircraft as part of OSP. Airbus has made OSP available (line-fit and retrofit) on Airbus A320 and A330 family aircraft, says Catherine Brown. (The A350 is a somewhat different beast for now.)
"For an airline (e.g. low-cost long-haul) or leasing/charter company already flying or originally intending to order new twin-aisle aircraft with no IFE – OSP offers a way to introduce IFE but as an alternative to a more expensive seatback system. With the connectivity option, it's another enticement. Add to that some in-seat power, app-free delivery, everything that W-IFE supports – such as on-board retail to passenger devices – and evolving passenger behaviour/demands for using their devices on board, and the business case merits for W-IFE on twin-aisle aircraft add up," she says.
Airbus has secured five launch customers for OSP; they include lessors and airlines; linefit and retrofit; and single-aisle and twin-aisle aircraft. Its early success is not surprising. Aviation is changing amid the COVID-19 crisis with a renewed focus on monetization. The Titan install is a good example of what Bluebox means when it says it offers more than IFE "where 'E' was once Entertainment, and now is about Engagement, and about Earning", says Catherine Brown.
"We're already doing onboard retail – F&B, duty free, attractions, and paid access to entertainment – on Bluebox Wow [portable Wi-Fi] for a customer, so we'd certainly be able to do so on OSP-based deployments as well."
Airbus' announcement falls hard on the heels of Boeing's own revelation that it is jumping into wireless IFE with a solution called Digital Direct, which will launch as a retrofit option but is under study for future linefit solutions.
Reporting by John Walton and Mary Kirby
Related Articles: