During the COVID-19 crisis, onboard retailing specialist Retail inMotion (RiM) has focused on finding cost-efficient and quick-to-implement solutions to help airlines restart their activities from an operational, product, and services standpoint. The company, which is part of airline catering giant LSG, is also exploring how product and service procedures will look in the future.
In an interview with Runway Girl Network, RiM chief commercial officer Jan Blanchard explains how RiM is supporting airlines as they navigate "the new normal" during the pandemic and beyond.
RGN: What trends will influence the new normal in aviation in your opinion?
Blanchard: As airlines have to recapitalize and enforce cost-saving measures, they are now focusing on offering more choice to passengers and generating additional revenue. Most airlines around the world are currently re-evaluating their onboard proposition, and we believe that some form of onboard retail will become prevalent for most carriers, especially for short-haul, economy class, and leisure travel operations.
Given that our solution is already deployed across multiple airline types from ultra low-cost carriers to tour operators and legacy flag carriers, we believe that we have what it takes to support this market shift. As passengers return to the air, they will demand sustainability, choice, and value on board.
We also think that the retail environment will extend beyond the cabin to both pre- and post-flight environments and we have already deployed products to support this area. Our Gate Sales solution allows airlines to sell and accept payment for ancillaries at the boarding gate such as excess baggage and last-minute seat upgrades.
Additionally, the RiM pre-order module allows airlines to offer their passengers enhanced retail propositions both at the time of booking and in advance of their flight. This is then integrated to the cabin crew ePOS device, ensuring that the crew can fulfill the specific orders of each passenger whilst on board.
RGN: What percentage of onboard catering on long-haul flights constituted pre-order meals before the COVID-19 pandemic? What type of growth do you expect in the future, in a post-pandemic world?
Blanchard: We have noticed that the demand for the pre-order/pre-select solution has increased in the last few months and many major airlines are speeding up the process of implementing a pre-order solution for their passengers. That's because there are plenty of benefits not just for the airline but also for their passengers.
For the airline, this solution is the answer to an enhanced passenger experience as they can offer a greater meal choice and guaranteed availability to passengers whilst also eliminating unnecessary food waste and additional weight on board.
This solution offers passengers greater flexibility and choice, therefore enhancing passenger satisfaction and Net Promoter Score (NPS) for the airline.
The key to a successful implementation of the pre-order solution is its full integration with the booking engine and airline caterer, which ensures that each passenger order is linked directly to their Passenger Name Record (PNR). This way, the selection can be easily refined or modified at any stage prior to the cut-off time for ordering pre-flight.
We already have a couple of success stories; we successfully implemented the pre-order solution for both Ryanair and Alaska Airlines. Within the next three years, we expect the majority of long-haul meals to be pre-selected/pre-ordered by passengers worldwide.
Talking about the future, we also believe that all onboard food will be available for pre-order before and during the flight. Passengers can pre-order items right from the start when they book their flight, which is the case for Ryanair, via the airline app, which Alaska Airlines is using, or even at the airport gate.
RGN: RiM's "Order2Seat" technology is an extension of its pre-order solution. Through integration with the inflight entertainment system, Order2Seat enables the passenger to browse, select and pay for products via their device with minimal interaction with crew. Can Order2Seat be offered via both wireless and seatback IFE or is it mainly aimed at the former? 
Blanchard: The RiM Order2Seat solution is available for both wireless and seatback IFE solutions. We used Docker container technology to enable a 'plug and play' retail solution for existing IFE infrastructures.
The system is fully integrated with the cabin crew handheld device. This makes it easier for the cabin crew to immediately receive, process, and fulfill the orders as they are placed by the passenger.
RiM is already working with a number of IFE providers and airlines worldwide to deploy this solution on seatbacks. We can also reveal that we recently signed a Strategic Teaming Agreement with Panasonic to develop RiM Solutions interface with their IFE systems. More information coming soon.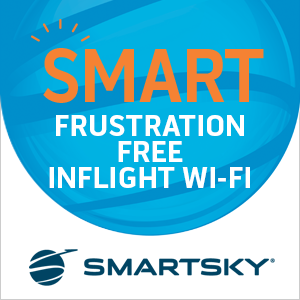 RGN: Wireless inflight entertainment provider Bluebox this year announced a partnership with RiM to ensure that browsing, ordering and card payment happens on passengers' own devices. It revealed that this so-called virtual trolley has already attracted two airline customers. Are you at liberty to discuss the rollout in collaboration with Bluebox? 
Blanchard: We're very excited about our partnership with Bluebox, which was revealed earlier this year. The goal of our collaboration is to offer an enhanced, touchless retail proposition for airlines. Our engineering team developed the RiM digital trolley to be easily integrated with third party systems and it is also fully integrated with the RiM onboard retail suite. Furthermore, it has various unique features such as offline payments and inventory tracking. We are looking forward to launching the service together with Bluebox.
We strongly believe that going forward, offering passengers the option to browse and make inflight purchases directly on their personal device from the comfort of their seat will become part of the onboard strategy of any airline. That said, we are confident that the initial two deployments with Bluebox are the first of many for the RiM virtual trolley solution.
RGN: RiM is clearly focused on supporting cash-free payment, contactless technology, digital receipts, and digital menus for airlines. Do point-of-sale devices need to be updated or replaced to facilitate true contactless exchanges and digital receipts? And if so, is RiM putting an estimated cost around these upgrades for airlines?
Blanchard: The last few months have proved that contactless payments and a paperless receipt cabin have become the cornerstone of a safe and convenient retail experience.
On the software front, the upgrade is straightforward. We started working toward facilitating a fast implementation of both contactless and receiptless, together with our partner acquirers, before the COVID-19 pandemic. The solution is now in place and can be implemented within weeks.
We've been working closely with some of our clients such as TUI Airlines, Ryanair, and Alaska Airlines as of late, who are using either RiM contactless and/or pre-order for an entirely touch-free cabin.
In some cases, it also involves an upgrade of the payment hardware devices. We want to make sure that the hardware refresh is as painless as possible, which is why we have partnered with PCI certified manufacturers. The upgrade cost depends on the hardware the client selected so it would be difficult to accurately estimate costs.
RGN: RiM uses trend analytics, consumer insights and its extensive experience to custom design onboard retail offerings for airlines. RiM's messaging suggests that a new Onboard Retail Lite concept can be brought to bear within eight to ten weeks "with minimum viable products and services". What constitutes a minimum viable product? When will this concept be available for passengers? And how will it improve airline profitability?
Blanchard: A Minimum Viable Product (MVP) includes all the necessary elements of an Onboard Retail Program delivered without additional modifications or customizations. The immediate benefit is that airlines can rapidly transform their onboard offering into a passenger-centric and revenue-generating model.
From a technology perspective, the RiM solution can be easily modified or enhanced with additional modules post go-live. All updates are performed and managed remotely and in-house, so that day-to-day operations are not affected by the changes.
This offering is already available and has been deployed to some of the world's largest airlines.
RGN: Does RiM have any specific goals around reducing onboard wastage that we should know about?
Blanchard: Yes, absolutely! Enabling waste reduction for airlines is a primary goal for Retail inMotion. From a technology perspective, we are already supporting this with our Perishable Load Planning (vPLP) module and continue to invest in this technology.
Our airline customers who are already using this module have seen a significant reduction in waste on perishable items loaded onboard whilst also ensuring that the most relevant product choice is available for passengers at all times.
The RiM technology works by analyzing historical sales data by season, month, week, day, flight timing and routing and, combined with an input from the airline booking engine, will assign an optimal quantity of each product to load per flight packing. This is digitally integrated into the RiM Bar Packing (vPack) module in the airline catering unit to ensure that bar packers can access this information in real time.
RGN: Are there any good alternatives to plastic for food packaging, and is RiM exploring those in tandem with LSG?
José Lirio, head of onboard retail Europe: The discussion around pre-packaged boxes is gaining momentum and even though it continues to be the most suitable option for the time being, given that the contact involved in serving the meals is greatly reduced, it will not be a sustainable choice once people start traveling again and the volume increases.
Passengers will demand more sustainable and healthy meals, which means that airlines will have to adjust again as demand starts to recover.