European budget airline easyJet plans to trial a new digital solution which will enable customers to browse, order and buy retail items on board via their mobile devices.
The pilot program will be implemented by airline catering giant gategroup and its analytics partner Black Swan Data.
Data sits at the heart of the "Epax" branded intelligent platform. Epax will use machine learning and data driven innovation to offer a smarter inflight retail experience.
"Customers will be presented with more of what they want, based on factors such as flight destination, flight duration and time of day, as well as insights generated by a wealth of inflight retail data," explains gategroup.
As a hardware supplier to gategroup, AirFi will provide portable, battery-powered onboard Wi-Fi units for the Epax trial.
"AirFi are not a formal partner for the trial but rather a supplier to gate for the trial," says a gategroup spokeswoman, adding that the trial will initially be conducted in a select number of hubs. "Of course if the pilot is successful, we would anticipate rollout across the full fleet."
Passengers can access the Epax retail experience by simply connecting to the onboard wireless network through their own browsers.
"We are always looking to enhance our customer's travel experience," says easyJet chief commercial and customer officer Robert Carey in a statement. "From searching for a flight to making sure they can eat what they want on board, we are excited to bring this new technology to market as a means to give customers more of what they want and reduce waste across the airline."
The low-cost carrier's Bistro & Boutique catalogue features meals, snacks, and refreshments.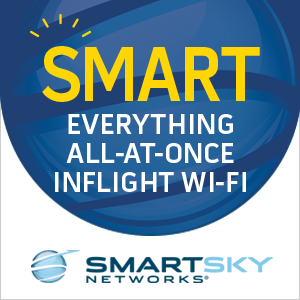 Though it does not offer onboard Internet to passengers, easyJet previously trialled wireless inflight entertainment from Spanish firm Immfly (which is now partnered with Boeing on a new Boeing Digital Direct solution). It is understood that the Immfly trial has ended at easyJet.
According to AirFi chief executive Job Heimerikx, the marketplace is changing very quickly due to the COVID-19 crisis. He suggests that a massive shift is occurring from a Wi-Fi/entertainment focus towards more of an onboard monetization focus.
"We at AirFi have been developing solutions combining onboard sales and entertainment over Wi-Fi for almost 10 years now. We are able to deploy these kind of solutions in a matter of three months," Heimerikx tells Runway Girl Network.
Gategroup is hailing the easyJet trial as an industry first. "For the first time anywhere in the world, passengers will be able to access a full on-board retail offering in one location from their own personal device, keeping physical contact with equipment or material onboard to a minimum," it says.
"Furthermore, by removing the need for physical menus and brochures the platform has the potential to remove hundreds of tonnes of paper a year from the cabin, while smarter loading of cabins based on retail data can be anticipated to reduce waste."
Related Articles: