Awaiting a new name, Zodiac Inflight Innovations/Safran in collaboration with Jet-Talk has developed an ARINC 792-compliant flat panel antenna that Zii chief commercial officer Larry Girard assured will be "the first antenna" to be certified for nextgen Inmarsat GX transmissions.
"So, I think we'll be the first with Inmarsat for sure. We're working this in conjunction with Inmarsat so they have to certify the terminal on their network and so forth," said Girard, confirming your writer's prior suspicion that the door to multiple nextgen GX antennas is open now that Honeywell has been named a commercial VAR for GX.
"We have been working this for quite a while," said Girard at the Aircraft Interiors Expo (AIX).
Jet-Talk is a joint venture between ST Electronics, the electronics arms of Singapore Technologies Engineering (ST Engineering), and SatixFy UK, a subsidiary of the Israeli-based SatixFy Ltd. Girard said Jet-Talk isn't ready to actually create an entire terminal, but it is "making the array and we're actually going to be integrating the antenna so it will be a Safran terminal but in cooperation with Jet-Talk as far as the arrays go."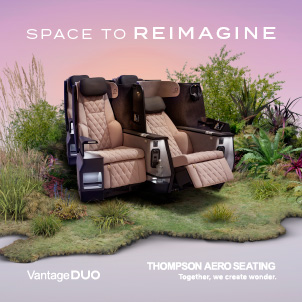 Zii was the first company selected by Airbus as a High Bandwidth Connectivity (HBC) provider for traditional GX hardware, which meant that Zii's particular package – inclusive of Honeywell's current JetWave terminal – is provided as buyer furnished equipment (BFE) on Airbus types. Zii's HBC is also provided as a linefit solution for the A350 platform, and is paired with Zii's RAVE IFE solution. (This is why, when Virgin Atlantic revealed details about its new A350 interior – confirming RAVE as the IFE – it did not come as a surprise that Inmarsat GX would provide the service and not Virgin's usual IFC provider, Gogo 2Ku. In short, Zii RAVE comes with Zii's HBC package powered by GX).
"And I think other than Thales, I think we're still in that position," said Girard in reference to Zii's position as HBC provider for GX on Airbus types.
Zii is not a service provider of GX, and is quite comfortable with that fact.
Intriguingly, confirmed Girard, "we're talking with Panasonic [a new GX VAR] about the ability for them to procure GX from us for linefit so we're going to be open to that."
On its stand at AIX, Zii offered some comparisons between the current JetWave hardware and its new flat panel antenna, which will be dramatically lighter and lower profile than JetWave (image below).
But Girard noted that the system is multi-beam to support OneWeb and others in Ku LEO, etc. "So if you go to the Jet-Talk booth, you'll see this 792 platform in Ku, and here we're showing the Ka. So we're working jointly with them on both."
What aircraft types will be the first to see this nextgen antenna transmitting GX? "We're going to be opportunistic," said the Zii executive. "So, we have over 500 [traditional] GX terminals in backlog, going out to 2020 so the idea here is that we want to transition our current customer base to this new terminal in support of Inmarsat's new satellite launch coming up in 2021, so Lufthansa is a strong candidate to be right in there, I mean they love this, they're talking to us about it. Qatar is that way. Everybody is."
Given Lufthansa Technik's comments to RGN about not wanting to rip and replace but rather find an easier way to retrofit new systems to aircraft with prior-gen kit, Girard's comments are fascinating indeed.
Whilst pointing at the new flat panel antenna, he told RGN: "So if you look at this, right, it shows a 791 adapter plate underneath. And so, we're designing this so that I can put the 792 on top of the 791. You don't get all of the opex benefit, because you're going to use the same radome. It's a tall radome. But it allows for a retrofit situation where new aircraft would get the 792 and the old aircraft would have the same antenna terminal but they wouldn't get some of the opex that goes along with it."
Related Articles: