In-seat power ports that charge passengers' gadgets in-flight have a much lower penetration on narrowbody aircraft than on widebody aircraft in today's world fleet. But Astronics Corporation believes it's just a matter of time before in-seat power is ubiquitous across single- and twin-aisle types.
"We think sooner or later, they're going to be as common; the installations on narrowbody aircraft are going to be as common as they are on widebody aircraft today," predicted Astronics chairman, president and CEO Peter Gundermann during the firm's 2Q earnings conference call.
He revealed that the cost of nose-to-tail in-seat power on a narrowbody "is typically somewhere in the range of $100,000 per ship" or thereabouts. That's certainly a meaningful investment for any airline to make, but passengers increasingly expect to be able to charge an array of devices in-flight.
As such, Astronics developed a new architecture for its popular EmPower-branded in-seat power system which will provide 60W Type-C and 10.5W Type-A USB ports at every seat. The ports can power and charge two devices simultaneously, including smart phones, tablets, laptops and other portable electronic devices.
Though Southwest Airlines had long avoided equipping its aircraft with in-seat power, it recently became the launch customer for Astronics' new USB-focused system, inking a deal that will see the solution installed on 475 Boeing 737 MAX 7 and MAX 8 twinjets, as part of the low-cost carrier's broader $2 billion cabin upgrade initiative to enhance the passenger experience including with faster onboard Internet.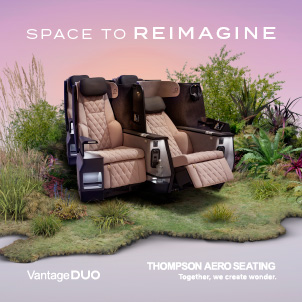 Astronics will begin delivering the shipsets to Southwest in the fourth quarter for retrofit installations on Southwest's existing MAX 8 fleet which will begin in early 2023. Deliveries to Boeing for installation on new Southwest aircraft on the production line will begin next year.
"So that's a positive program. It's only for the MAX fleet at Southwest," said Gundermann in August, noting, however that: "Southwest also runs a bunch of [737] NGs. And a question you might ask is, will they extend this program to those NGs? We think they might, as they plan to operate them for a while, but as of today, it's only for the MAX aircraft."
He says the very lightweight nature of the new system is what got Southwest interested and excited. "And we think it's going to play out positively in other narrowbody operators around the world," added the Astronics CEO.
One might also argue that if an airline offers wireless inflight entertainment and/or live connectivity to passengers, with paid tiers, there is further impetus for them to offer in-seat power to boot. How else can the full potential of an IFEC program be realized?
Related Articles:
Featured image credited to Southwest