With a growing demand for inflight power observed long before the amplification effects of COVID-19, the passenger experience industry is ready to deliver higher power USB-C sockets, while airlines — and their passengers — are certainly starting to ask for them.
Technically, what the industry calls USB-C is the USB Type-C connector offering charging via USB-3, USB-PD or other standards. But whatever they call it, airlines want it, Panasonic Avionics' director of product management, IFE & cabin systems Eric Canal tells Runway Girl Network.
"The customer desire to provide USB-C charging options for their passengers has grown significantly over the last couple of years to encompass the majority of airlines, and spans across all cabin classes from first class to economy. In just the last couple of years, USB-C has quickly become an expectation of the airlines," said Canal.
But the delays in making USB-C the default mainstream in the consumer market has slowed its spread to aircraft.
"In 2018 we expected that USB-C adoption would have been faster," says Burrana chief executive David Pook. "But the complexity of the 'one stop shop interface' has led to slower adoption with most devices performing best on proprietary cables and chargers, leading to less mass adoption."
KID-Systeme's director of sales, Mark Friebel, concurs on the proprietary factor. "A lot of technological advances have been made. Fast charging is one of the USPs [unique selling points] of smartphones today. But a sad truth is, that most of the fast charging devices have proprietary solutions with no common standard."
Airlines, meanwhile, could usefully learn from the experience by making sure they're on top of future technological changes ahead of the curve. Astronics' director of business development Dennis Markert notes that "USB Type-C was very new at the time and many of our initial customers were not yet fully up to speed on the performance specifications and the functionality, including many benefits of USB Type-C."
In the meantime, combination USB-A and -C installations are growing to manage this extended transition period from USB-A to USB-C throughout the aircraft.
"At this stage, it is not a replacement to USB-A but rather a supplement," explains Safran Passenger Innovations' vice president for products and strategy Ben Asmar. "Currently, we see airlines wanting both USB-A and USB-C in order to be 'futureproof' as the latter becomes more common in consumer electronic devices."
That's particularly true towards the rear of the aircraft, where shrinking pitch means that laptops are impractical.
"I would say at least 70% of Request for Proposals we received this year requested USB-C in their configurations," Safran's Asmar estimates. "At the moment, this is in addition to USB-A. However in economy, more often than not, it is a replacement for AC outlets. In premium classes, we are still seeing AC as a requirement, with premium economy moving more towards USB-C."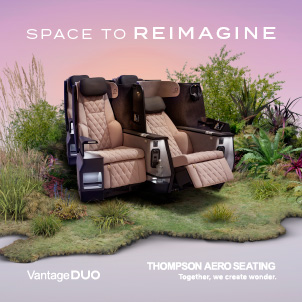 Fundamentally, though, the amount of power available on the aircraft remains a challenge, IFPL's Mark Reed says.
"There are different ways to approach this, either lower power per outlet or a managed power balance system. Providing high power to all seats, at all times, isn't practical and so long as the passenger devices have enough power to keep running then also not necessary."
Looking towards the future, a common refrain is that wireless charging's lower power transfer and the need for devices to remain on the charger remain unconvincing outside the premium cabin context.
"Wireless charging is currently unable to support the high power levels of USB-C, making its usability much more limited," concludes Panasonic's Eric Canal.
"Today, wireless charging is mainly relegated to only smart phones. In the future, as wireless charging is able to support higher power levels, we may see a broader adoption of wireless charging in both the general market as well as throughout the airline cabin."
Related Articles: