Southwest Airlines has selected Viasat's high-speed Ka-band inflight connectivity service to be factory-installed on all new aircraft deliveries starting this fall, in a major blow to the carrier's long-time provider, Anuvu, which has been working to improve its service.
The move, which is part of a broader $2 billion plan to transform the passenger experience at Southwest, means that Viasat has now secured IFC deals with the USA's biggest airlines. In addition to Southwest, Viasat supports IFC at American, Delta, United and JetBlue.
Southwest has orders and options for several hundred Boeing 737 MAX twinjets. "By selecting Viasat's industry-leading solution for its new aircraft, Southwest Airlines will provide customers enhanced Internet capabilities while onboard, including the ability to stream content and entertainment, watch live television, and access social media platforms and productivity applications on any Internet-ready device, gate-to-gate," says Viasat in a statement.
"Streaming-capable Wi-Fi requires a fast and robust data connection — especially to deliver high quality service on all connected devices while in-flight, regardless of how many passengers are using the system. Viasat technology solves a key challenge in providing high quality connectivity in aviation by addressing variable concentrated demand, such as many aircraft in the same geographical area — at airport hubs or traveling on popular flight routes."
The news falls hard on the heels of Southwest's surprise revelation to employees last week that it had upgraded the Anuvu Wi-Fi hardware on 40 Boeing 737s, and would test out the free Wi-Fi model, as first reported by CNBC. The free model has long been offered by Viasat customer JetBlue, and mooted by Delta.
Anuvu, which supplies Ku-band IFC to Southwest, later provided some details to RGN, with CEO and director Josh Marks explaining that the solution known as Dedicated Space — jointly developed by the airline and Anuvu and now a finalist for the 2022 Crystal Cabin Awards — represents "a change in how the modem technology works, how the software stack is put together". The rollout is part of a broader modernization program at Southwest which will also see the carrier's cabin wireless system brought "up to the latest standards", he revealed.
Southwest in a statement today said: "Plans are for the Anuvu latest-generation hardware to be onboard 50 in-service aircraft by the end of May, with a projected 350 aircraft upgraded by the end of October."
The carrier also revealed that it will bring power ports to charge personal devices at every seat onboard its aircraft. "Southwest plans to install latest-generation onboard USB A and USB C power ports on every seat in the aircraft, with a space-saving system that will not compromise legroom. The airline plans to bring this new convenience and capability onboard 737 MAX aircraft beginning in early 2023," it said.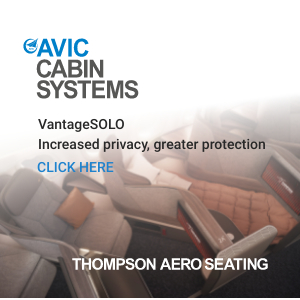 Having plowed money and time into a variety of programs during the pandemic-fueled industry downturn, Anuvu is now gleaning the benefits of its work, insofar as it appears to be holding onto its current tails at Southwest, and facilitating an upgrade.
But this work clearly wasn't enough to win the future MAX linefit installs.
Viasat vice president and general manager Don Buchman, said: "We admire Southwest Airlines' deeply customer-centric vision. The overall passenger experience is enhanced by delivering connectivity inflight that is the same as the on the ground experience, from streaming your favorite video content to live television and accessing other Internet-based applications during all phases of flight. We look forward to being a part of Southwest's commitment to continually upping the bar."
Featured image credited to Southwest Airlines