Though supply chains are presently unpredictable and inflation pressure is real, Astronics is seeing evidence that pandemic recovery is afoot in commercial aviation — largely in the narrowbody segment — as coronavirus infection rates drop and travel restrictions ease. That spells business for the US firm, which provides aircraft power, lighting, and connectivity hardware to the commercial sector, in addition to supporting other clients in aerospace and defense.
"[A]irlines are waking up around the world and some are deciding to go forward with major installations and major changes from what they've done in the past. The technology doesn't lie still even if the airplanes are. So, we're seeing a surge in demand there including some new customers which are impressive to me," said Astronics president and CEO Peter Gundermann during an earnings conference call to report fourth quarter and full-year results, including total sales in 2021 of $444.9 million.
To be clear, the acceleration in demand has been "largely narrowbody-based in the aerospace side of our business, and not widebody", said Gundermann.
Long before the COVID-19 crisis, industry stakeholders warned of a softening in the twin-aisle market. When the pandemic hit, and governments responded with closed borders and travel restrictions, international traffic plummeted. Airlines in turn grounded many of their widebodies and retired aged jets. Separately, Boeing has been grappling with 787 delivery delays due to production issues, though the airframer noted in its just-released annual report that the 787 was the most utilized widebody during the pandemic.
Like any other supplier to aircraft linefit and retrofit programs, these challenges affect Astronics. After all, kitting out twin-aisle aircraft with the latest technology is big business.
"[M]ost industry experts are predicting some kind of widebody rebound in 2023, 2024 timeframe, and that's what we would expect to see too," said Gundermann.
But there are notable opportunities to be had in the single-aisle market. Re-engined narrowbodies are increasingly being used to ply long-haul routes, and ergo are being decked out with the type of hardware that Astronics provides, including in-seat power that enables passengers to charge their own devices.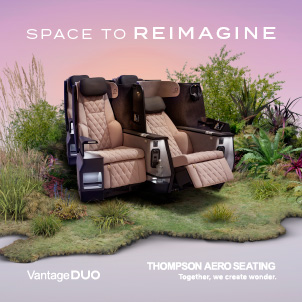 Also in aerospace, Gundermann pointed to potential future opportunities in the electric vertical take-off and landing market. Astronics is investigating extending its reach to support eVTOL aircraft, he said, as these could be a good fit for the firm's capabilities in providing flight critical electrical power for small aircraft.
In the meantime, Astronics' aerospace segment bookings are trending upward. In the fourth quarter, bookings were up almost 100% from the prior year's comparator quarter. The firm achieved a year-end backlog in aerospace of $334.7 million, and a total all-in backlog of $416 million across all segments — representing a new record for the company.
"In the second half of 2021, our aerospace book-to-bill ratio was 1.49, suggesting a strong acceleration of business in the coming months. This increased demand will drive improved results for Astronics in 2022 and beyond," said Gundermann.
Indeed, Astronics reckons that 2022 "will be a year of significant recovery". The company is establishing initial revenue guidance in the range of $550 million to $600 million for the year. The operating environment remains challenging, however, with Gundermann noting that "the geopolitical tensions have everybody's attention right now".
Astronics has an engineering operation in Lviv, western Ukraine and is concerned about its people there.
The firm is not significantly exposed to Russia, and the EU/US sanctions, with Gundermann pinning Astronics' revenue level with Russian airlines at roughly $5 million to $10 million "on an average year". Astronics also does some work in the private jet industry in Russia.
The Astronics CEO added: "[T]he Lviv engineering operation, in my opinion, is a more significant item for us than incremental sales into Russia that we might be foregoing at least for a while."
Related Articles:
Featured image credited to Jason Rabinowitz