When Airbus' head of A220 corporate jet development Florentina Viscotchi was considering studying aviation engineering, family and friends advised her not to — even though she had the grades. For a start, it was too male-dominated, but there also weren't enough academic places.
"That grabbed my attention," Viscotchi tells Runway Girl Network in Airbus Canada's Mirabel headquarters after a tour of the factory where the A220 is produced. "I said, 'why not?"
So she did, later starting her career in Romania, working on national carrier TAROM's Airbus A310s as a maintenance engineer, a job that she explains showed her the full nose to tail of the aircraft. Crucially, the job gave her a flavour of the industry, the aircraft, and a variety of specialties, from being a mechanic through to a computers specialist, flight deck expert, avionics specialist, and more.
Next, "I came to Canada, and then I worked for Rolls-Royce, the engine manufacturing company, and I was exposed to Bombardier at that time," Viscotchi says. "Believe it or not, in an inlet of the engine, while arguing with my customer, Bombardier, a guy offered me a job at Bombardier! So this is how it all started."
Viscotchi came to the airframer at the very earliest stage of the A220 — previously the C Series, but then the Bombardier BRJ-X — before even the location of the aircraft's wing had been agreed.
Fast forward to today, when she manages the development of the aircraft's Airbus Corporate Jet version, the ACJ TwoTwenty, a relatively new business aviation platform on which the airframer is already posing a number of questions.
During Viscotchi's career, she has enjoyed the technical and engineering challenges that her roles have posed, alongside the leadership and people management opportunities she has seized.
"As we interact with people, yes, you get the job done," she says. "But ultimately, you build a friendship — networking — and for me, this is what really made the difference. This is how you get attached not only to the product itself, but to those people."
When it comes to leaderhsip, Viscotchi says, "I do like to surround myself with with smart people. Obviously, all of us want to, because it makes our job easier. But I also really look to discover some of those undiscovered gems and help them grow — there is nothing that makes me happier than really seeing them take off from my organisation."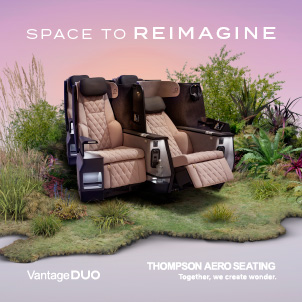 It feels almost poetic to trace a career from the Airbus A310 to the Airbus A220, not least because the latter aircraft was developed by a then-competitor, almost as if a wide arc is suddenly revealed to be a full circle. 
Reflecting, her advice to others is to "never shy away or be afraid to pick up some challenges. I would say that throughout my career, if there was one thing that I don't regret, or that allowed me to move on along the way, was actually saying 'yes', to something that may have appeared mission impossible."
That's especially true if others see something in you that you perhaps don't see yourself, where it's important both to trust a leader who knows you and to trust in your own experience and abilities.
"Don't ever say no to opportunities," Viscotchi emphasises. "If you like it, if the passion is there, don't be afraid to explore the unexpected, to explore the unknown, you know. Be driven by trying to make a difference."
"I look at every challenge as an opportunity, as a matter of fact, and I strongly believe that once you overcome that challenge, you do become stronger," she concludes. "You look back and you smile about all of that challenge — but it starts with not saying no."
Instead, she says: "say yes."
Related Articles:
Featured image credited to Airbus