In a refreshing change to the beige, grey and wood toned private aircraft and business jet interiors that are all the rage, Airbus has collaborated with French graffiti artist Cyril Kongo to bring a pop of colour to its latest ACJ TwoTwenty aircraft, the bizav version of the Airbus A220, né Bombardier C Series.
With hand painting of some of the surfaces in the main lounge by Kongo, the idea is, to put it mildly, delightfully bonkers, and the most exciting thing to come by business aviation interiors for quite some time.
Replacing the usual beige woods and fabric-effect off-whites on tables, ceilings and monuments are graffiti motifs: white on black, greyscale camouflage, and even some amazingly bright splashes of colour.
Pleasingly, the effect goes beyond simply having some wacky cushions on a grey sofa, or adding a bright bed throw on top of the same bedding as another theme, though there is some of that as well.
Airbus brings the brightly coloured and angular paint-effect sections into the sidewalls, onto the table surfaces, and even to the seatbacks, making this a truly effective collaboration.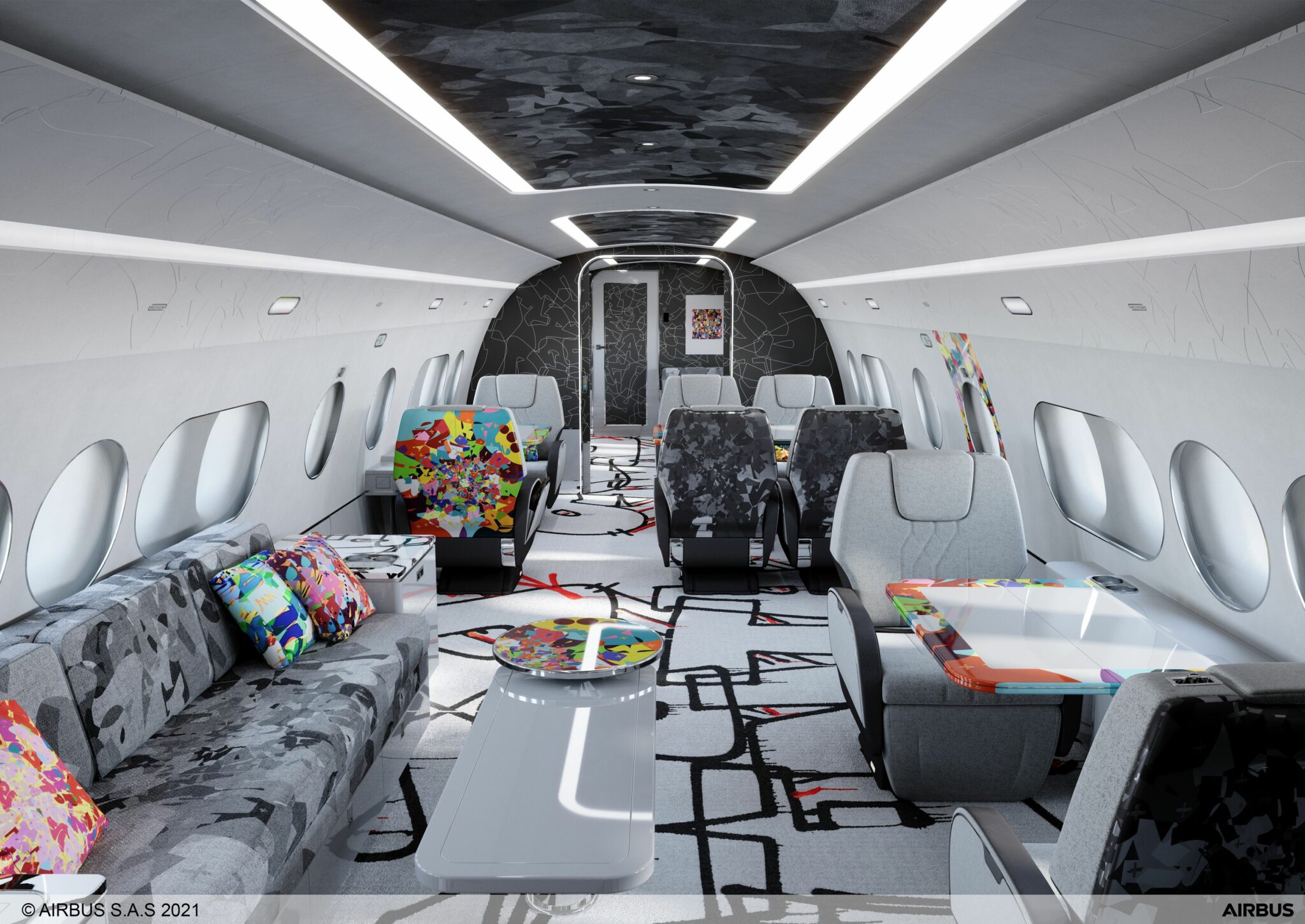 The airframer also unveiled renderings of three more everyday versions of the ACJ TwoTwenty cabin, named Quintessence, Timeless and Avant-garde.
They are, perhaps predictably, very greige and pedestrian. Playing spot-the-difference between Quintessence and Timeless feels like the passenger experience equivalence of the famous business card scene in American Psycho where great import is given to the specific shade of cream used for each of the cardstocks.
Timeless feels a little more like the China Airlines medium persimmon-wood finish, while Avant Garde's wood is a deeper brown, and Quintessence a lighter beech, and that's basically the difference between them all.
And they're very, very matchy-matchy, in a way that really strikes one as coming from the mid-2000s Emirates school of "no burled walnut left behind".
Kongo design ethos aside, these other cabins feel like a bit of a missed trick, especially for an aircraft of this size (large enough, after all, to seat 135 economy class passengers in commercial operations).
The rest of the day areas just feel like slightly larger versions of a smaller business jet, down to those typically thick convertible chairs of a certain shape and stature that is only ever seen in bizav and nowhere else. Why not more luxury residential in nature?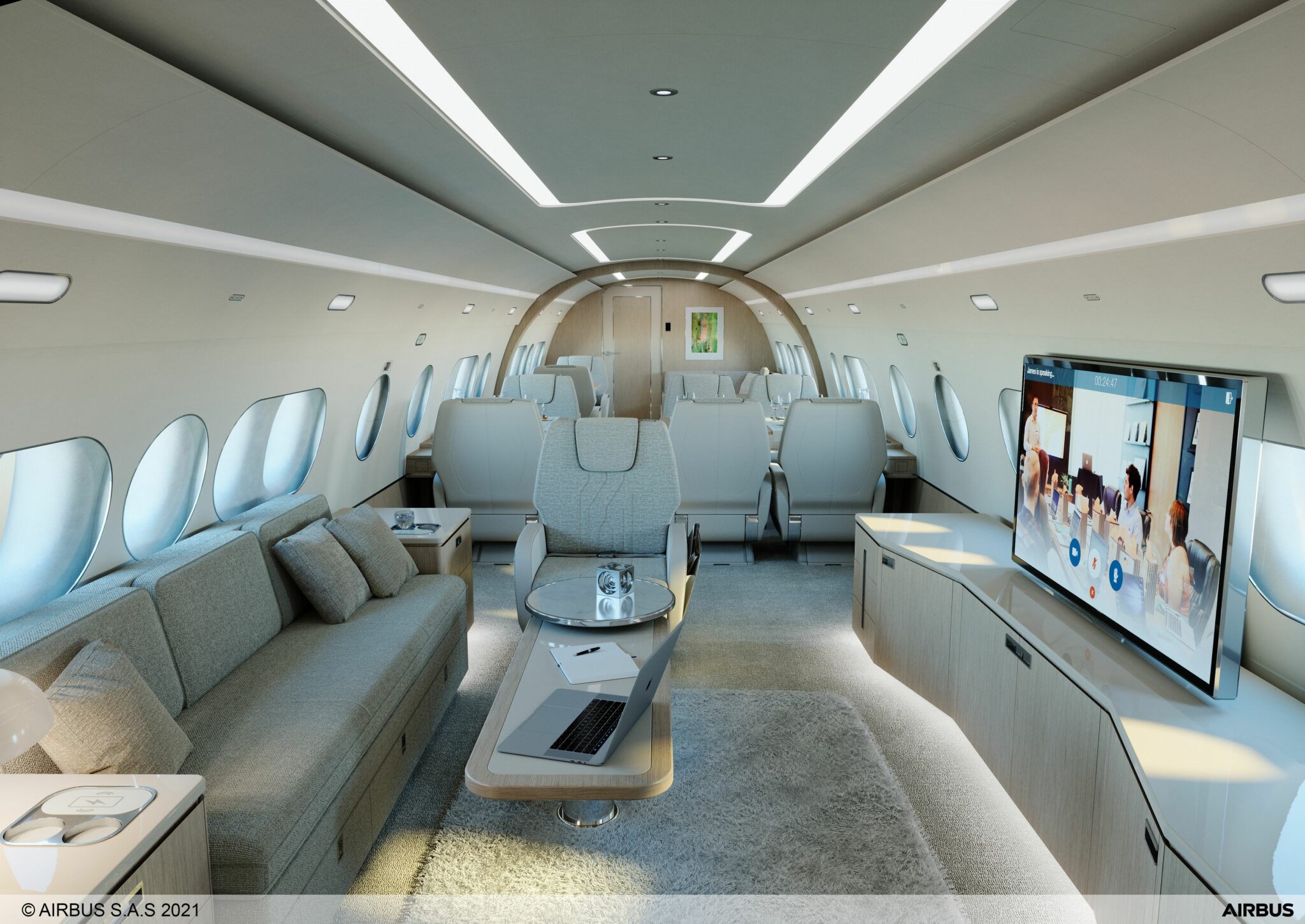 We perhaps don't need to go as far as a Hopfer/Roche Bobois Mah Jong sofa, but what about timeless inspirations like an Eames Lounge Chair?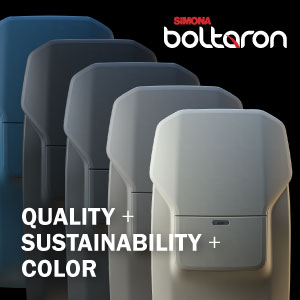 Recent designs like David Adjaye's Washington Prism, or classics like Don Chadwick's eponymous modular system could also serve as inspiration.
Commercial airlines (Etihad's Residence and Apartments come to mind) have managed to get something of a customised, interesting, residential look into their premium cabins. So, it feels like a bit of a shame that these example bizav cabins — where, arguably, there is much more room to be creative outside the requirement for five, six, eight, nine or ten se ats in a row for most of the space — aren't more thought-provoking.
Here's hoping that the Cyril Kongo collab leads to more interesting opportunities.
Related Articles:
All images credited to Airbus