Bombardier Commercial Aircraft (BCA) this year made its first-ever appearance at the renowned Aircraft Interiors Expo in Hamburg. But while the Bombardier CSeries cabin mock-up certainly wowed at the show, its spokeswoman left a lasting impression on attendees.
Deeply knowledgeable about every facet of the CSeries interior, cabin marketing manager Christine De Gagne explained in detail why the aircraft is a game-changer, and ably answered questions from even the most technically-minded journalists and Crystal Cabin Award judges. That's why Runway Girl Network wasn't too terribly surprised to learn that De Gagne has been challenging herself to go further and aim higher for her entire career.
De Gagne was exposed to Bombardier's origins from an early age. For 17 years, her mother worked as director of communications at the Museum of Ingenuity J. Armand Bombardier, outside of Montreal.
She grew up knowing all about the Ski-doo (the snowmobile Bombardier famously invented in 1959). "The Ski-doo had a lot of milestones when I was a kid – the 2000th Ski-doo sold, etc. Bombardier is a company I always admired because of its successful expansion and the diversity of its products," De Gagne tells RGN.
Although she's proud to have followed in her mother's footsteps, this isn't why De Gagne enrolled at Queen's University in Ontario, Canada. The primary reason was to learn English, which she argues is "the preferred language for business development" and "essential in the pursuit of an international career".
She explains: "The best way to learn English was to be fully immersed in it. I had to talk to my Mum every day to keep my French. After four years I was looking for my words in French!"
Graduating with an Engineering Physics degree was another personal challenge she set for herself while at university. "I had to choose my specialty in the first year of the core curriculum and the physics program was recognised as the most difficult of all. I told myself that if I succeeded in passing through this program then everything would be within my reach," she says.
Interestingly, during De Gagne's studies, Queen's University recorded that its engineering program was made up of 27% women, a record for the institution at the time (although Christine says some subjects, like engineering chemistry or civil engineering, were more popular with women than others).
She shared a house with five other female engineering students throughout her time there, saying, "We supported each other every step of the way." She's now part of a Facebook group made up of that year's program, where alumni can keep in touch.
While De Gagne was studying, she undertook two internships with Bombardier, the first in simulation and the second in configuration management. It was during the former that she decided she'd like to work for the company.
"I was dealing with [simulator specialist] CAE a lot. I would try and understand their problems and then, because the simulator interacts with all the different systems of the airplane, I would have to go and find the answer somewhere in the building. I had loads of interaction with different groups. I really liked the multi-disciplinary environment," she says.
After graduating in 2003, De Gagne worked for four years in the electrical engineering department at Bombardier Commercial Aircraft, supporting both the flight control and interiors groups. "That's how I got into interiors – I was focused on the next-generation cabin of the CRJ."
Her next position was in customer engineering. "The role was to go see customers and tell them why the next-gen CRJ interior was so amazing." Being a less 'typical' engineer, De Gagne preferred working with people, so she enjoyed being the point-of-contact between the customer and the engineering department throughout the sale of an aircraft, making sure everything the customer wanted was ready in time for delivery.
Thereafter, she moved into project management. "You still use your engineering because you have to understand what's going on with regulatory requirements and align the team to do the work accordingly," she notes.
During a six-year stint as product marketing manager, De Gagne was assigned the role of benchmarking all aircraft interiors in the single-aisle and regional markets.
De Gagne later transitioned into the role of cabin marketing manager at BCA, a new position created for in 2016 (although she says it's a well-established position at other OEMs).
A meeting with Blake Emery, director of strategic differentiation at Boeing, three years ago at the Aircraft Interiors Expo prompted De Gagne to get involved with the Expo's Steering Committee.
At this year's show, the Bombardier executive gave an impressive presentation to Crystal Cabin Award judges about the positive #PaxEx attributes of the CSeries cabin.
It's clear De Gagne has come a long way in her career, but her desire for learning hasn't dwindled. Currently studying for a Master's Degree in Engineering Management at Canada's Université de Sherbrooke, she states, "It's very similar in terms of content to MBAs, but is tailored to engineers.  I will have graduated by the end of this year."
Excitingly, her final project is a business plan for Bombardier's cabin marketing function, which is due in December. When asked if it's going to be implemented by the company, her response is, "That's the wish. It's all a question of timing and budget, but it is aligned with the mindset of my director." She's referring to Antonio Ficca, director of the product marketing team at BCA, who is the sponsor of her Master's Degree and whom she cites as an inspiration.
In the spring of this year, De Gagne had her first intern. "She was insecure speaking English but she was very good, and she found a job right after she graduated." When she left De Gagne gave her Sheryl Sandburg's book Lean In, which, incidentally, served as the inspiration for Runway Girl Network's Lean Into Aviation platform.
"I said, 'there are a lot of insecurities and questions you probably have, and reading that book really helped me position myself better at work in different situations, and I hope it will help you as well.'"
She loves having fresh blood in the building. "When you always hang out with people who are the same age, doing the same job, and then you have this new person coming in who asks the questions you never asked because you never looked at it from that angle – it's fun!"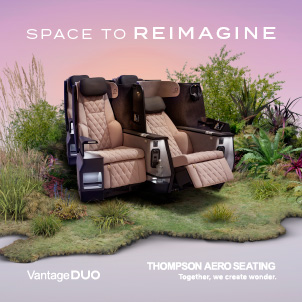 In terms of her own advice, De Gagne says, "Be attentive to people and forge strong ties. Listen. It is important to seize opportunities to share experiences and benefit from the support and knowledge of others. Often, what helps us in an impasse is not our level of expertise or knowledge, but our ability to use our network of contacts as leverage. The power of a network should not be underestimated."
True to her values, De Gagne says she was thrilled to bring her team with her to the Aircraft Interiors Expo for the first time earlier this year, so they could share her experiences there. They'll be going with her next year too.
With no typical day in the office, De Gagne now spends her time support worldwide campaigns needing cabin optimization, monitoring passenger trends, and fulfilling marketing requirements and objectives on all new cabin development projects. She also recently joined the International Aviation Womens Association.
In case you haven't realised by now, there's no stopping Christine. She's looking forward to all the new opportunities which lie ahead.
Related Articles: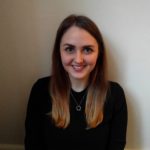 About the Author:
Stephanie Taylor has been in the aviation industry for three years. Beginning as editorial assistant across the Inflight and LARA portfolios with HMG Aerospace, she became Assistant Editor on both titles before leaving to pursue freelance work with various titles.