Cracking into civil aviation with a new product or service can be a time-consuming process due to the industry's necessarily stringent certification requirements. But after years of work, aviation stakeholders are now closing in on the launch of new terminals to support Iridium Communications' global next-generation Certus service in the cockpit on commercial and business aircraft.
"We're expecting to finally see Iridium Certus aviation terminals start activating on our network this year and next," revealed Iridium CEO Matthew Desch during an earnings conference call to report robust second quarter revenue of $174.9 million, up from $149.9 million in the year-earlier quarter.
"The timeline for aviation services have been necessarily long due to the regulatory testing and rigorous certifications required for each piece of equipment that enters the cockpit. As a pilot, this is one business opportunity that I remain very excited about and I can't wait to see [it] come to market."
Iridium's Certus 100 midband service, with IP data speeds of up to 88 Kbps, is already powering small form factor terminals used in the growing unmanned aerial vehicle (UAV) segment. "Our opportunity has only expanded in the last year now that our technology partners have enabled efficient video transmission over the Iridium Certus platforms," noted Desch.
Certus 100 is also poised to facilitate messaging and other lite cabin connectivity services onboard civil aircraft, as disclosed in June by AS-IP Tech.
But installs of higher-bandwidth Certus terminals onboard rotary and fixed wing aircraft are forthcoming. "Iridium has been working with a handful of partners, who will be launching their respective products using Iridium Certus in the second half of this year," said Desch on the earnings call.
"These partners are closing critical certification milestones, performing successful flight tests, and some will be entering service with first installations in the coming months in both rotary and fixed-wing applications."
Skytrac and Blue Sky Network are among the companies bringing Certus satcom solutions to the airborne domain. For instance, Airbus Helicopters recently agreed to provide the French Joint Light Helicopter project with H160M helicopters that will be factory-equipped with Skytrac's Connected SDL-700 terminal, providing up to 704 Kbps of bandwidth to enable mission-critical capabilities onboard.
At least three aerospace giants — Collins Aerospace, Honeywell and Thales — have been developing Certus-powered satcom kit for civil aviation, with the aim of facilitating cockpit comms including safety services. And, together with service provider SITA, they have been aiding Iridium through the process of securing clearance from the US Federal Aviation Administration to use Certus for FANS, the Future Air Navigation System, which enables direct data link communications between pilots and air traffic control. Satcom Direct is also developing an aviation terminal and will serve as a Certus service provider.
Safety services include transmitting FANS, ACARS, safety voice and other cockpit comms functionality. But outside of this realm, there are a host of other applications for Certus, including graphical weather, flight plan updates and the transmission of operational data.
"Everybody thinks they're going to jump onto the plane Wi-Fi and suck everything back out of that Ku-band [cabin connectivity pipe]", Iridium vice president and general manager Americas, Tim Last told RGN in a recent interview. "Well, funnily enough, most of the airlines and most of the operators aren't that keen on that happening now. There's a reason to keep these domains separate."
He continued, "Our strategy is not just safety, but its operational data which includes IoT data. It includes that critical information, maintenance logs and engine information. I mean, you know, we're probably not the network to stream your 777 engine data; they produce an awful lot of data for a single flight, but we can take those critical pieces of information just like we do with guys like Caterpillar; they put cellular and Iridium onto their assets because they know that when they need to, they can pull that via cellular off at a lower cost. When they're out of coverage or in those critical times, when hydraulic pressure blows too much or that part is about to fail, they know they can absolutely get the data off via Iridium, and that's important."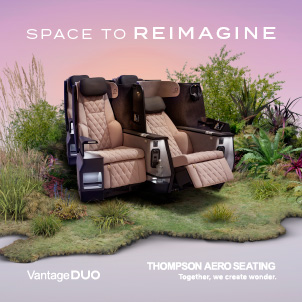 Another accelerator for Iridium, noted Desch, is global air traffic surveillance provider Aireon — the JV it holds with several of the world's air navigation service providers.
"In late June, Iridium augmented its position in this 10-year-old joint venture. Our new $50 million preferred equity investment will help accelerate Aireon's development of their commercial data service business, which will allow Aireon to monetize their high-quality ADS-B data set with customers beyond its core use in air traffic surveillance," explained Desch. To wit, on 23 June, as part of its implementation of an enterprise-wide Safety Management System, Boeing announced it will integrate Aireon's space-based ADS-B data into its safety analytics tools.
In maritime, meanwhile, Iridium is seeing growing adoption of Certus. "Ship owners are realizing that Iridium Certus provides highly capable and reliable L-band service at a price point that makes it accessible and attractive to both small boat owners and large fleet operators," said Desch.
But beyond these mobility verticals, recent Iridium successes include its IoT story. "We've continued to ride a wave of demand for Iridium-connected personal satellite communications devices, as partners like Garmin, ZOLEO, Bivy and others have developed new solutions," noted Desch. "These small, lightweight consumer devices are great for mobility and offer users reliable two-way connectivity, which they often pair with their smartphones, even when they're off the grid."
Moreover, Iridium has entered into "a development agreement with a strategic partner" to enable its technology in smartphones. While management wasn't at liberty to share many details on the call, there have been rumblings for some time that this type of opportunity could present itself.
"[I] don't want to speak to the size," said Desch, "but obviously we don't think it's insignificant."
Related Articles:
Featured image credited to istock.com/Rathke