During my recent Canadian Air Carrier Extravaganza, I needed to get from Calgary to Kelowna in order to catch the final leg of my adventure — the Air North flight from Kelowna to Vancouver. And so, I tapped WestJet Encore, a Canadian regional airline headquartered in Calgary that operates feeder flights for WestJet and is owned by the same parent as the low-cost carrier.
The WestJet Encore flight was inexpensive, at $51 CAD (all prices henceforth are in CAD). Carryons were free. Seat choices, however, ranged around $40 each, which seemed obscene.
I didn't have checked bags, but the first two would have been free thanks to WestJet's partnership with Delta and my Delta Gold frequent flyer status. For everyone else, the airline operates a complicated fee chart that requires its own microsite. Fees on this flight started at $30, scaling up to $118 for the fourth bag.
Checkin was easy enough via WestJet's dedicated app, and I was able to upload my COVID-19 vaccination records the morning of without issue. A travel companion on a separate ticket was not able to upload their records, which led to a very long wait at the Calgary International Airport checkin desk. Come to think of it, had they not eventually bailed and pleaded for mercy at the empty premium checkin zone, they likely would have missed the flight.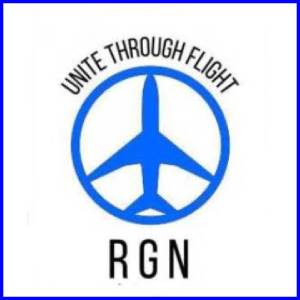 Security should have been pretty fast, but in fact took nearly thirty minutes as agents nitpicked their way through bags.
Thankfully, despite the tight squeeze time-wise, our aircraft had only just arrived when we got to the gate. Passengers from the prior flight were still deplaning as our departure time came and went, with minimal updates from the gate about the delay that we were secretly kind of thankful for.
Boarding, once it began, went quickly and without issue. I settled into the back of the plane (I hadn't paid for a seat choice), and just managed to squeeze my roller bag into the tight overhead bin. The flight was operated by a 78-seat Bombardier Q400 turboprop, one of many in WestJet Encore's fleet.
The layout is a standard 2-2. Seat pitch is an average 30", though the airline says that ten "premium seats" offer 31".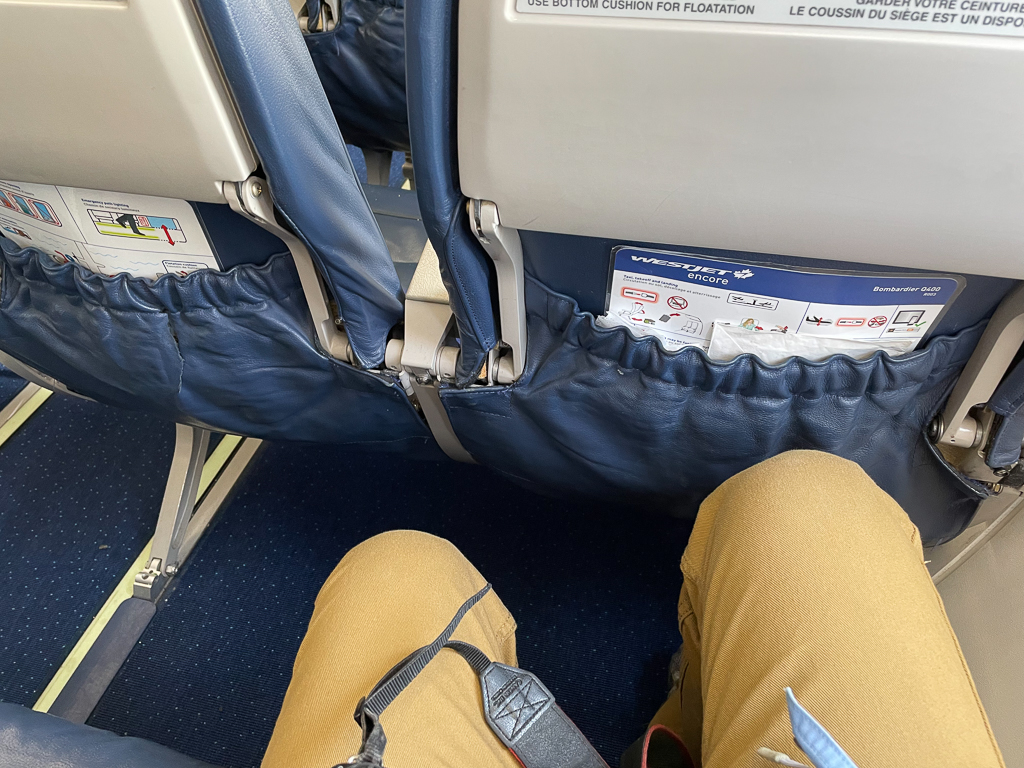 There wasn't much to the flight itself. The airline offers no inflight entertainment, streaming or otherwise; and no Wi-Fi. There are no power ports either, though with an average flight length well under two hours it was not a big deal.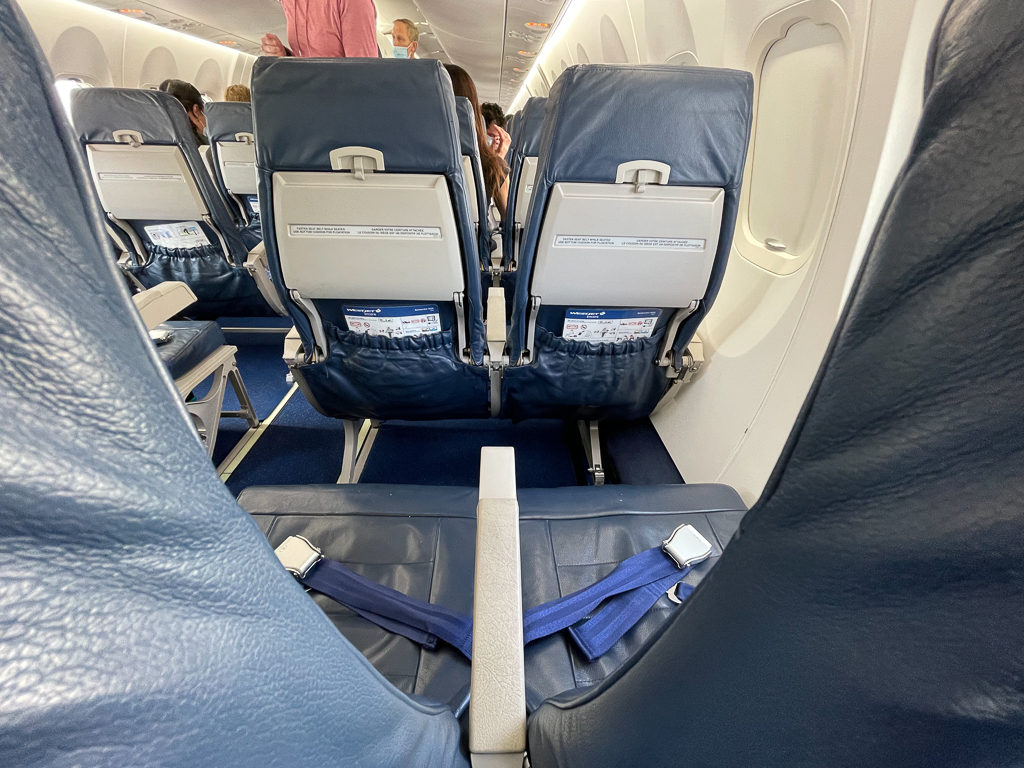 Much like the other flights I'd taken during this excursion, the real entertainment was the spectacular view of the Canadian Rockies below us.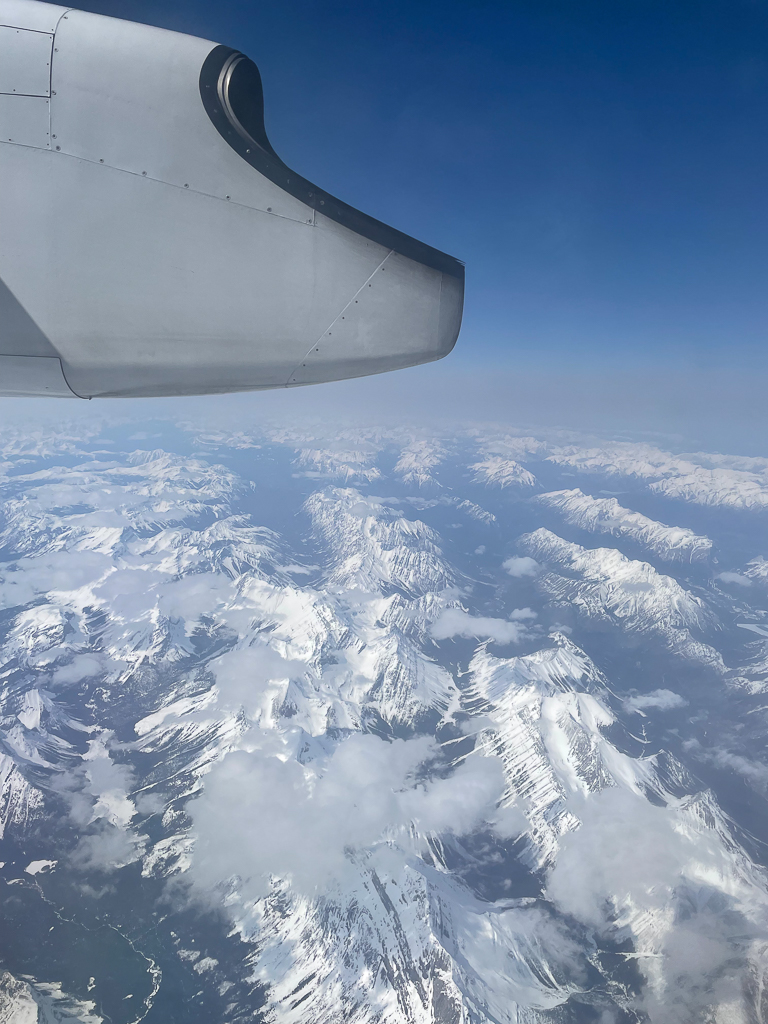 Crews came through shortly after takeoff and offered a choice of pretzels or cookies and water. We landed a little over an hour later in Kelowna.
To be honest, there isn't much else to say. It was an uneventful mid-afternoon flight at a good price. The only part to complain about likely had nothing to do with WestJet: I should've accrued a small number of miles and points toward my Delta status but didn't. Oh well. 
Related Articles:
All images credited to the author, Jeremy Dwyer-Lindgren