Air North, the small, Whitehorse, Canada-based airline that bills itself as Yukon's Airline, has always intrigued me.
I first spotted the carrier back in 2009 at Vancouver International Airport, its bright orange tails topping a fleet of retro Boeing 737-200s (fitted with gravel kits). I marveled at Air North's route map, which bore deep into the Arctic Circle, including a milk run flown on the 1960s-era Hawker Siddeley turboprop.
While I had long wanted to fly the airline, travel to the Arctic is often quite expensive, and schedules meant a multi-day affair at a minimum. My time, and particularly money, never aligned, and Air North's eclectic -200 fleet retired before I could get onboard.
Even so, the airline remains. And I wasn't going to miss the chance to fly Air North after the Covid crisis. The final leg of my Canadian Air Carrier Extravaganza (following WestJet Link–Flair Airlines–Lynx Air) was specifically built around getting onboard one of its aircraft. After a lot of tinkering, schedule comparisons, and browser tabs left open I settled on a winner: Kelowna to Vancouver.
I booked the ticket on Air North's website a month before the flight. The experience was pretty straightforward and pulled no punches.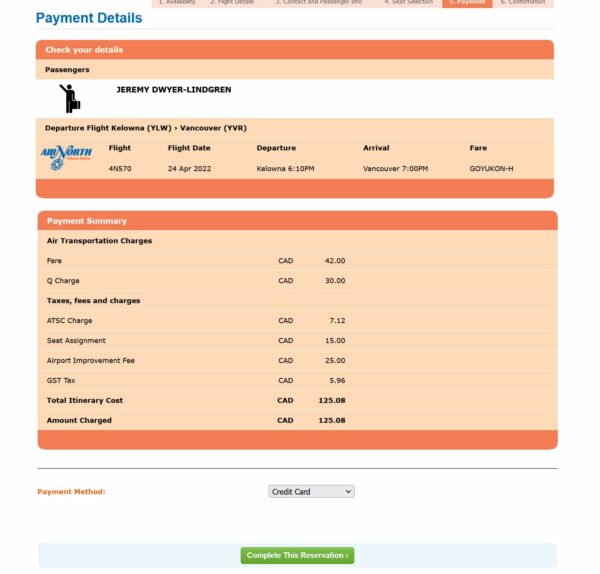 Once you've found your flight, there isn't much left to choose. There are only two fare classes, GoYukon and Optimum. The difference between the two appears to be tied to fees: things like cancellation, flight change, seat selection, and no-show charges. Otherwise they appear to be the same. A webpage explainer dutifully notes that neither comes with a complimentary premium beverage or advance boarding. 
Seat choice is the only ancillary fee. The airline says costs per flight range from $5 CAD (all prices are in CAD) to $56; my flight had most of the cabin priced at $15. The first three rows, which the airline dubs premium seats, were $20. From what I can tell, you can forgo and roll the dice at check-in, but I paid the $15 and chose 6A aboard one of the carrier's Boeing 737-500s.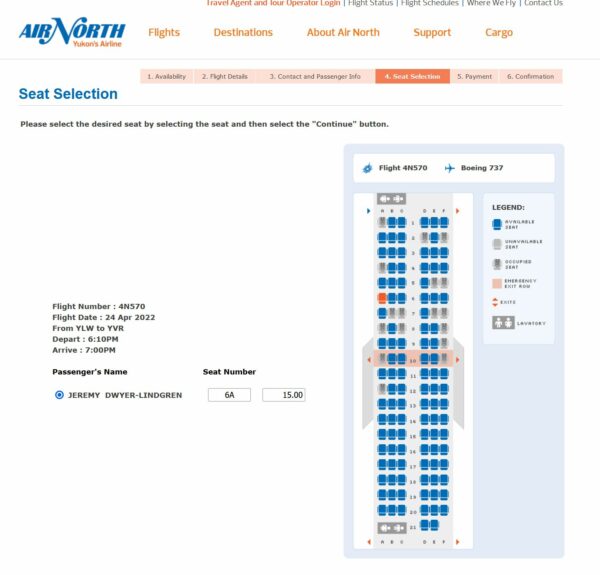 Considering that the airline flies to some super cool far north locations, the 30-minute hop from Kelowna to Vancouver wasn't exactly what I had in mind when I pictured my first Air North adventure. But beggars on a budget can't be choosers, and thus I found myself at the checkin desk in Kelowna several weeks later.
In a somewhat unusual move, the agent asked to weigh my roller bag (the only time I saw it done). Turns out the airline has a 22 pound limit (the agent said 20), and the bag was several pounds overweight. The agent said I've have to pay for a checked bag (and forfeit the paid carry-on fee). After a short discussion and lecture he ended up letting it slide.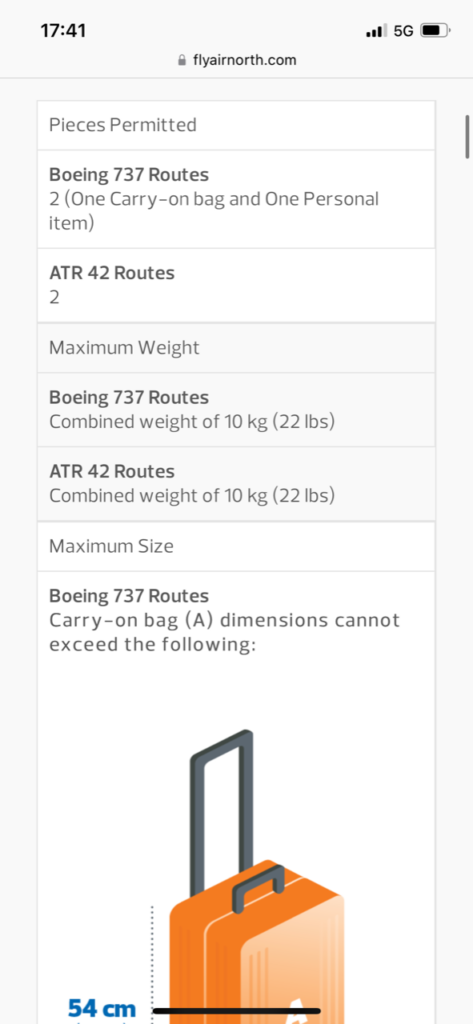 I appreciated the pass, but it's also worth noting that the airline does not wear this policy on their sleeve. I had to do a bit of digging after our interaction to find it on Air North's baggage allowance policy, which comes up as a side link in the purchasing process. I recall having seen this link, and admittedly just never thought it would apply to carryons, and thus didn't think to check it. Lesson learned, I guess.
The chariot of choice for the day was the airline's sole Boeing 737-400 jet. This flight continues on to Whitehorse, and that latter segment was oversold, thus the swap from the -500 to the larger -400.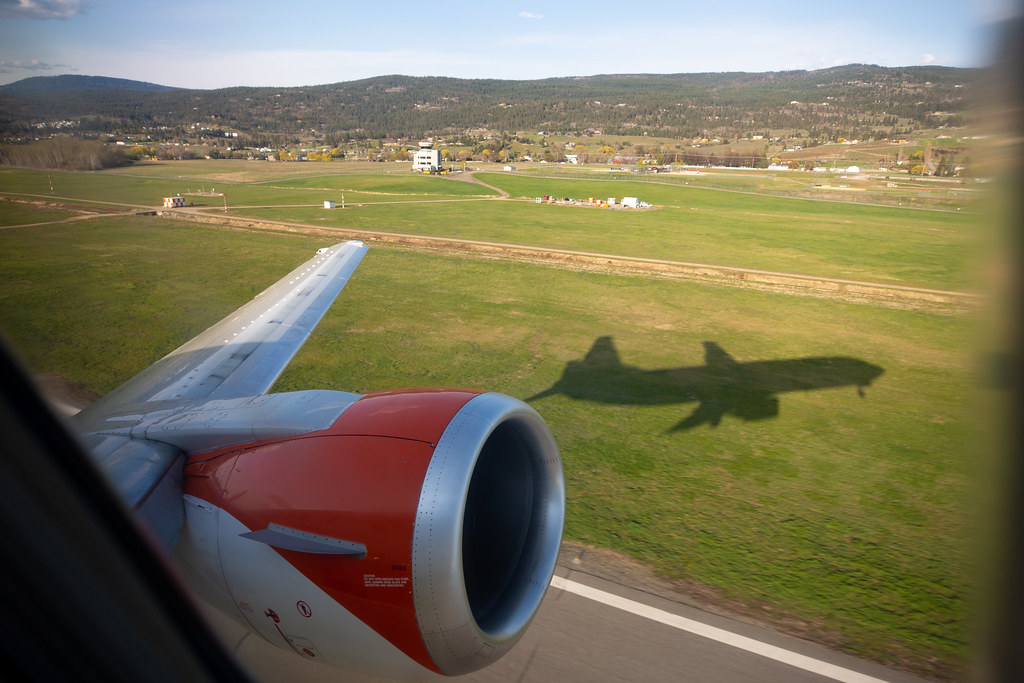 If you're thinking to yourself, "haven't those -400s largely been gone from commercial service for awhile?" the answer is yes. I can't recall one flying for a scheduled US carrier in years. But keep in mind that Air North was flying -200s up until 2015, and the HS748 until last year, so the -400 is comparatively pretty new.
The cabin is arranged in an all-economy 3-3 configuration, and I settled into 6A. The overhead bins aren't nearly as roomy as the newer 737s, like the MAX, but were still big enough to fit my rollerbag easily enough. By the time the boarding door closed, the cabin was probably about half full.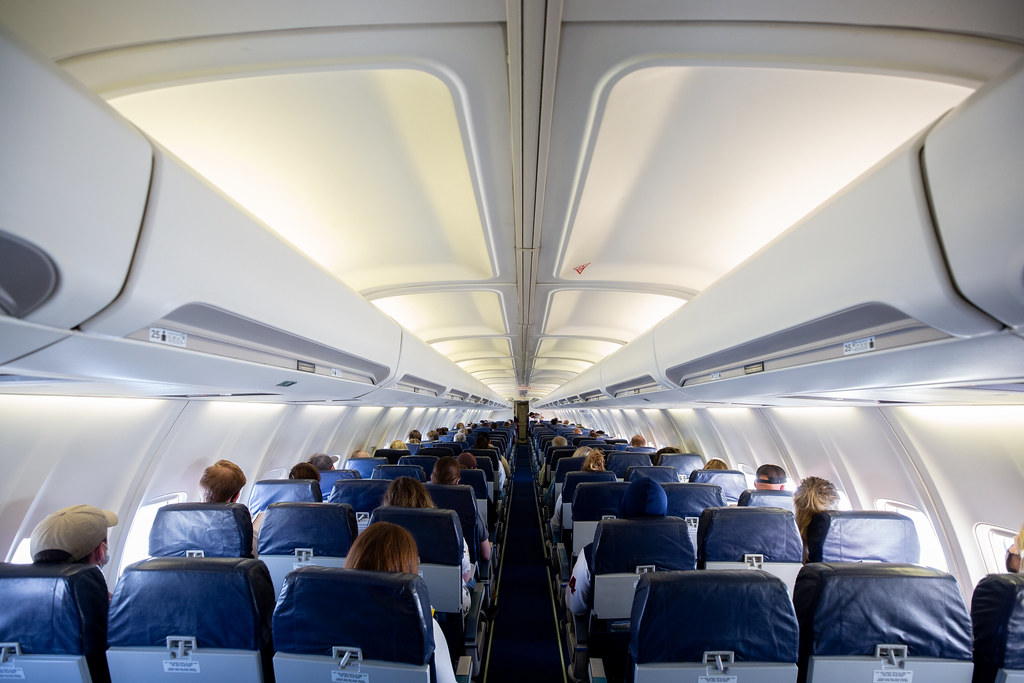 The -400s were mostly built in the 80s and early 90s, and this one didn't look like it had been updated much since. The plus side is that the seats felt large and cushy, especially combined with a 31" pitch – way better than a rock-hard slimline, as far as I'm concerned.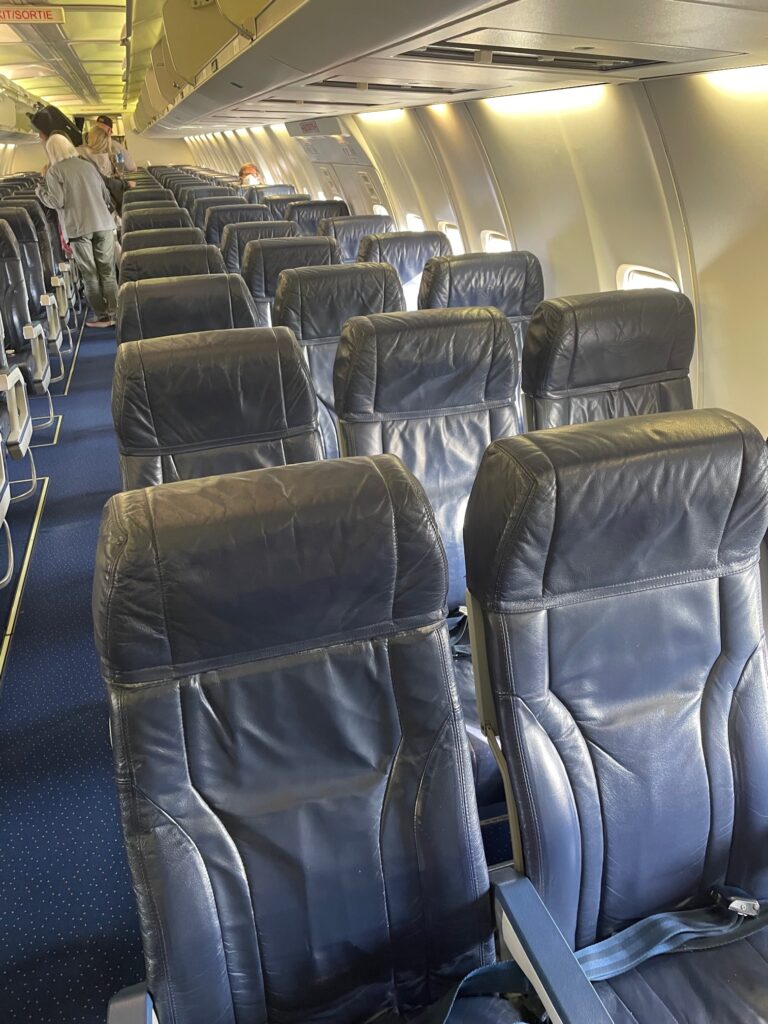 Powerful air gaspsers helped keep the temperature down even on the ramp, which, again, is more than I can say of some newer jets.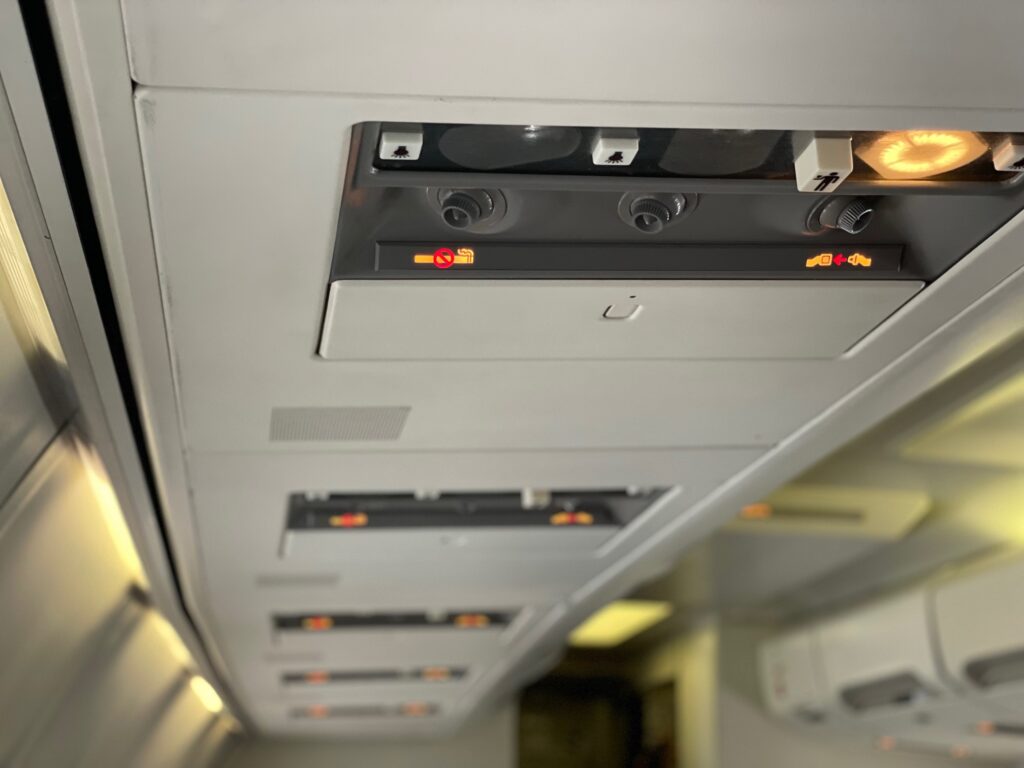 The downside is that there isn't much else going on. No Wi-Fi, no inflight entertainment, and no power ports. On a short flight, that stuff really doesn't matter, but if you take one of Air North's longer routes, download a movie and bring a power bank.
Of course, if you forget, the views out the window are often quite nice over western Canada. And if they aren't, the airline still produces an inflight magazine.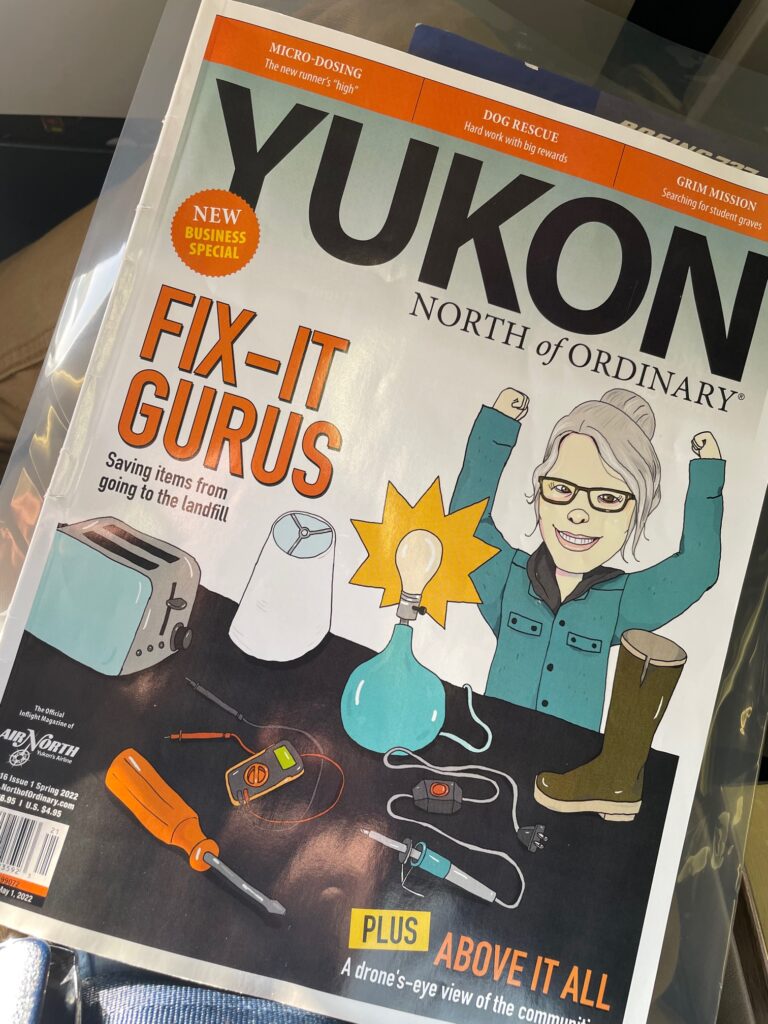 I enjoyed leafing through the pages, reading a few articles and taking in the high-gloss photos of scenes from far up north.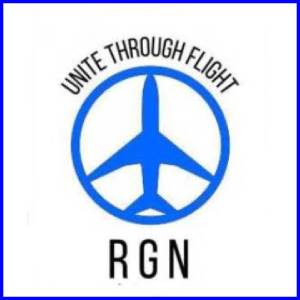 The crew offered a short water service not long after takeoff. Typically, Air North offers a selection of baked goods and chocolate chip cookies made in its flight kitchen up in Whitehorse. This flight was too short, but the very nice crew offered a few leftover cookies from the flight before. Very tasty!
The airplane landed on time in Vancouver forty minutes later, and I wound up spending another twenty minutes up in the cockpit with the pilots talking about 737-200s. It was super fun.
I'm glad I finally carved out the time to add an Air North experience, but I regret not taking a longer flight. The most interesting parts of the airline remain unexplored, which I suppose means that I'll just have to go back someday. Hopefully soon.

Related Articles:
All images credited to the author, Jeremy Dwyer-Lindgren