Zodiac Aerospace continues to evolve ECOS, the cabin demonstrator it renamed from ISIS for obvious geopolitical reasons, with new innovations including higher-weight overhead bins, a light to show whether a bin still has space, a new overhead lamp and a carved-out PSU space that gives a remarkable feeling of headroom.
Scott Savian, executive vice president at ZEO, Zodiac's design and innovation studio, tells Runway Girl Network that the new ECOS product is "an update to the innovative space interior system that we showed here about four years ago. All of the products are second or third generation now, with a lot of lessons learned and improvements built into them."
The pivot overhead bins are key to the ECOS product offering. "One of the first things you notice when you come in is the overhead bins," Savian explains. "The bin itself is a third-generation product, with a couple of big improvements included."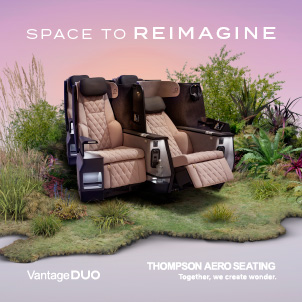 The first improvement, Savian notes, "is, when we got into service we've seen in our bins — and, frankly, everyone else's single aisle pivot bins — that the hand loads become much higher than advertised. The bags that go into the bins are different from the specs that they were written around. So, we did a couple of things."
"We did two baggage studies to collect a whole bunch of data and understand how big bags really are, and design the bins around those, both for baggage capacity and for handloads. This is a demonstrator with 95 pounds in it," Savian explains as he opens up the bin with massive weights inside wooden frames, "and it takes nineteen pounds to close. That's very important for flight attendants who have to do this multiple times a day."
With overhead bins indeed becoming fuller, larger and heavier, the mechanism that Zodiac has built into its larger capacity bins makes a remarkable difference, as RGN was able to test.
"The second big innovation is Binsight: this is a system where if the light isn't on, the bin is full. No matter whether the bin's open or closed, you can see whether or not we have space," Savian says.
Binsight also comes with an option to display the current bin status with an at-a-glance green-yellow-red display at crew stations or via crew handhelds, making it swifter and easier to find space within the overheads for passengers boarding later in the process or those in exit rows unaware that they need to put bags up.
"One of our latest innovations is an update to the Pod PSU, which does a few things for us," Savian notes. "Traditionally, we have a sidewall light that's generally at the frame pitch, but we've taken the opportunity to put something else at the same pitch as the seat and the passengers, which is the overhead lighting. Each seat ends up with an individual luminaire."
The difference in the dimmed cabin mockup was remarkable: while the overall light level wasn't markedly changed, the amount of that light that was useful in the seat area was much improved.
Lastly, Savian says, "we've pushed the height up locally as much as we can to get as much headspace, and combined with the bin it really opens the cabin up." Again, the difference in just a couple of inches of arced space above the centre of the PSU section is truly noticeable, and not just because your RGN correspondent is 6'3" in socked feet.
Altogether, ECOS is a praiseworthy update to Zodiac's previous generation of new cabin offerings, particularly as an increasing number of current-generation narrowbody aircraft come to their mid-life checks and airlines continue to hunt for ways to improve the carry-on baggage squeeze.
Related Articles: