Earlier this month the production and capacity squeeze on premium seatmakers took a particularly unusual turn. When Airbus revealed its new Airspace XL cabin overhead bins at the Aircraft Interiors Expo in Hamburg, there were two very notable items very closely together. The first was an American Airlines decal on the mockup, and the second was an Aviointeriors Adagio seat underneath the decal-clad bins.
It turned out that the decal was only related to the XL bins, for which American is the launch customer on the refitted cabins of the existing A321ceo family, and had nothing to do with Aviointeriors, although the Italian seatmaker's chief executive Ermanno de Vecchi was keen to emphasize to Runway Girl Network that the the retrofit market specialist seatmaker is very interested in their business.
"We are trying to sell to them. Basically they are looking for a big retrofit on their fleet. They are currently looking to the A320 and A321. This is the reason why we have over there in the Airbus stand our Adagio. The idea is to try to convince them that our seat is the best. We will have meetings with them, they will check the seats, and we will see what will happen," said de Vecchi. "There is real interest from their side but we cannot [say] yet that we are in close talks."
Indeed, the decals were duly removed before the official start of the press conference and the show went on. But RGN's tendency to count seats of different types had been piqued the previous day at the brand new Airspace Customer Definition Centre in Hamburg: of all the physical mockups and computer generated renderings of premium cabins, not one was from Airbus subsidiary and premium seat specialist Stelia Aerospace.
This was, Airbus vice president of cabin marketing Ingo Wuggetzer told RGN, "not on purpose", and the lack of Stelia at the ACDC was "because it's just ramping up. That will come, and it's also a matter of availability. Also in the mockup centre in Toulouse, we would like to have more seats," Wuggetzer said, but production is limited.
The Boeing 757, A320 family and Boeing 737 family markets are largely split between Thompson Aero Seating's Vantage in its alternating 1-2-1 configuration, as débuted on British Airways after the absorption of BMI and seen everywhere from Aer Lingus to JetBlue to flydubai, and Collins Aerospace's Diamond seat, seen on the three US majors, Qatar Airways, La Compagnie, and so on.
That duopoly is one reason Airbus was showing Avio's staggered Adagio — a staggered seat that works in essentially the same fashion as Stelia's Solstys/Symphony or Thompson's Vantage — at its AIX stand, Wuggetzer said, noting that Airbus is working to encourage a diversity of suppliers.
"I think we need to have variety and that's what we want to push for. If we fly more and more long range, then you should have a selection, a choice for the customers. The market is really too thin: not enough available good seats with good comfort and good quality," Wuggetzer noted. "We are really running short in deliveries for seats, and that's why we need to have a strong emphasis on pushing the industry to come up with more lie-flat seats for single-aisle."
One option, of course, is what Boeing has done with Adient Aerospace in the front cabin and with LIFT by EnCore at the back, with co-designed seating that maximizes the space in the airframer's fuselages.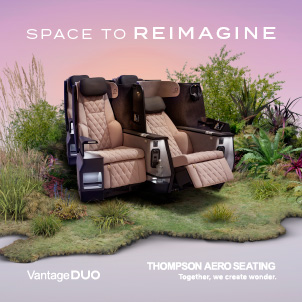 "Of course you need to adapt to solutions that fit perfectly into your cross-section. That's clear," Wuggetzer said, but pointed to Airbus' Settee Corner concept, developed in a new model of cooperation with Geven, as "another approach: you can develop concepts and keep the IP, but find a manufacturer to realize it for you. It makes it more flexible, because then we have not only one manufacturer that you can offer to the airlines, you have several, because you can put this concept with supplier X and another one with supplier Y. I think that is offering more choice."
It's certainly an unusual approach, and comes as the airframer reups on its supplier-furnished equipment partnership with Recaro, adding the the 3710Swift (economy class) and newly the 4710Swift (recliner business class) to its 3530Swift economy seat.
Yet the question remains: will airlines be as keen to select new seatmakers as Airbus is to offer them?
Related Articles: