Satellite services and aircraft satcom systems ensure that airlines flying long-haul and over water can keep their passengers connected. But for medium- and short-haul flights in certain regions of the world, nextgen air-to-ground (ATG)-based inflight connectivity operated via cell towers can offer a compelling alternative to satcom or indeed serve as an augment, enabling operators to route data over the most efficient pipe depending on where they're flying.
Because the antenna kit for ATG is smaller and lighter than broadband satellite terminals, it boasts a green message to boot. Let's take a look at the ATG-focused IFC solutions gaining traction.
Europe
The hybrid, integrated ATG/S-band European Aviation Network — delivered by satellite operator Inmarsat and major telco Deutsche Telekom in partnership with Nokia, Thales and others — entered into service in 2019 with a soft launch on British Airways. Now, the EAN supports onboard Internet on hundreds of Airbus A320 family aircraft flown by IAG Group airlines (BA, Iberia, Vueling) across Europe, and is rumored to have been adopted by other European operators.
Equipped aircraft switch automatically between satellite and terrestrial connectivity using an onboard network communicator. And Kontron provides the hardware products necessary to implement the cabin Wi-Fi network on EAN-fitted aircraft.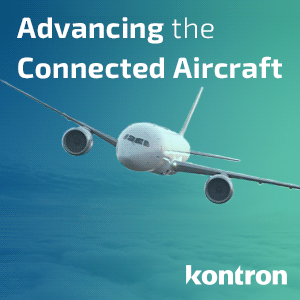 Buoyed by their success, EAN stakeholders are now actively working on a roadmap to move the current 4G (LTE) EAN technology towards 5G. Once the requisite 5G equipment is available, they say, current airline customers will have the flexibility to phase their transition to the 5G compatible network via an intermediate hybrid 4G/5G step, while future aircraft fleet rollouts will be kitted out directly with the hardware necessary to rely on 5G only.
"With 5G around the corner, and thanks to an ATI-funded study, we're investing in evolving the system from 4G to 5G. This feels a little strange when you think that only recently the industry was celebrating getting 3G onboard," admitted Thales UK head of strategic marketing – aviation and space Julia Jiggins in an article for LinkedIn.
"Alongside this, there's a lot of work being done on creating 5G standards, so devices can move seamlessly between mobile operators or between terrestrial and satellite networks, because you can't put mobile masts everywhere."
North America
Gogo Business Aviation operates a dedicated ATG network in North America, which supports 4G and 3G service on thousands of business jets, in addition to regional jets flown by US majors (the latter work is managed by Intelsat, which has exclusive access to ATG services for the commercial aviation market in North America, as part of its acquisition of Gogo's CA division).
But Gogo Business Aviation also plans to roll out a 5G service in the second half of 2022. This week, the company revealed it has completed construction of a seven-tower 5G testbed. "These seven sites will serve as a testbed for our 150-tower nationwide network," explained vice president of network operations Mike Rupert. "The testbed includes sites in both remote and populated locations in order to validate the network is operating as designed in all types of environments."
MRO provider Duncan Aviation, meanwhile, is working to complete the first-article Supplemental Type Certification (STC) for the onboard 5G system. And longstanding Gogo customer Jet Edge plans to be the launch operator for the 5G service.
The resiliency of the business aviation sector has been a bright spark amid the dark days of the COVID-19 pandemic. But will the Omicron variant throw a curveball to BizAv's recovery? "It is unknown at this point, so we'll certainly be monitoring Omicron as it spreads," Gogo Business Aviation president and CEO Oakleigh Thorne told RGN last month. "In general, though, we believe the momentum in business aviation will continue. People have recognized the benefits flying privately offers, and concerns around the pandemic have highlighted those advantages and benefits (safer environment, more control, etc.)"
Posing fresh competition to this incumbent is SmartSky Networks, which has completed 80% of its nextgen ATG network in the continental US and expects to finish the final 20% by the second quarter of this year.
The company has fielded a robust response to its early adopter program, which delivers discounts to customers that make pre-network completion orders for its low-latency IFC solution. "We've had a ton of interest," SmartSky CEO David Helfgott told RGN. "We're going through that list now; several hundred interested parties" who are either fully interested in pushing forward or in the process of gathering information about their options.
The US is the leading country in business aviation, accounting for as much as 70% of the world market. "So, we are seeing a range of interest from large cabin business aircraft all the way down to turboprops and I would say roughly half are already customers with the incumbent air-to-ground provider and the other half are not, either [they have] very little connectivity or connectivity they don't care for and would like to replace," revealed Helfgott.
Avionica and Honeywell act as VARs for SmartSky's service in the business aviation sector, and as such, each is bringing unique value-add to SmartSky customers to drive operational benefits. For instance, SmartSky has becomes the first ATG provider to enable Honeywell's Forge platform, ensuring that subscribers can take advantage of a full suite of mission-management capabilities for connectivity, flight operations, navigation databases and maintenance through SmartSky's secure network.
Honeywell is also a SmartSky VAR for commercial aviation, and the service is now available for regional airlines in the US. Helfgott confided that SmartSky has "a dozen or so conversations going on" now concerning bringing its broadband offering to airlines.
With twenty years of experience in satellite communications under his belt, the SmartSky CEO also noted that there is "a really nice complementary nature" between ATG and any satcom system, whether operating over today's GEO satellites or future LEO networks. And SmartSky is open to partnerships that support this type of hybrid model, as there is an inherent benefit for operators to be able to dynamically route cabin connectivity traffic and ops data over the most logical and cost-efficient pipe.
Australia and New Zealand
An emerging ATG specialist, Munich-headquartered SkyFive acquired Nokia's ATG assets in 2019, after Nokia served as a key technology partner on Inmarsat's hybrid S-band/ATG European Aviation Network. Since then, in addition to supporting the EAN, SkyFive has been working to offer regional-focused ATG connectivity along similar lines to the EAN, but without the satellite component. Its guiding principle is to cooperate with incumbent telecommunications companies.
In 2020, SkyFive signaled its intent to evaluate ATG IFC in New Zealand. But it is also eyeing the same for Australia. Pivotel, a Gold Coast-based rural and remote communication solutions provider, late last year signed a memorandum of understanding with SkyFive to engage in a proof-of-concept trial of SkyFive's so-called DA2G (direct-air-to-ground) IFC system.
"The partnership will see Pivotel deploy a DA2G network powered by Nokia's eNodeB and NEC's iPasolink Microwave technology, providing coverage to an area of around 50,000 square kilometres between Dubbo and Sydney," SkyFive explained in a statement. "The trial will also include Flightcell's onboard terminal, showcasing how the combined technologies can revolutionise the air traveller experience, inflight operations and enable a wide range of practical data-intensive applications for public safety aviation."
Flightcell designs and manufactures integrated aircraft cellular and satellite communication systems that provide voice, data and tracking capability. It supplies hardware to air ambulance, search & rescue, police and other aviation services. "Stakeholder engagement has already begun with a number of commercial airlines and agencies expressing interest in participating in the trial, including the Royal Flying Doctors Service (Southeastern Section)," said SkyFive. Once the trial is successful, Pivotel plans to roll out a national DA2G network across Australia, it added.
Underscoring the collaborative nature of SkyFive's work, the company counts EAN stakeholder Thales as a partner, and in 2021 received an investment from Safran. 
China
Also eager to play a role in bringing ATG-based inflight connectivity to Chinese airlines, SkyFive has already created a sister company in Beijing and demoed its offering to leading Chinese airlines at the Airbus Innovation Center in Shenzhen.
But Chinese telecommunications giant ZTE is also working to connect Chinese operators with 5G ATG connectivity. The company has reportedly run pilots on three domestic routes out of Beijing in partnership with China Telecom.
Summing up the appeal of ATG IFC, especially as nextgen solutions emerge, Thales UK's Jiggins noted that: "[A]s airlines look for targeted ways to invest in making the passenger experience better and more comfortable, A2G ticks all the boxes. You can install it on an aircraft in hours, not days. It generates additional revenues through passenger use. It supports onboard systems. It improves operational efficiencies. It cuts CO2 emissions and reduces through-life costs. Really, what's not to like?"
Related Articles:
Featured image credited to SkyFive