It is important to carry the correct documents when traveling by air amid the COVID-19 pandemic. Flying from Los Angeles to Barcelona, Spain via London Heathrow at the beginning of July on British Airways proved to be fairly easy and seamless. The return Europe-US experience was, shall we say, less so.
Let's talk about the sheer volume of documents required for the return trip.
Firstly, we knew we needed to test negative for COVID-19 via a PCR or Antigen test within 72 hours of our departure flight. Either test is presently admissible (the Antigen test is much cheaper and is accepted by both the US and the UK).
On the final night of our trip, my partner and I chose to submit to the Antigen test due to cost and schedule considerations. We were staying at the Hilton in Madrid, which organized for us to have our COVID-19 Antigen test done right at the hotel.
It was extremely convenient and at EUR130 for *two* people, it seemed like a steal, at least compared to COVID-19 testing prices elsewhere. Notably, the price included the cost of having a healthcare professional arrive at our hotel room and administer the tests.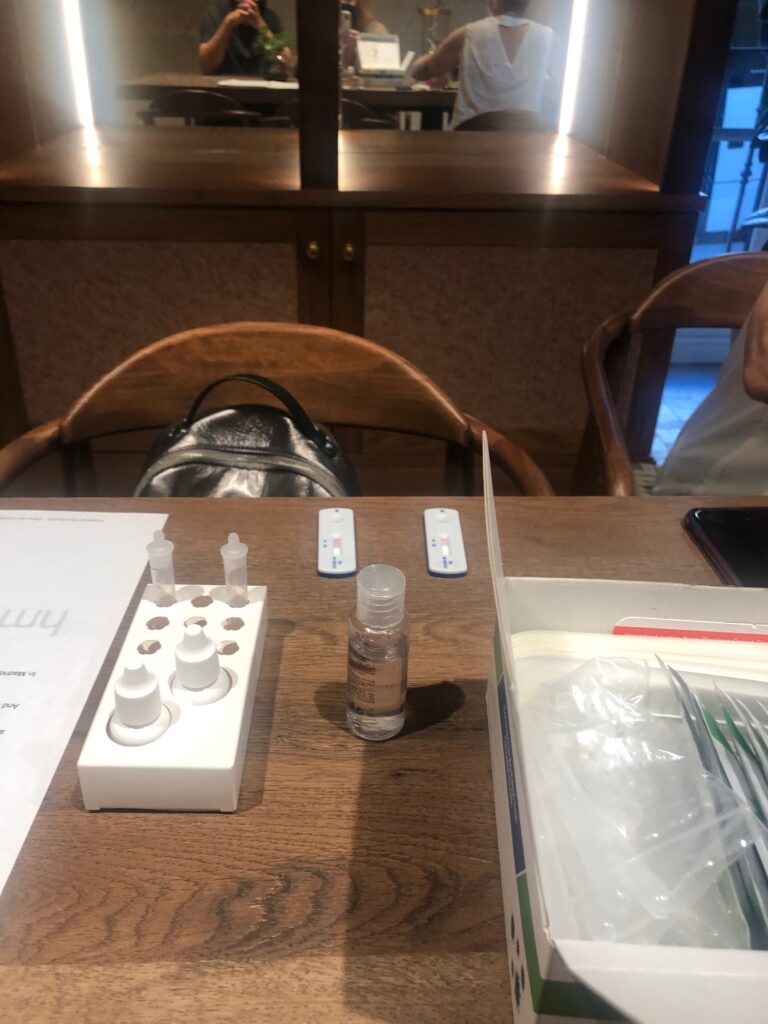 Yes, we did pay for the test administers to come directly to the hotel, but they really took the stress out of the process so it was a win-win in our book.
We received the results within five minutes, and in ten minutes we received a doctor's note to present to the airline.
Every EU state has its own set of required documents for travel. We took a train from Madrid to Barcelona, and readied for our Barcelona-London Heathrow-Los Angeles air travel adventure. For the Barcelona-London Heathrow leg, we were required to provide the UK with a Passenger Locator Form. This is a straightforward online document that required us to submit our names and travel details. It then provided us with the required QR codes to facilitate our transit through London Heathrow.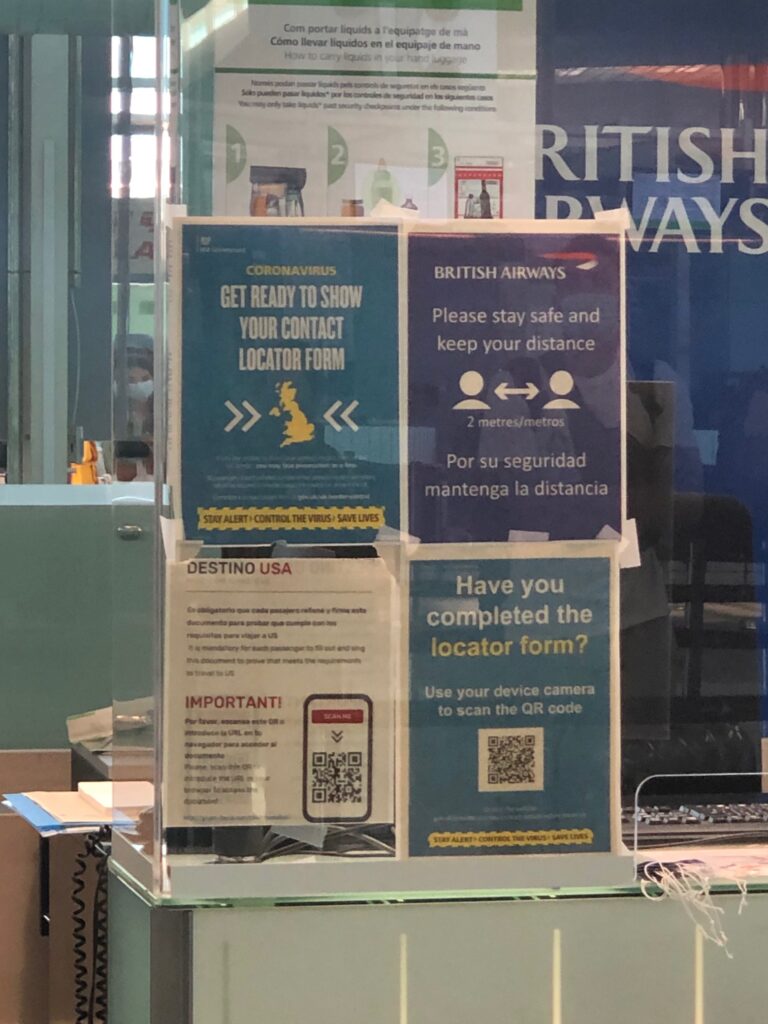 Waiting in line at the British Airways check-in desk at Barcelona Airport, we noticed that the agents were erecting signage stating that the United States would require a different online form to be filled out. What was this? I thought I was aware of all the US requirements and did not recall any mention of this form. Was it new? How did I miss it in my research? With regulations changing seemingly day-by-day, who knows.
The form was easy to fill out, but we wondered what elderly travelers or less tech-savvy flyers would do in this situation. Would they know how to access the free Wi-Fi at Barcelona Airport, fill out the form online, and be ready to scan a QR code? For this particular form, we had to share personal information about our travels in Europe, as well as our passport numbers.
Unfortunately, our flight from Barcelona to London Heathrow was delayed by three hours causing us to miss our connecting flight to Los Angeles.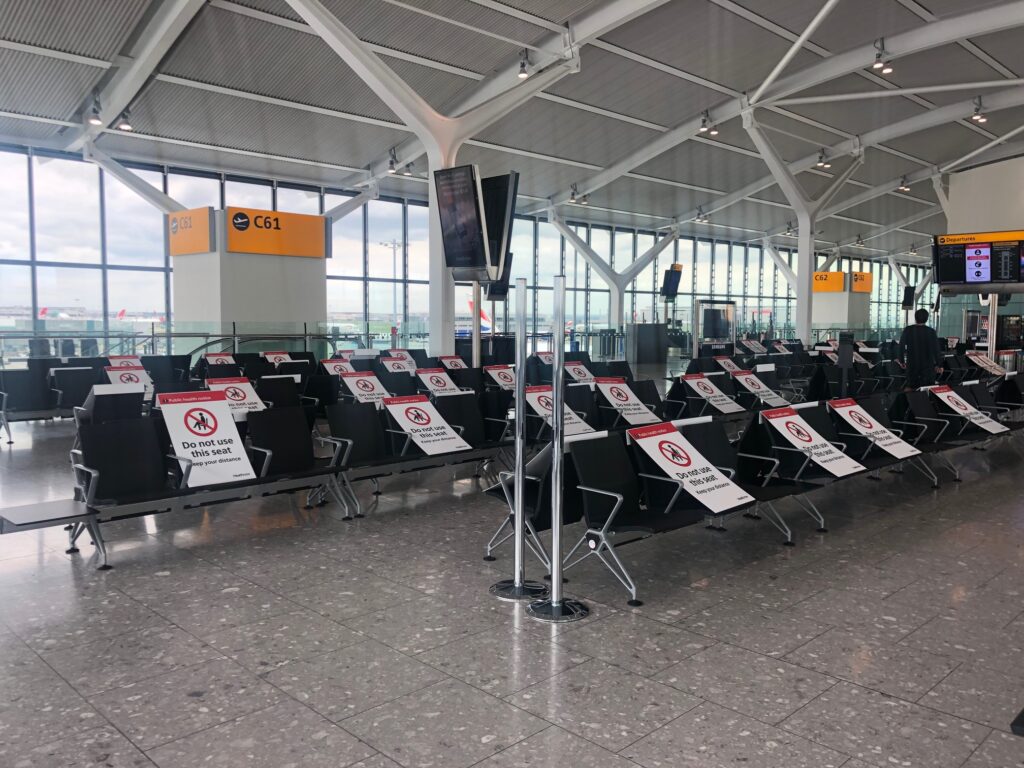 When we arrived in the UK, a rather friendly agent gave us vouchers for an overnight hotel stay at Heathrow airport.
We then traipsed through Heathrow to a small British Airways office where we received two travel kits for the night. The kits covered the basic essentials for getting through the night — toothpaste, a toothbrush, body wash and an extra-large white t-shirt which I would describe as 'prison chic'.
Fashion trends aside, what did this delay mean for our COVID-19 paperwork? What about the Antigen test? Luckily, we were still within the 72-hour window for a valid test result. This is something that you must keep in mind when traveling abroad — if you are delayed, and your testing window closes, you need a Plan B. I recommend taking the test as close to your departure time as possible to avoid any additional testing if a delay does occur.
But what about the UK Passenger Locator form? Did we need to fill it out again and get another QR code? Luckily, we did not. We were informed by a British Airways agent that since we had already completed the form we did not need to fill out a new form, even though we were staying overnight in London and not simply transiting through.
We spent the night at the Hilton Garden Inn at Heathrow's Terminal 2. And, at check-in the next day, we showed our COVID-19 test results again.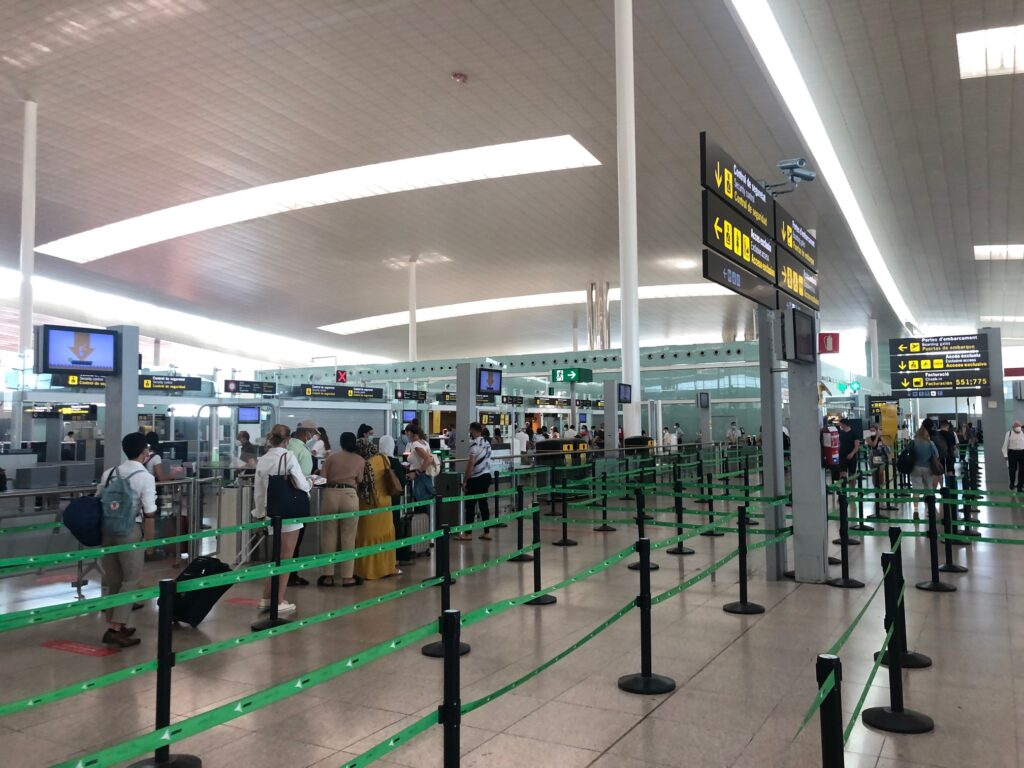 We were ready to fly home to Los Angeles. But a gate agent at Heathrow walked around handing out an additional form to be filled out. The document was called the "Passenger Disclosure and Attestation to The United States of America" form, which basically asks you to attest to the fact that you obtained a pre-departure COVID-19 test and that it was indeed negative.
I thought that the certified form from the Madrid doctor was supposed to attest to this fact, but okay. We filled out this form as well. And when we boarded, we gave the completed form back to the agent. She had a messy stack of forms from other passengers in front of her, so I think these forms may have only been used for reference, if needed.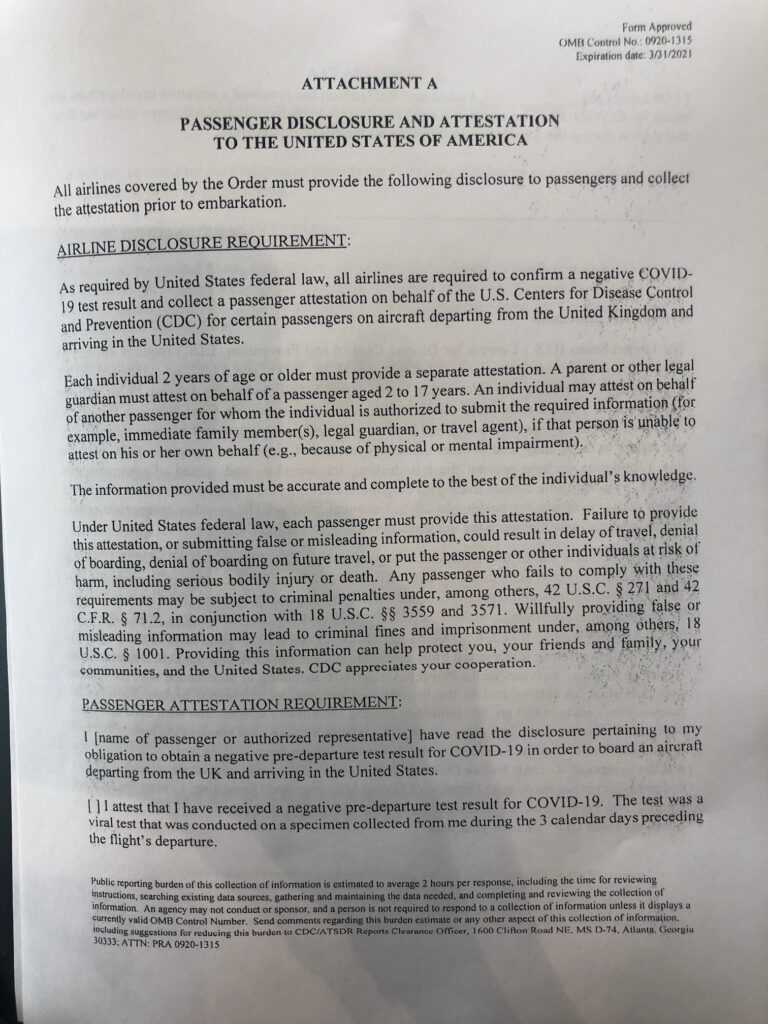 Almost eleven hours later, as we were preparing to land in Los Angeles, we received another form to fill out in-flight — the Traveler Health Declaration form. We filled it out and carried it with us as we approached customs at LAX.
But to whom were we to present this form? The customs agent only asked for our passports and which countries we had visited.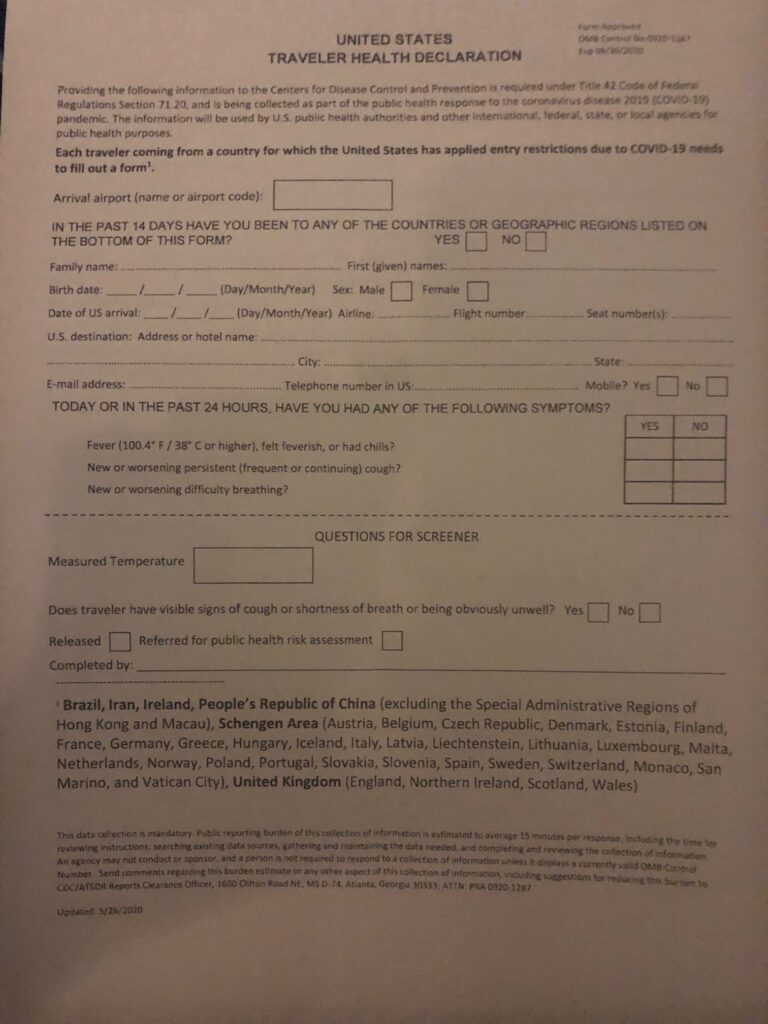 We still have these forms in our possession as nobody took them from us!
Heading to the luggage carousel, we noticed another sign and another request to scan a QR code — this one for the city of Los Angeles, which asked that we acknowledge the city's travel advisory.
While the sign said this form was mandatory, nobody checked to see if it was filled out. I guess, like the Traveler Health Declaration form, there is a sort of honor system involved.
Nobody took the forms, nobody scanned a QR code. To be frank, it felt like a procedural facade.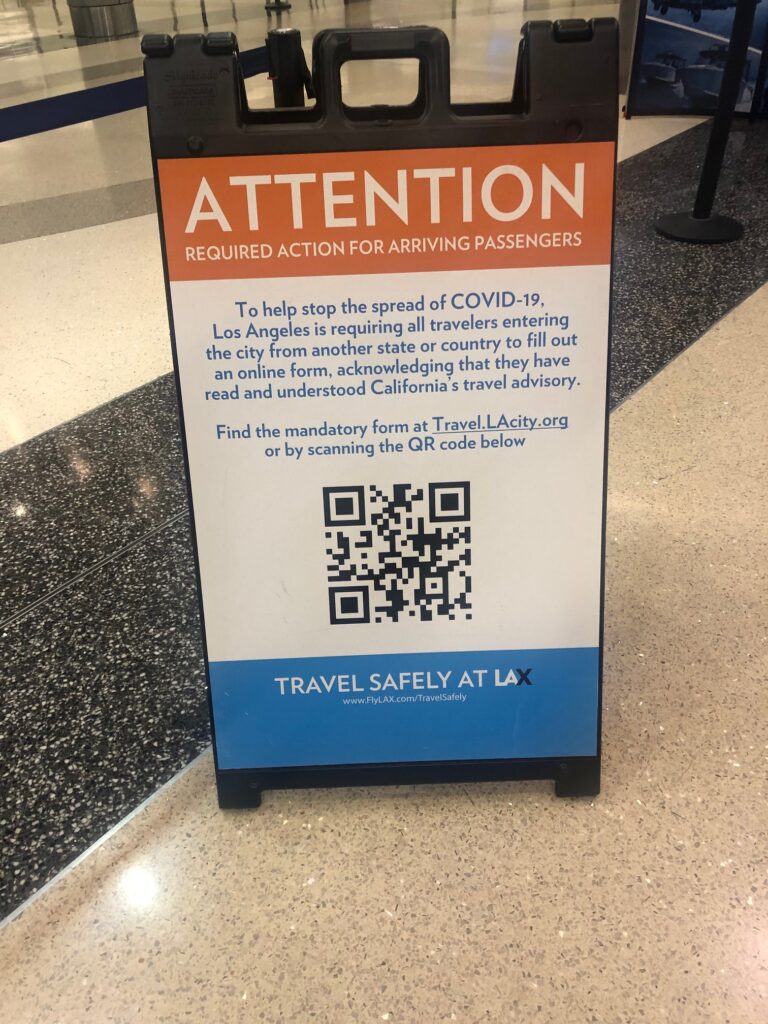 In the end, redundant forms, complicated protocols and QR codes aside, a trip to Europe was just what we needed, and Spain was glorious. We found the Spanish people to be extremely respectful of COVID-19 regulations and excited to be welcoming tourists back.
It is disheartening to see the restrictions tightening again due to the Delta variant and we feel lucky to have made it over when we did.
A few side notes:
US vaccination cards
Nobody asked for them or looked at them. While they were nice to have, they are not presently mandatory to enter Spain.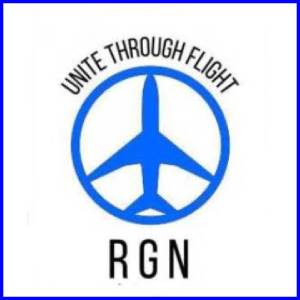 VeriFLY app
The agents continually announced that if you have the VeriFLY app, and all your information is in there, then you do not need to fill out the additional form at the gate. British Airways sent information via text about this VeriFLY app, but it did not work for me and only offered me the option to choose American Airlines as my carrier of choice, so it appears to have some kinks that still need to be worked out.
British Airways food vouchers
When delayed due to the airline's error, one would expect to receive a voucher for a full meal, in this instance a breakfast from British Airways. Instead, BA offered a breakfast box. The food had an expiration date of 25 October 2021, and the milk was good until February 2022! I don't know anyone who would want to eat something like that. Provide a proper meal.
Hilton Garden Inn at Heathrow Terminal 2
Candidly, lighting in the bathrooms is the worst. Nobody looks good with LED overhead. Seriously no one — especially not in prison attire.
Related Articles:
All images credited to the author, Bridget Kirby