Satellite operators and satcom hardware manufacturers are presently engaged in serious exploratory work regarding the use of extremely high frequency [EHF] bands for various applications, including to improve inflight connectivity for civil aviation.
"Viasat sees great potential for using extremely high frequency bands for a variety of innovative satellite-based communications solutions and we've worked with regulators to develop policies to enable these solutions to come to market," the Carlsbad, California-based firm told Runway Girl Network when asked if Viasat is eyeing EHF for inflight connectivity. In April 2020, Viasat received FCC approval to operate a 20-satellite Medium Earth Orbit (MEO) constellation using Ka-band and V-band spectrum.
For its part, Washington DC-headquartered Intelsat said it is "always innovating" when asked about using EHF for IFC, and whether antennas for Q- and V-band frequencies (37.5-42.5 GHz and 47.2-51.4 GHz) might one day augment Ku or Ka antennas. "We are currently developing a number of promising technologies and will bring them to market when they are mature enough to thrive in the marketplace," said the satellite operator.
As is so often the case in aircraft communications, the US government has already established precedent for using higher millimeter-wave frequency bands. The United States Space Force operates a nextgen constellation of Advanced Extremely High Frequency (AEHF) satellites at 44 GHz uplink, and these are used to relay secure communications for a variety of allied armed forces around the world.
Last year, a company which has seen its unique Ku-band mechanically-steered phased array antenna installed on over 1550 commercial aircraft — ThinKom Solutions — announced the successful completion of over-the-air testing of a pair of K/Q-band antennas communicating through an AEHF satellite.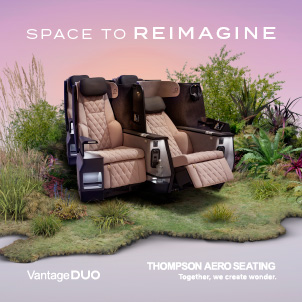 "The burden of proof was on us, so we pushed all sorts of data rates" to show government that the antennas, which are based on ThinKom's patented Variable Inclination Continuous Transverse Stub (VICTS) architecture, met or exceeded all performance metrics for operating effectively with the frequency-hopping waveform of the AEHF network, company chairman and chief technology officer Bill Milroy told Runway Girl Network in an in-depth interview.
"We've actually flown Q-band on test aircraft and have a production program we're producing those for and those will actually be — in that particular platform — embedded," he said regarding the conformal flat-panel VICTS antennas being cavity-mounted for military aircraft, which, believe it or not, is the type of scenario that might one day emerge in civil aviation. "We love the Humpspotter thing", said Milroy in reference to the aviation geek pastime of identifying IFC solutions on commercial aircraft based on their fuselage-mounted radomes, "but the whole idea here is to have no hump spot" in certain government and military applications.
Outside of this work, ThinKom is eager to support the nascent market for commercial aviation applications in the Q- and V-band frequencies, which have been designated for adoption by satellite operators in LEO, MEO, GEO and HEO. Its new low-profile, VICTS-based Q/V-band antennas will be offered in configurations for aeronautical and ground-based fixed and mobile applications.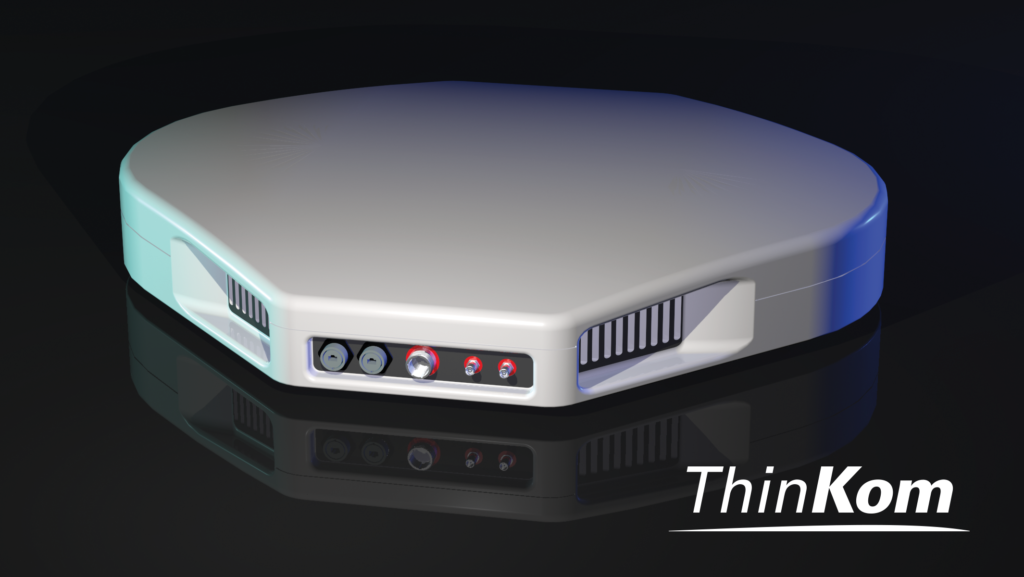 "This new phased-array development is timed to fully enable the upcoming frequency revolution that promises to unlock massive new available bandwidth at these higher MMW [millimeter-wave] frequencies for next-generation LEO and MEO satellite constellations," declared Milroy in a press statement.
The company has reason to be optimistic. In addition to Viasat, a raft of satellite operators —  including OneWeb and SpaceX — in recent years have received the green light from the FCC to use V-band satellites in non-geostationary orbit (NGSO).
In granting authority for Viasat to operate a 20-satellite MEO constellation using Ka-band and V-band spectrum, the FCC said: "Viasat is a well-established provider of broadband communications using a fleet of Ka-band geostationary satellites, and the addition of the proposed non-geostationary space stations operating in the V-band as well as Ka-band will provide Viasat with an alternative means to better serve American customers with more broadband capacity."
Broadly speaking, EHF bands can be used in various applications. For instance, moving gateway antennas to Q- and V-bands frees up Ku-band and Ka-band spectrum for increased user capacity, allowing greater access to connectivity for these users, Satellite Today reported in 2017.
Milroy agrees, telling RGN that ThinKom is indeed pursuing gateway work. "So the Q- and V-bands can be used and the most common way to use them is for the gateways to talk to the satellites … But regulatory-wise those are approved for all sorts of operations including for user beams as well."
He said in a press statement:
The new [ThinKom] user terminals will include uninterrupted 'make-before-break' (MbB) and 'break-before-make' (BbM) connectivity options, depending on the requirements of a given application. The MbB terminals will support two simultaneous full-duplex beams that can be independently pointed at two different satellites.

The LEO and MEO satellites move rapidly across the sky from horizon to horizon, so the multi-beam capability of the new ThinKom MbB terminal ensures uninterrupted services while switching between rising and setting satellites.

It also allows multiple satellites or channels to be bonded, either within the same or even across different constellations, doubling throughput capability.

The antenna also supports full frequency and polarization diversity, which is another key enabler for maximizing satellite throughput.
But what about the inflight connectivity application, specifically? Milroy told RGN that he doesn't expect anybody involved in "aircraft or ground" comms to move solely to Q- or V-band. "I think it will be in addition" to Ku or Ka. "[W]e know a lot who are thinking of adding Q or V."
Augmenting Ku or Ka IFC with Q/V
For narrowbody and widebody aircraft with Ku- or Ka-band IFC hardware already installed in support of passenger connectivity, Milroy said it's far more likely that Q- or V-band would augment these solutions. If, for example, an operator were to migrate from Ku- to Ka-band IFC with the latter's smaller antennas, whilst retaining the radome footprint, that would free up room in the footprint to add Q/V, said Milroy, as ThinKom believes a 10-12-inch diameter range is sufficient for these latter bands.
In practical terms, if an airline decided to gravitate from the Intelsat (formerly Gogo) 2Ku IFC installation — which features ThinKom's Ku2020 VICTS antenna in an ARINC 791 footprint — to Intelsat's "2Ka" configuration with ThinKom's Ka2517 VICTS antenna, it could opt to tuck in a Q- or V-band antenna under the radome during an overnight install, exploiting both the additional bandwidth provided and the antenna's ability to roam between NGSO and GSO satellites. (Incidentally, Milroy said the firm is fielding interest in 2Ka. However, John Wade, the president of Intelsat's commercial aviation vertical, recently told RGN that Intelsat doesn't see a need for the 2Ka product in the short-term. "It's ready on the shelves should we need it.")
Challenges of EHF
The use of EHF frequencies "can provide the advantage of large bandwidth availability but also smaller antenna size for a fixed gain, or conversely, higher antenna gain for a fixed size", noted IEEE in a 2016 report. But one of the main drawbacks that limits the use of these frequencies is represented by the strong impairments caused by the lower part of the atmosphere. The frequencies are prone to signal propagation, and more susceptible to rain fade. Propagation impairment mitigation is needed and could take the form of Adaptive Coding and Modulation (ACM), warned the association.
"We're talking about wavelengths that are a quarter inch [with Q/V], so you could have periods of outages," explained Milroy. "Ku is better than Ka in that regard and Ka is better than Q and V in that regard, but then you build more rain margin into the link budget so for that 1% of the time that you have a lot of rain propagation, you use ACM to run at a lower data rate. When you're above the clouds, there is no disadvantage of Q and V bands…above 10K ft. So maybe you'd want to consider adding Q and V, rather than swapping out."
In terms of next steps for satellite operators, Milroy told RGN: "I think the way this will likely get started is hosted payloads first. You won't have a satellite that is Q or V only, but you'll start to see Q and V packages that support eight beams over CONUS or something like that, added to the payload, or launched as a carry-on hosted payload with the same satellite. That's kind of how Ka got started. They added Ka experimentally to start."
From a hardware standpoint, ThinKom believes its VICTS antenna is uniquely positioned to support communications over EHF, given the "efficiency, packaging, power density, thermal management and cost" challenges that multi-band electronically steered antennas (ESAs) face in higher MMW bands.
"This is an area we feel very comfortable with," he said, reiterating that "we'll be flying Q-band stuff on government aircraft soon."
Related Articles:
Image credited to istock.com/tonefotografia