Honeywell is ramping up its proficiencies as a Tier 1 integrator of software for connected business aircraft.
When it started offering its GoDirect platform of software solutions, it provided simple inform and control tools such as enabling a company to turn on Inmarsat SwiftBroadband-supported Internet if a principal was flying.
But GoDirect evolved by becoming system agnostic – willing to work with any airtime service provider, not just Honeywell's partners – and last year, users migrated to a new Forge portal, which helps business aircraft operators perform multiple tasks and manage flights from start to finish from one mobile-optimized website.
Forge is able to synchronize a flight department's different services to populate popular flight planning tools, a timely decision given that BizAv is rebounding faster from the COVID-19 crisis than commercial.
If an operator likes to use the likes of Professional Flight Management (PFM) or ForeFlight planning services, Honeywell can support that "and we'll be your datalink and service provider", says Honeywell vice president and general manager, aerospace and connectivity services John Peterson.
He tells Runway Girl Network he is excited that Honeywell can facilitate such integrations as opposed to "you buy everything from me and I'll make it work". Perhaps an operator prefers a different scheduling software. "The world we live in today is 'I want what I want.' We are getting very good at helping operators get there, and believe we'll deliver an efficiency platform to operators – particularly management operators – to do a better job managing aircraft with fewer people."
In addition to taking this system-agnostic approach to Forge, Honeywell supports Inmarsat Classic, Inmarsat SwiftBroadband and Iridium services for cockpit communications and safety services. It also supplies the business aviation sector with the Inmarsat Global Xpress Ka-band satellite-based Jet ConneX (JX) terminal and broadband service.
The firm has over 1,000 Ka systems in BizAv today, and has seen the hardware installed across a wide spectrum of aircraft types: the Challenger 650, Gulfstream G280; Dassault Falcon 2000 and all the way up to the Gulfstream G650 and Bombardier Global Express.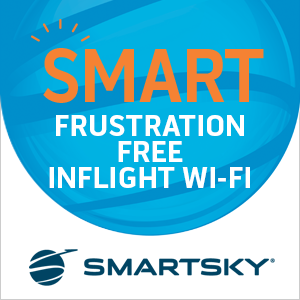 There is still a bit of a choke point in the aftermarket for Ka tail-mount antenna radomes. "While a Ka system will work fine under a Ku radome, it's kind of like running with a mask on. You can do it, but it's not the most efficient way to do it. That inefficiency shows up in terms of the cost of the service. Your spectral efficiency goes down so much and requires more power and consumes more spectrum so the cost would go up to support it. So, the cost for the service is greater than the cost of replacing the radome. So, we're working on clever ways to handle that commercially, working with Inmarsat to handle it from a service cost perspective and our installers to get the overall install and radome costs down," says Peterson.
The goal is to get further downmarket to equip JX to older business aircraft at a price point that works for all parties. In time, the radome issue will work its way through, he says, "because all new aircraft are delivering with Ka radomes" and as aged aircraft get even older, there is less propensity for operators to want to invest in them.
Bullish on Ka
Honeywell is bullish on Ka IFC in general whether that means solutions in its patch – GX for commercial airlines and JX for business aviation – or other Ka solutions.
When Peterson talks about Ka, he admits he is "also talking about Viasat Ka and Ka capacity as a whole. We watch the whole market and Ka capacity as a whole, and the decisions we make [are] around providing the best experience."
Inmarsat JX, and other BizAv IFC players including Viasat, face strong competition right now in North America from Collins Aerospace's Ku-band LuxStream service, delivered in partnership with SES. (Collins is also a JX service provider.) Separately, satellite operator Intelsat has indicated it will be ramping up its FlexExec global tail-mount Ku messaging. And indeed Satcom Direct's Ku tail-mount antenna, providing connectivity via FlexExec, is presently undergoing rigorous airborne validation testing.
But in Peterson's mind, Ka IFC is a superior service. "When I think about Ku versus Ka, I think I have to have a conversation about PalmPilot versus iPhone. Sure, it works and is reliable, but the iPhone is just dramatically better and that's really what we're talking about when talking about Ku versus Ka," he suggests. Others in the Ku-camp disagree.
Regarding the Forge portal, the Honeywell executive confides that exciting stuff is in the pipeline.
Featured image credited to istock.com/Cavan Images