Policymakers have welcomed the European aviation industry's roadmap for reaching net zero carbon dioxide emissions by 2050 as an important first step towards decarbonizing the sector, but much work remains to ensure that its commitments are upheld and the right government support is in place.
If the industry moves too slowly, it faces the possibility of mandatory demand-reduction measures and the loss of increasingly environmentally-conscious passengers.
Earlier this month, five European aviation bodies – ACI Europe, ASD Europe, Airlines for Europe, the Civil Air Navigation Services Organization (CANSO) and the European Regions Airline Association (ERA) – unveiled the Destination 2050 roadmap. It sets out four pathways which the industry says will get it to net zero by mid-century, provided the right regulatory support and financing is forthcoming.
The roadmap envisions that by 2050 improvements in aircraft and engine technologies could result in a 37% reduction in emissions, with a further 34% cut coming from the use of sustainable aviation fuels. The implementation of economic measures could achieve reductions of 8%, says the report, while improvements in air traffic management and aircraft operations could shave another 6%.
During a virtual event to discuss Destination 2050 on 25 February, Pascal Canfin, chair of the European Parliament's ENVI Committee, said he welcomed the report, noting that sectoral roadmaps were vital to explain how different industries could reach net zero. However, he stressed that it was just a first step and called for more detail.
"We are just at the beginning of this because you make the first step – and it's a good first step – but it's a first step," says Canfin "We need a bit more clarity on your investment needs…and we want to go deeper into the dialogue with you so that we can get what we want to get in the carbon neutral world."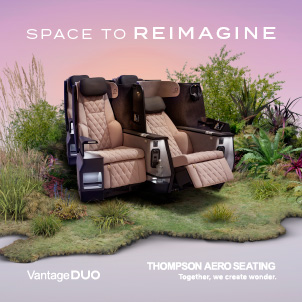 Pete Harrison, executive director of EU climate policy at the European Climate Foundation, describes the industry's roadmap as "a really helpful first step in its own subtle way", but says it doesn't go far enough.
"Going far enough means really recognising and internalising that business as usual is going to look very different in the future," says Harrison. "The truth is that there's a whole generation that might be willing to cut their flying significantly."
While moving to zero carbon technologies is Harrison's "preferred pathway" for aviation, he warns that if the transition does not happen fast enough then measures to reduce demand for flying will need to be taken.
"For aviation, the storm on the horizon is demand reduction and I very much hope that it can recognize that storm and it can divert around that storm by really working hard with government and with civil society to get this right," says Harrison.
EasyJet chief executive Johan Lundgren, however, is strongly opposed to anything that might reduce demand.
"I don't believe for a moment that we should look at measures that reduce demand," says Lundgren, arguing that making flying more expensive would mean that "wealthy people, just like before deregulation, will fly, load factors will be lower, inefficiencies will creep into the system, and hardworking families – and students alike – are not going to be able to afford to have the same privilege".
EU transport commissioner Adina Valean believes the Destination 2050 roadmap sends "a strong signal that decarbonizing aviation can become a tangible reality". As the airline industry flies out of the Covid-19 pandemic, she emphasizes, is must do so sustainably.
"It makes no sense to bounce straight from catastrophic economic losses to an increased environmental impact. That is why alongside an increase in flights, we have to see a decrease in emissions," says Valean. "We now have the technologies, we have the plan and we have the commitment of the entire aviation industry to change."
While details need to be ironed out and differences remain, all of the speakers at the event agreed that Europe's airline industry and its governments must work together to make the net zero ambition a reality.
Related Articles:
Featured image credited to istock.com/yalcinsonat1