A refreshed first class or business class cabin always drew attentive excitement in the carefree days of aviation, but now as the pandemic slogs on, new inflight perks are scrutinized in a different manner. Passengers eyeing a return to air travel, and even those who have been flying throughout the past year, will be curious as to how the new amenities will address our changed reality.
For JetBlue, the refresh-Mint (wink, wink) of its Mint Cabin which first debuted in 2014, has sought to double-down on both luxury and wellness in an age of flying trepidation. This comes as the airline continues to expand service to sun destinations, and eyes transatlantic service to London this year.
While JetBlue has not made changes to the lie-flat seats or entertainment systems within the Mint cabins, it has vastly improved the inflight touches.
Launched in late November, the refresh-MINT now includes small plate menus created by SoHo-based Delicious Hospitality Group (known for restaurants Charlie Bird, Legacy Records and Pasquale Jones); craft cocktails and international wines; new bedding kits from Tuft & Needle mattress company; Master & Dynamic over-ear headphones; and an entirely new amenity kit that goes beyond the usual goodies and focuses on your overall trip health.
"With our customers' health and wellness being at the center of the refreshed Mint experience, we wanted to develop a new type of airline amenity kit – one that aims to keep our customers healthy and energized at different points throughout their travel journey," said Emma Magee, a corporate communications coordinator for JetBlue.
Yet while the new amenities focus on wellness, it's not the usual mask, sanitizer or gloves combination kit we've come to find elsewhere such as hotel front desks or restaurants. (JetBlue provides packets of anti-bacterial wipes to all passengers at the gates and passengers must wear masks during flights.)
Instead, JetBlue sought to optimize inflight wellness through Wanderfuel, a company that specializes in curating natural and organic products meant to be used when traveling.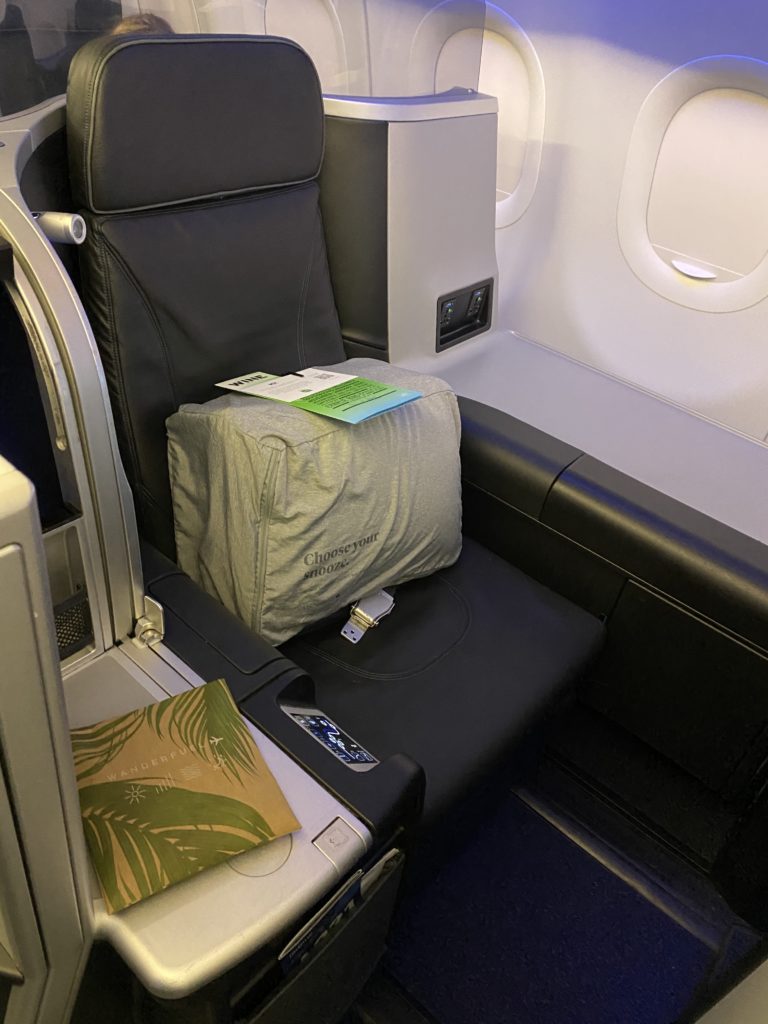 Each Wanderfuel kit is designed by nutritionists and guided by holistic health practices and these standards have carried over to the company's partnership with JetBlue.
First things first: the kits aren't the usual mini-dopp style pouches. Rather, they come in illustrated, recyclable packaging decorated with palm fronds and sporting a tie closure that's somewhat reminiscent of an interoffice memo envelope, although more artistic of course.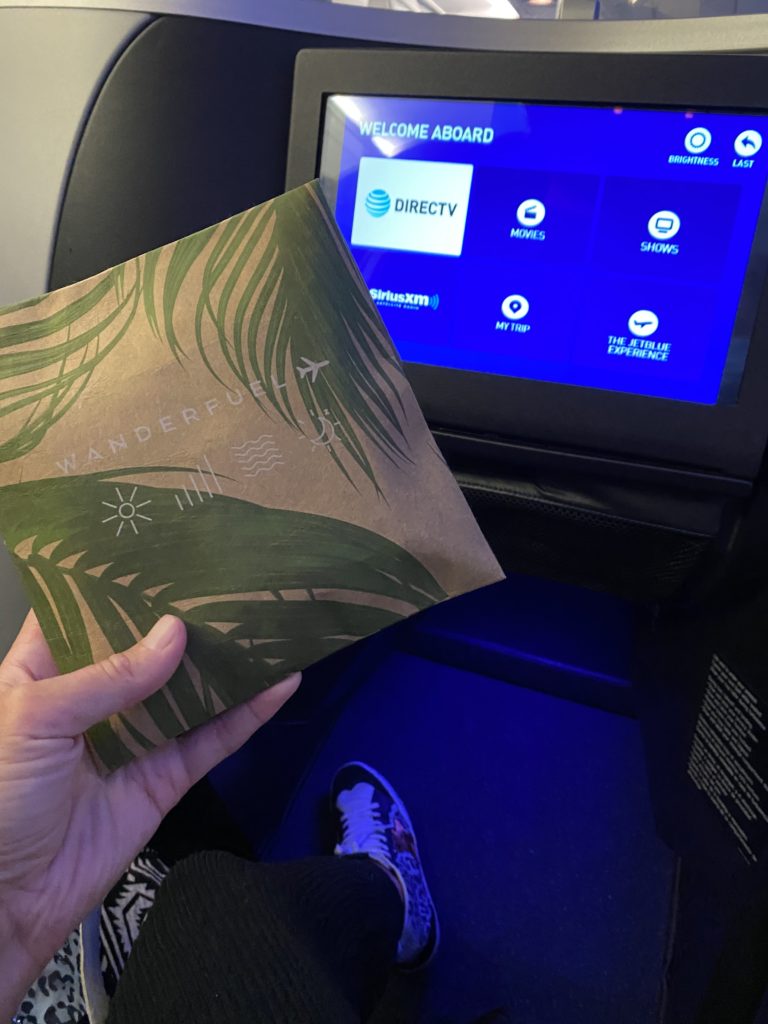 Aside from the look, the contents are different than most inflight amenity kits too — namely, the products vary depending on the time and route of your trip.
Currently, there are four different Wanderfuel kits:
Awake, for breakfast and morning flights
Flow, for lunch and dinner flights
Sleep, for shuteye flights
Renewal, for Caribbean flights
On a recent evening flight from West Palm Beach to Los Angeles (a new direct route that JetBlue began in November), a Flow kit awaited Mint passengers at their seats.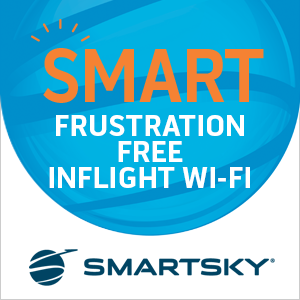 Inside were Hint lip balm (from the makers of Hint water); a three-day sample from Hum dietary supplements (meant to help digestion); Astra magnesium body butter (to melt away pain); NeuroMints for energy and focus; Lumion skin oxygen mist; Ursa Major fortifying face balm; and a pair of two-tone grey socks. Later on, JetBlue would dole out Hu chocolate covered cashews as a sweet treat.
The kit also comes with a card to explain the order in which to use the products from take off to post-flight (Hum and NeuroMints, followed by skin mist and moisturizer, then lip balm and body butter.)
The goal here is obvious—in such stressful times, JetBlue is doing what they can to make your flight as stress-free as possible and then some. Even though wellness is certainly more relevant now in our daily lives, JetBlue said the Mint upgrades had been in the works for a few years and weren't necessarily influenced by the ongoing pandemic.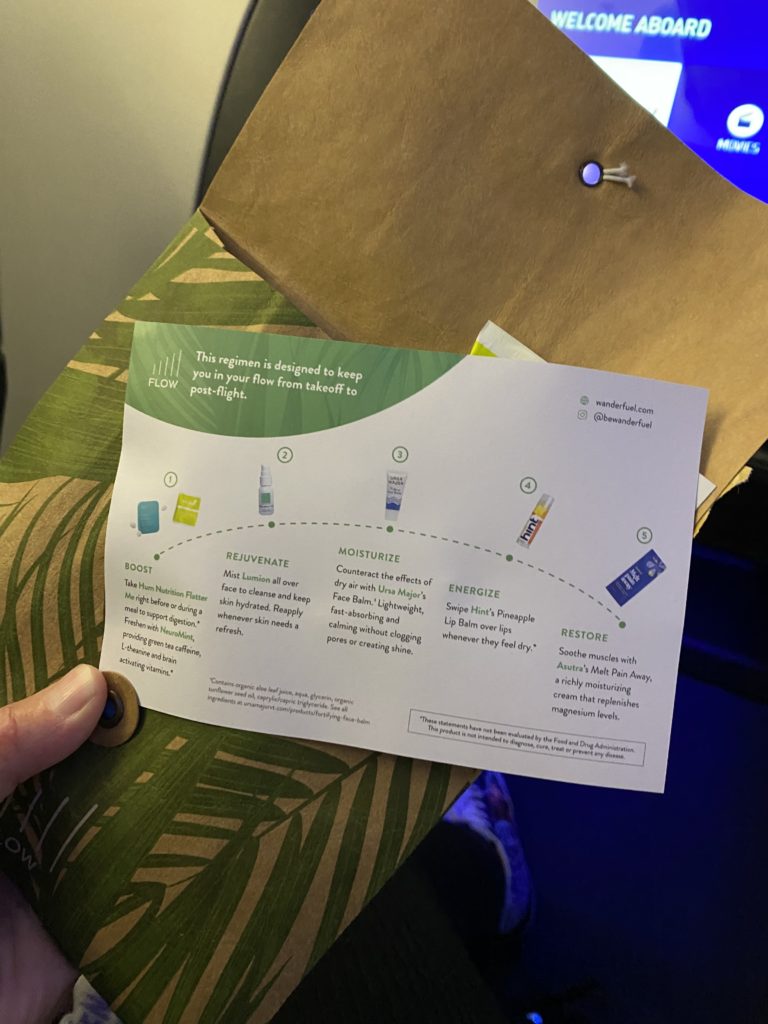 Still, these are the little touches that passengers will delight in but also get some actual usage out of well beyond the flight. Except for the socks. Those could use an upgrade the next time around.
Related Articles:
All images credited to the author, Juliana Shallcross.