Inflight connectivity specialist SkyFive has inked a memorandum of understanding with Auckland-headquartered engineering firm The Broadtech Group to perform a detailed technical evaluation and proof-of-concept trial of SkyFive's air-to-ground-based IFC solution, with the aim of facilitating its rollout in New Zealand.
The Broadtech Group owns and operates a nationwide network of transmission sites, and a regional digital terrestrial television network. It also manages multiple third party transmission sites in New Zealand. Under the MOU, technical experts at Broadtech and SkyFive are working together to develop the terrestrial ecosystem in New Zealand to bring SkyFive's "direct-air-to-ground" solution – branded DA2G – to the region's aviation industry.
New Zealand-based Flightcell International will provide the onboard terminal for the planned trial of DA2G in New Zealand, according to SkyFive. Flightcell designs and manufactures integrated aircraft cellular and satellite communication systems that provide voice, data and tracking capability. It supplies hardware to air ambulance, search & rescue, police and other aviation services.
"Stakeholder engagement has commenced with NZ Police, St Johns Air Ambulance, Auckland Rescue Helicopter Trust, the Royal NZ Air Force and the commercial airlines, all expressing interest in participating in the trial," claims the firm in a statement.
"These air agencies are keen to experience high-speed access to their private networks or Internet-based data for secure streaming of high-definition video for marine and terrain surveillance, transmitting critical patients' biometric data ahead to hospitals or a wide range of other use cases, all in real-time. A DA2G network could also support future Unmanned Aerial Vehicles (UAVs) enhancing data services for both operations and passengers."
SkyFive acquired Nokia's ATG assets in 2019, after Nokia served as a key technology partner on Inmarsat's hybrid S-band/ATG European Aviation Network (EAN). Since then, in addition to supporting the EAN, SkyFive has been working to offer regional-focused ATG connectivity along similar lines to the EAN, but without the satellite component. Its guiding principle is to cooperate with incumbent telecommunications companies.
"The NZ network will be the first SkyFive DA2G deployment outside Europe, where the European Aviation Network, enabled by SkyFive's DA2G technology, currently covers 35 countries and provides commercial aircraft passengers and crew with data speeds up to a 100 Mbps per aircraft, with less than 50 milliseconds end-to-end latency," says a SkyFive spokesperson.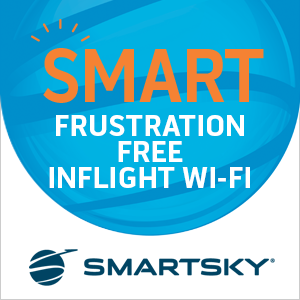 As previously reported by Runway Girl Network, SkyFive is not in the business of cell tower erection and neither does it lease space on existing masts. Instead, it works with incumbent providers, which it relies upon for coverage. The company says the technical design phase of the New Zealand trial is almost complete, and the physical build will commence "soon" for an Auckland and Waikato trial network to be built and integrated by The Broadtech Group.
"The use of dedicated radio frequency spectrum is the key enabler for both the performance and data  security of DA2G communications and Broadtech has recently secured a Trial Spectrum License in the proposed A2G frequency band in New Zealand," reveals SkyFive.
Located in Munich and Stuttgart, Germany, SkyFive is eyeing networks in Australia, the Middle East and China, in addition to New Zealand. Its patented software algorithms are engineered to ensure that aircraft can connect at high speeds, high altitudes and across long ranges. Built on 4G and 5G network standards, DA2G's open and flexible architecture means that "different vendors of aircraft communications equipment can design solutions and connect aircraft of all  types to this network", adds the firm.
Related Articles:
Featured image credited to istock.com/tonefotografia