A week before Christmas, OneWeb received an early present. On 18 December, the satellite operator, whose aim is to deliver Internet access everywhere, witnessed the successful launch from the Vostochny Cosmodrome of 36 more satellites, bringing its in-orbit constellation to 110 satellites.
This latest launch of OneWeb's Ku-band Low Earth Orbit satellites means that the London-headquartered firm is on track to launch regional commercial service sometime next year. OneWeb said service will start in 2021 for the United Kingdom – the company is now owned by the UK Government and India's Bharti Global – as well as Alaska, Northern Europe, Greenland, Iceland, the Artic Seas, and Canada.
Launches will continue throughout 2021 and 2022 to round out OneWeb's planned 650-satellite constellation. Global service is expected to be available in 2022.
OneWeb is eager to make good on its core mission, with Bharti Enterprises founder and chairman Sunil Bharti Mittal noting in a statement that the COVID-19 crisis has made the need for global connectivity even more acute.
"Overall, there is an overwhelming demand for broadband and the pandemic has taxed infrastructure everywhere and many people worldwide are left with little to no options to access the Internet. OneWeb's system will help meet existing and future demand by delivering broadband connectivity to communities, towns, and regions left unconnected or under-connected," he said.
But OneWeb also intends to play in other verticals, including the mobility vertical of aviation. Indeed, it is looking to disrupt the inflight connectivity industry with its low-latency broadband service. And it is eyeing both cabin and cockpit applications. "So, we're very keen to have a look at the whole breath of connectivity for the aircraft," a company executive said last year. Inmarsat and LEO satellite operator Iridium are the main satcom players in cockpit communications, showing themselves capable of meeting strict reliability requirements to support safety services.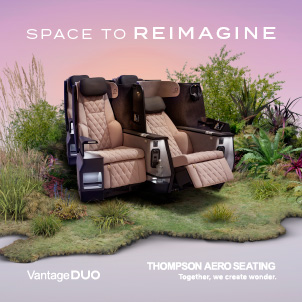 Among the stakeholders aiding OneWeb in its mission to bring broadband everywhere is EchoStar subsidiary Hughes Network Systems, which is developing and manufacturing essential ground system technology for the LEO constellation.
Hughes was already a partner on the program before OneWeb entered and exited Chapter 11 bankruptcy protection. Its new three-year, $250 million contract with OneWeb includes Hughes gateway electronics that will support the OneWeb system and core modules in every user terminal for enterprise, government and mobility customers.
"Under an agreement with OneWeb prior to a restructuring in March, seven gateways had been installed with several more in various stages of production. Under the new agreement, Hughes has ramped up production on the gateway equipment and resumed testing on the installed systems," explained Hughes in a statement.
It said the core module is "uniquely adaptable across fixed as well as aeronautical and maritime mobility terminals, for either electronically or mechanically steered antennas". That's particularly notable for the aviation industry, which is largely still wedded to mechanically steered antennas despite recent advances in electronically steerable antennas. Airlines are under enormous financial strain amid the COVID-19 crisis. They may be reticent to replace traditional antennas with new architectures in the near-term.
Related Articles:
Featured image credited to OneWeb