These days, it's common for airlines to run data over two different satcom pipes on longhaul flights, transmitting safety and operational data via safety-approved L-band satellite services while separately providing passengers and crew with onboard Internet and other applications over Ku- or Ka-band geostationary satellites. But in the coming years, multiple networks and new non-geostationary satellite constellations will increasingly be in play, and with it the expectation that airlines can seamlessly roam between them and experience region- and cost-optimized network service.
It is against this backdrop that German multinational corporation Kontron has introduced its new ACE Flight 2780 Auxiliary Modem Unit, which allows a second or third satcom modem to be installed with the main modem manager (Modman) on aircraft.
"Airlines need to have additional satellite modem equipment on the aircraft in order to use different satellite operators for global coverage and to achieve the most cost-effective service from the network," explained Kontron executive VP, global avionics Andy Mason.
Regarding Kontron's new AMU, Mason told Runway Girl Network that the firm "has customers requiring this type of solution and we started work earlier this year to develop the solution and also worked with the ARINC 791/792 subcommittee to provide our design inputs which helped in providing the final requirements for this standard".
Also designed in accordance with ARINC 791/792 is Kontron's AF4783-branded Modman, which has the ability to support two different satcom modems without compromises or feature limitations.
Final approval of the latest ARINC 791/792 standard is expected in early 2021. But real-world applications of the functionality outlined in the spec may not be far behind.
Inmarsat and Hughes Network Systems recently joined forces to offer a new high-capacity, Ka-band satellite-supported IFC solution. The GX+ North America-branded offering will seamlessly integrate the capacity of the Hughes JUPITER High Throughput Satellite constellation across North America with the extensive worldwide coverage of Inmarsat's Global Xpress (GX) HTS satellite network.
In announcing the arrangement, Inmarsat revealed that GX+ North America will utilize ThinKom Solutions' Ka-band antenna and Hughes JUPITER modems. "A single unit, dual aero modem, 4MCU Modman, developed by Kontron, will ensure maximum performance across both networks by intelligently selecting the optimal satellite at any location and time," said Inmarsat. GX+ North America will be installed and integrated by Dallas-based GDC Technics, which is handling the certification.
"The terms of the arrangement with Hughes are commercially confidential between the two of us. I can't tell you what's in there, but there is capacity on the Hughes network that is available to us," Inmarsat Aviation president Philip Balaam told RGN. "At a very high level, this is a seamless combination of the two networks. The modems on board will roam onto Hughes when in North American coverage and GX when out of North American coverage, which is pretty straightforward."
Notably, Inmarsat is positioning GX+ North America as being a truly global solution. "This will be the only network coverage over the poles with the [forthcoming GX] polar satellites" supporting cabin connectivity "and we think that for some of the North American operators, that will actually be quite a differentiating offer because none of our competitors will be able to do that at all, not today or tomorrow," said Balaam. Aircraft lessors will also appreciate this capability because aircraft fitted with GX+ North America will be compatible with GX globally, meaning the asset can be easily deployed around the world without requiring an IFC refit.
In addition to the Modman, Kontron is positioned to provide other hardware for the GX+ North America connectivity solution. "As we are also a key partner for Inmarsat, complete IFEC installations would also include our ACE Flight Server and Cab-n-Connect CWAPs," said Mason. Asked if Kontron is working on any specific IFC projects for the new AMU, Mason said: "We've recently been mentioned by Inmarsat and GDC regarding our involvement with the GX+ North America program. We have other project activities, but nothing we can publicly comment on at this time."
Indeed, Inmarsat is just one of Kontron's many partners in IFC. Kontron boasts relationships with several aero ISPs, including Global Eagle and Gogo. And its open-architecture hardware – supporting wireless IFE and IFC solutions – can be found on aircraft around the world, including in Europe, Russia, Africa, China, Southeast Asia, the United States and Latin America.
"Kontron primarily supports the commercial air transport market and its customers are global, requiring both retrofit and linefit solutions. With our latest approach on the AF4783 dual Modman and AF2780 AMU we can support our customers with a wide range of connectivity solutions that help them mix and match their offerings to the airlines," said Mason. "We also support the business jet and regional jet customers and we are seeing strong interest in this standardization. The 2MCU AMU is a good fit for this market and we have a 28VDC version planned in our product roadmap."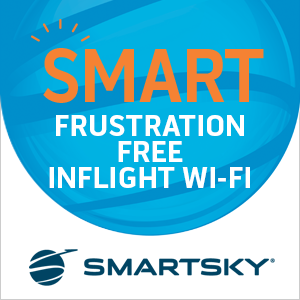 Going forward, the ability to support new non-geostationary satellites constellations and ultimately shared networks (GEO/LEO, GEO/MEO, etc) is important to Kontron. Several NGSO constellations are in the works, including but not limited to OneWeb, SES Networks' next generation O3b mPOWER, and Telesat LEO.
Asked whether forthcoming LEO constellations and their impact on aero is factoring into Kontron's decision-making, Mason said: "Advances in satcom technology, especially around the antenna and satellite along with additional competition in this market seems to be helping to drive down the overall cost of the connectivity installation and also the ongoing of connectivity services.
"Allowing the airlines to have these different providers compete for their business and being able to seamlessly switch between these satcom providers should provide healthy competition and ultimately benefit the airline passenger."
Related Articles:
Featured image credited to istock.com/onurdongel