Now that it is part of leading satellite operator Intelsat, Gogo Commercial Aviation has a spring in its step and an eye on future growth both in Ku-band inflight connectivity – where it could conceivably dominate – and in Ka IFC, if any of its airline clients seek to move in that direction.
"Everything with this deal has actually gone better and faster than we expected," Gogo Commercial Aviation president John Wade told Runway Girl Network in an interview following the completion of Intelsat's $400 million acquisition of Gogo Commercial Aviation on 1 December. The transaction was finalized well in advance of the originally-anticipated close date of late Q1 2021. Gogo Business Aviation, which focuses on serving the business aircraft sector, separately continues as a standalone, publicly traded company.
Tasked with managing all aspects of Gogo Commercial Aviation, including product, sales, account management, quality and service delivery, Wade's first order of business is to make sure that Gogo Commercial Aviation is successfully integrated into Intelsat, which is among the world's largest operators of commercial satellites and is presently restructuring under Chapter 11.
Wade is also focused on making sure Gogo Commercial Aviation's airline customers are happy; that they understand what's happening with the business integration; and that Gogo's IFC service for airlines and their passengers continues at a very high level.
Gogo Commercial Aviation counts Aeromexico, Air Canada, Air France, Cathay Pacific, Delta and Virgin Atlantic among its many customers. The unit serves thousands of aircraft worldwide, including both its signature 2Ku installs on aircraft (with ThinKom Solutions' VICTS antenna) as well as traditional Ku-band IFC installs (with Astronics AeroSat's antenna).
"It's interesting, even during COVID, last month was the highest level of availability on the satellite network we've ever seen so the network is working extremely well right now," says Wade.
Though it is now owned by Intelsat and has long tapped the firm for satellite capacity, Gogo Commercial Aviation has relationships in place with other satellite operators, including SES and Telesat, which help to power its near global Ku-band  IFC solution. SES says it is confident Gogo will continue to honor its Ku-band satellite capacity commitments regardless of the new ownership structure.
Gogo Commercial Aviation is also "seeing incredible performance" from the ThinKom antennas today, Wade tells RGN. "They've always performed extremely well in terms of their RF performance and now their on-wing reliability is huge; it's measured in hundreds of thousands of hours now."
While 2Ku installs came to a grinding halt in 2020 due to the COVID-19 crisis and its impact on aviation, Gogo Commercial Aviation is "seeing, I would say, a gradual increase in the planned installations for next year", says Wade, noting that the business continues to have a significant backlog of 2Ku installs.
"We're seeing plans firming up and that is including an increase from the previous projected installation rates. I think it will still be slightly lower than what we were perhaps anticipating pre-COVID, but I do think the airlines are making preparations to get back to something near normalcy towards the second half of next year."
As inflight connectivity becomes a must-have for airlines, Gogo Commercial Aviation continues to invest in its popular 2Ku product. And in the coming months, it intends to become more vocal about why it believes Ku-band-supported IFC can compete with Ka solutions. Intelsat boasts a fleet of Ku-band satellites, including assets with widebeams and spotbeams.
But Gogo Commercial Aviation is also eyeing the potential to support Ka IFC in the future. Indeed, the Intelsat unit still very much identifies as being "frequency agnostic". It is pursuing work on a 2Ku-to-2Ka swap program, allowing it to cost-effectively convert a 2Ku antenna into a 2Ka antenna by swapping out the disks and a couple of LRU boxes.
2Ka will be ready for production around the end of the year if airline customers prove keen, confides Wade.
We are continuing to complete work on 2Ka. It was very close to being completed by the time the acquisition went through. In fact, right around the end of the year, 2Ka will be ready for production. So if there's a Ka network that makes sense for us to use, then we are in a position to do so very quickly.
Under this scenario, Gogo Commercial Aviation would integrate the IFC solution and act as service provider, but the service would be powered by another satellite operator's Ka satellites.
Gogo Commercial Aviation's largest customer, Delta, this year informed Gogo that it plans to diversify its inflight connectivity provider base in order to generate competition between providers, and that it intends to split its fleet between the Chicago-based company and a competitor. Readying an alternative offering that can slot into the 2Ku footprint and doesn't require a rip-and-replace of the entire antenna package feels like smart business.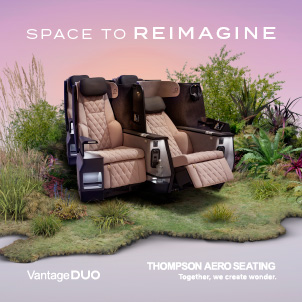 As part of Intelsat's acquisition of Gogo Commercial Aviation, the satellite operator – and now inflight connectivity provider – has exclusive access to Gogo Business Aviation's air-to-ground (ATG) services for the Commercial Aviation market in North America for a period of ten years. ATG is already fitted to regional jets and some narrowbodies in North America, and a 5G service is in the offing.
But just how much cross-pollination is occurring between Gogo Commercial Aviation and Gogo Business Aviation? And are working-together agreements in place?
"We had a very long, very close relationship between BA and CA … so just because we have parted ways from a structural viewpoint, I think those ties run deep," says Wade.
"We have agreements between the companies, as it relates to both ATG and satellite, and we plan on continuing to work together on projects that both companies would use. And I think ATG 5G is a great example of that. And we're really excited about what the ATG 5G system will be able to bring to, for example, regional jets or low-cost carriers in North America. We expect there to be a tight relationship between Intelsat and Gogo Business Aviation and in fact, as of today we're their largest customer."
Going forward, Wade believes the combination of Intelsat and Gogo Commercial Aviation will prove to be a "tremendously exciting merging of these two companies" and "a very logical marriage".
"We are going to be vertically integrated. We are going to be very able to compete with our primary competitors, with all competitors. Intelsat has a very strong roadmap to the future in terms of how it sees bringing new satellites into the market, and I think it's just a good thing for our customers and customers in the future. I think Gogo had proven itself to be operationally very strong. We just lacked access to satellite capacity and with one sweep, that's now being changed."
Though Intelsat is helping to lead industry consolidation, commercial IFC remains a crowded field. Gogo Commercial Aviation competes with Panasonic Avionics and Global Eagle in Ku-band IFC. Panasonic boasts some historical advantages with a Ku solution that is linefit offerable across major widebody aircraft types. Both Global Eagle and Panasonic are customers of Intelsat.
Gogo Commercial Aviation also competes with vertically integrated Viasat, whose Ka-band solution is fitted to aircraft operated by American Airlines, JetBlue, United, El Al, Qantas and a growing roster of European airline customers.
It also faces off in airline RFPs with Inmarsat and Inmarsat's value added resellers for Global Xpress Ka-band connectivity. And new rivals are on the horizon. A new entrant to the North American market, GX+ North America, represents a collaboration between Inmarsat and Hughes Network Systems. And a collaboration involving Thales InFlyt Experience, Hughes and SES will power a Ka IFC solution which is poised to go live on US low-cost carrier Spirit Airlines. A number of other regional satcom IFC solutions are also cropping up, including in China and the Middle East.
Related Articles:
Featured image credited to istock.com/Herbert Pictures