Inflight entertainment and connectivity giant Thales InFlyt Experience has introduced a portfolio of solutions to help restore confidence in air travel during the COVID-19 crisis and beyond. Branded "Ready to Fly", the products reduce touchpoints on board aircraft and mitigate congestion.
Among the offerings, Thales is providing airlines with an easy upgrade path to enable passengers to safely control the in-seat IFE system with their own personal phone or tablet. "This capability is already flying with a couple of major airline customers in North America and South East Asia," a Thales spokesman tells Runway Girl Network.
For configurations with preexisting in-cabin Wi-Fi capabilities, airlines can choose to integrate their companion app with Thales' PED integration software development kit (SDK) or Thales can develop custom and secure webpages that allow passengers to access remote control features on their device without the need for downloading an additional application.
Alternatively, for configurations without preexisting in-cabin Wi-Fi capabilities, passengers can connect their PED using the Thales display USB input and control their IFE using a pre-loaded airline application.
Thales worked to ensure that the touchless solution is affordable for its airline customers. "This is a software driven platform that works with in-service Thales IFE systems. For this new extension, we focused our efforts on developing an affordable solution for quick implementation by streamlining installation for airlines without the need for hardware changes. The only pre-requisites are a software update of the IFE system software (coupled with a companion application or dedicated web pages based on the configuration)," explains the Thales spokesman.
This sort of functionality was already gaining momentum with airlines before the pandemic. Singapore Airlines and Lufthansa were early adopters of companion apps for Panasonic Avionics in-seat IFE, allowing passengers to sync their personal devices with the onboard IFE system.
To reduce physical interactions with the crew, an automated Thales Travel Assistant solution can enable passengers to request and receive automated information on the seatback IFE monitor, as part of the Ready to Fly portfolio.
"The Thales Travel Assistant can be configured and customized as needed to provide general passenger information to enhance their travel journey. These can include flight status, connecting gate details, meal service, destination information, COVID-19 protocols, hygiene guidelines and more," says the Thales spokesman.
The crew will also have the ability to gather information, receive notifications and control the cabin from their own secure personal phone or tablet.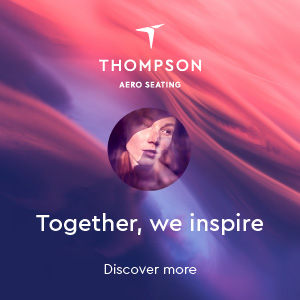 Looking toward the future, Thales is leveraging its network of partners to develop cabin automation solutions that decrease congestion and manage passenger flow by using synthetic data.
In a white paper addressing travel in a post-pandemic world, the company highlights intelligent lavatory booking, aisle way decongestion and intelligent aircraft disembarkation as examples of ways that cabin intelligence will automate and increase efficiency in the cabin.
"Most important to Thales is that we are here to support our airline customers and work with them to tackle their toughest challenges during these unprecedented times," says Thales InFlyt Experience vice president, sales Neil James.
"Our solutions are highly automated, reduce the need of interaction, and increase the efficiency of airline ground and air personnel. Ready to Fly brings multiple innovations that enhance wellness in the cabin while providing the best passenger experience."
Related Articles: