Satellite operator SES is confident that Gogo will continue to honor its Ku-band satellite capacity commitments after Intelsat completes its acquisition of the inflight connectivity provider's commercial aviation division.
"What I can tell you is our business with Gogo is very long term in nature and it comes as a result of having a really important asset in SES-15, which has become sort of the prime location for Internet service to planes in North America," said SES CEO Steve Collar during a conference call to discuss the firm's earnings for the nine months ended 30 September.
"We designed that satellite specifically for those services and I don't see too much out there today in Ku-band that is sort of equivalent to SES-15. So, I think we feel very, very good about our business with Gogo. It's very long-term in nature…"
As of 30 September 2020, Gogo's various agreements with multiple satellite vendors committed the firm to purchasing satellite transponder and teleport services totaling approximately $28.8 million in 2020 (for the period of 1 October through 31 December), $138.6 million in 2021, $118.5 million in 2022, $92.3 million in 2023, $59.4 million in 2024 and $259.4 million thereafter.
Those are no small sums. But when the sale of Gogo's commercial division is complete, it will catapult Intelsat into a prominent position in the inflight connectivity sector, with thousands of aircraft to serve. The deal will also technically see Intelsat compete with some of its own aero customers, including Global Eagle and Panasonic Avionics, which also provide Ku-band satellite-supported inflight Internet.
Global Eagle has said it doesn't anticipate near-term changes in its relationship with Intelsat. But Panasonic Avionics has remained tight-lipped, saying that if it makes a change, it will announce it "at the appropriate time".
Managing stress amid COVID
More broadly, SES's Collar believes Intelsat's decision to acquire Gogo's CA unit reflects the "stress" being felt among the inflight connectivity service providers, which SES characterizes as its traditional customer base in aviation.
"We shouldn't lose sight of the fact that this is an unprecedented global pandemic and that has put the service providers under real stress and I think that has led to not just the situation with Gogo's commercial aviation business but also we see a number of our traditional service providers going through restructuring, Chapter 11 and so on and so forth," he said.
Global Eagle, for instance, is in the home stretch of restructuring under Chapter 11 bankruptcy protection, having recently received court approval for its sale to an investor group led by Apollo, Eaton Vance, Arbour Lane and Mudrick Capital.
Company CEO Josh Marks told RGN that Global Eagle is working with all of its satellite operators "to set up new contracts out of the new entity".
He said:
It's important for us and the satellite operators that we find the right deals going forward. Those deals will include a combination of resolution of past obligations, forward economics and access to the right technology.
SES is among the firms that filed objections to the dismissal of its debts in the lead up to Global Eagle receiving court approval for its sale.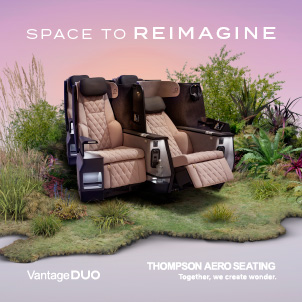 Despite COVID-19-related headwinds in the aero and indeed cruise industries, SES is optimistic about the long-term prospects in both.
"I think the industry will emerge sort of stronger for this," said Collar in specific reference to aero. "I think there was a little bit of irrationality in that service chain, particularly I would say in aviation over the years proceeding so I'm confident that that chain will emerge more strongly. As you know, we're an important provider to four of the six aeronautical service providers today [Gogo, Global Eagle, Panasonic and Thales], the other two being vertically integrated in Inmarsat and Viasat."
He stressed that SES will continue to support Gogo "as well as the other three that we serve today".
The satellite operator remains committed to creating a multi-orbit, seamless network with interoperability across the forthcoming O3b mPOWER network and the SES-17 Ka-band satellite (the latter is ultimately expected to support Thales' high-speed IFC on Spirit Airlines, which is now using the ThinKom terminal). SES's aero capacity deal with Thales is among the $500 million it now boasts in contract backlog across these programs.
"On the backlog, so yes, absolutely the Thales Avionics deal is part of that $500 million number but certainly not the only one," said Collar. The company is not breaking out the figure further at this time.
Notably, SES has decided not to separate its Video and Networks businesses to support pure-play verticals, as previously contemplated. Collar noted that the Networks business continues to be a growth engine for SES. The company concluded it can achieve additional flexibility without incurring the added costs associated with separating the two businesses.
Related Articles:
Featured image credited to istock.com/shironoso