Once a power player in the inflight connectivity sector, Boeing has launched a new wireless IFE and digital services platform called Digital Direct, which aims to both entertain passengers and drive ancillary revenue gains for airlines.
The solution is a direct result of Boeing's partnership with Spanish wireless IFE firm Immfly, which received a strategic investment from Boeing HorizonX in late 2019.
Boeing Digital Direct can be installed in an aircraft overhead bin (powered by the aircraft) or integrated into an existing wireless network. "The product will be launched as a retrofit option under Boeing Global Services. Future linefit solutions are currently under study," says Boeing.
Traditionally, Immfly has turned to a variety of server and WAP hardware providers to support its services, including Kontron.
With Digital Direct, says Boeing, passengers can stream cached, studio-approved content wirelessly on their mobile devices via a web-based portal which does not require them to download a separate app in advance.
"Drive customer satisfaction with a slick UI and a wide selection of entertainment available via passenger devices," the US airframer urges airlines in an online statement touting the new Digital Direct offering.
"Support ancillary revenue streams with inflight retail integration for food and beverage ordering, destination experience sales, and targeted advertising," continues Boeing. "Our customizable product modules can also help COVID response efforts. On the backend, you get actionable user data to optimize the experience."
For its part, Immfly is positioning Boeing Digital Direct as being "uniquely positioned to help airlines reduce high-touch materials and minimize flight attendant and passenger interaction, ultimately delivering a highly customizable passenger experience."
Boeing famously exited the inflight connectivity business when it shuttered its in-house Connexion by Boeing unit at the end of 2006. But it has long been eyeing the crowded inflight entertainment space. In 2013, it inked a memorandum of understanding with Samsung to explore technologies aimed at improving IFE and connectivity.
Six years later, Boeing HorizonX invested in Immfly to advance inflight retail and digital services. Immfly's wireless IFE solution does not require a live connectivity link to the ground.
"Boeing and Immfly share a common vision to continue growing the digital capabilities provided to airlines to enhance their onboard experience and develop new revenue streams," said Immfly executive chairman Jimmy Martinez von Korff when the partnership was first announced.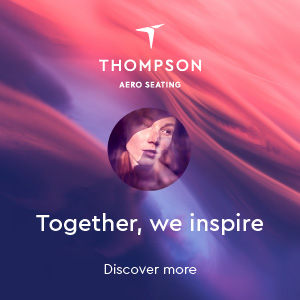 Boeing Digital Direct will face strong competition from industry stalwarts, including Bluebox Aviation, Lufthansa Systems and AirFi, which offer portable and aircraft-powered wireless IFE solutions.
AirFi has made some key gains of late, securing Eastern Airlines as a customer, and supporting other industry stakeholders in facilitating a new digital retail trial with easyJet.
"An industry-first, gategroup is launching a winter trial for their inflight digital retail platform for air travellers," AirFi CEO Job Heimerikx revealed in a LinkedIn update. Noting that the solution is called 'Epax', Heimerikx said: "AirFi is proud to be supporting this game-changing initiative for easyJet, gategroup and Black Swan Technologies."
Interestingly, Immfly's solution has been trialed by easyJet, and was previously selected by Eastern for installation on its Boeing 767s. Immfly did not respond to RGN's request for comment regarding whether it is still involved in the Eastern rollout.
For Digital Direct, Boeing says it has a team ready to respond to in-service concerns, "including 24/7 support for both hardware and software issues". That means that Boeing will be providing the MRO support necessary to offer IFE on a global scale. Digital Direct is available to operators of Boeing and non-Boeing aircraft.
In recent years, Boeing has diversified in other ways. It entered the aircraft seating space in partnership with automotive seatmaker Adient, and formed an avionics unit. Now it can add IFE to the ever-growing list.
Related Articles: