The COVID-19 pandemic has devastated the airline industry. While some countries are allowing visitors once again, quarantine measures have stymied recovery, resulting in employee layoffs and furloughs. Older aircraft, and four-engined jumbo jets are being retired ahead of their time. Airlines have done many things to try to ease the nerves of travelers, such as enhancing cabin cleaning and sanitization. One of those operators is Southwest Airlines. And so, this RGN contributor ventured to Mexico to evaluate the current international travel process.
I was excited to fly for the first time since 11 January of this year. From Denver International Airport (DEN), I booked my ticket on Southwest to Cancun International Airport (CUN) via Houston Hobby Airport (HOU). In Denver, I used the new VeriFLY program, which lets travelers use a designated tram car to get to their concourse with more social distancing. VeriFLY will be reviewed in an upcoming RGN report.
Colorado currently has a mandate requiring all people to wear masks inside public buildings, including inside DEN. The elevators at DEN also have signs limiting elevator capacity to only four people.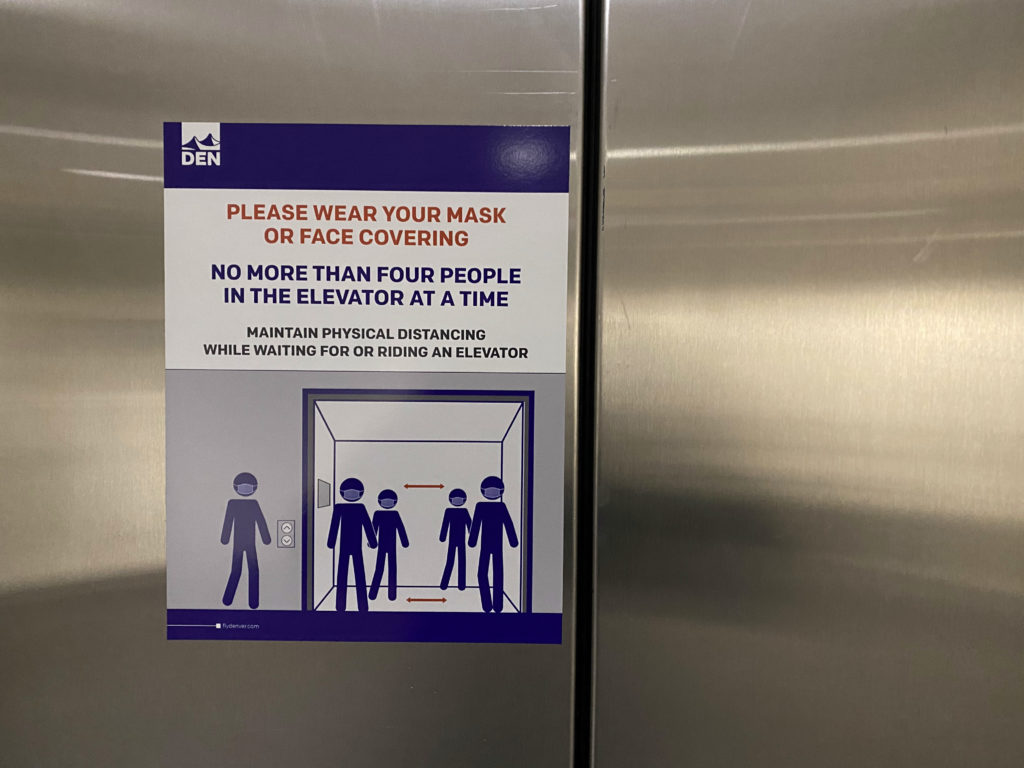 DEN has signage throughout the airport including floor markers, reminding passengers to keep six feet apart from each other. Food court vendors have floor markers as well as plexiglass dividers between the customer and employee.
At each departure gate, Southwest has installed a plexiglass divider at the customer service podium. The boarding process has also been modified. Passengers still receive a boarding pass designating them as being in the A, B, or C group, but they are now called to board in groups of ten, to allow more space during boarding. Because of the reduced seating capacity, I knew I would get a window or aisle seat, and I took a window seat near the back of the cabin.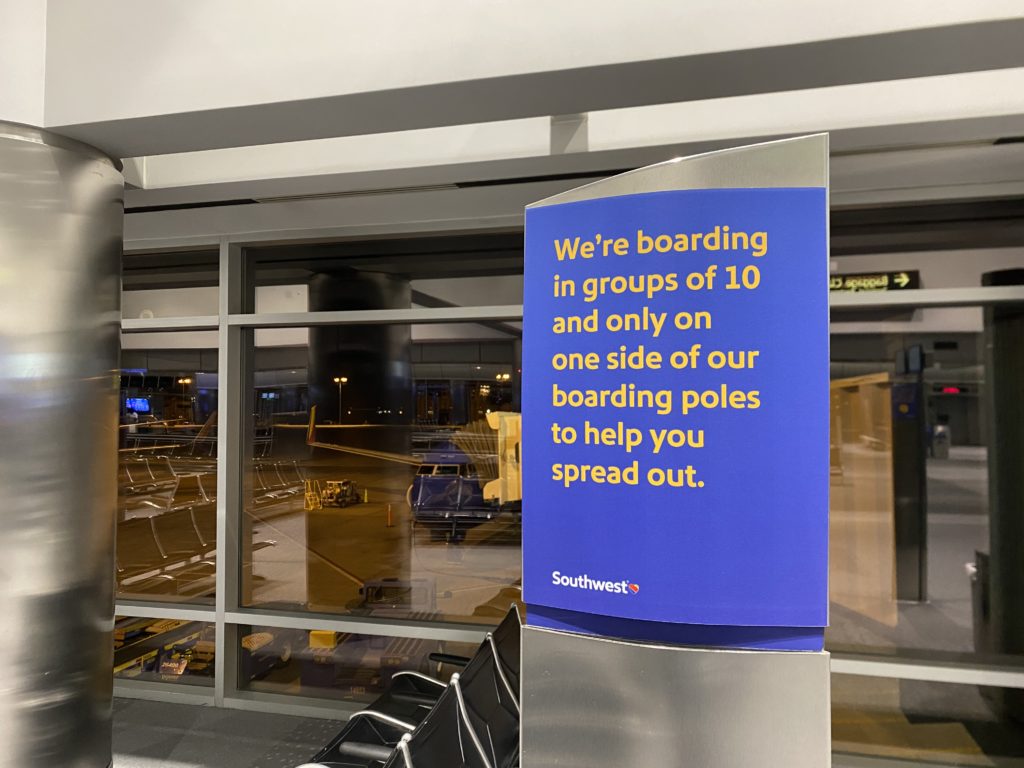 During the pre-departure announcements in the cabin, the flight attendant on the address system reminded passengers that face masks must be kept on at all times, unless eating or drinking, and urged passengers to let the crew know if they noticed any "objectionable behavior".
As the crew walked the aisle to check and make sure all passengers were wearing their seat belts, I noticed a man across the aisle from me who had already pulled his mask down below his mouth as he napped against the window. When the flight attendant came to my aisle, I discreetly pointed to him, and she whispered, "I've got it."
Over an hour later, following a water and snack service and a round of trash collection, a second flight attendant finally tapped the sleeping man on the shoulder, asking him to properly wear his mask. He complied without a word, and the remainder of the flight was uneventful.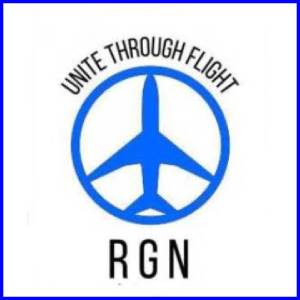 At Houston Hobby, I encountered a new boarding step as my group was called. Each passenger had to briefly stand in front of a camera with their mask pulled down, which I guessed was a temperature scanner, though it happened so quickly that I didn't notice a temperature reading on the screen. When I stepped in front of the scanner, it beeped in approval, and I was off to Mexico.
Once again, I claimed a window seat aft-cabin, and ended up with the whole row to myself. And once again, ice water and a snack mix were served. It was an otherwise uneventful flight.
At Customs and Immigration in CUN, the lines were very short, and I was cleared through in under four minutes. There were no questions from the security officer related to COVID.
I was personally grateful for the opportunity to fly somewhere without quarantine restrictions to file my reports.
All-told, the only inconvenience of my travel en route to CUN was the requirement to wear a mask, which I wore for about eight straight hours from the time I arrived at DEN to my hotel in CUN. I otherwise felt safe and comfortable throughout my journey.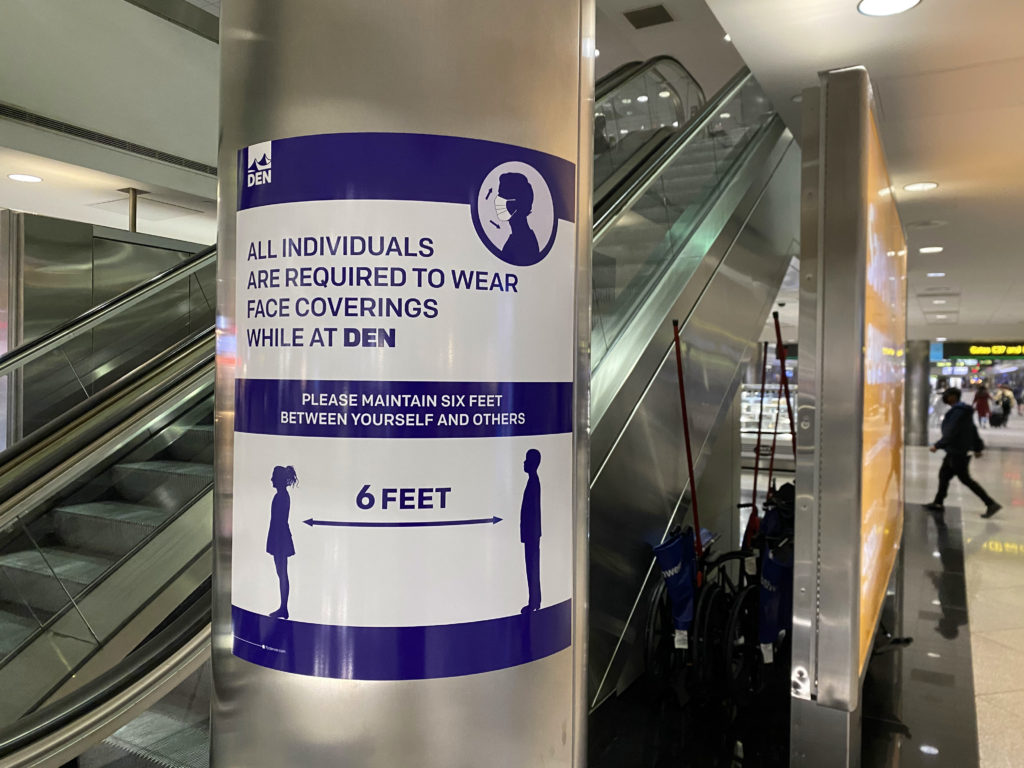 Related Articles:
All images credited to Paul Thompson