The inflight connectivity market in North America is hotly competitive, with service providers such as Gogo, Global Eagle and Viasat duking it out for aircraft tails. Now, commercial airlines in the region have another option from which to choose: GX+ North America, a new high-capacity, Ka-band satellite-supported IFC solution from Inmarsat and Hughes Network Systems, which have joined forces to offer what they assure will be "unprecedented capacity, speed and reliability" for passengers.
EchoStar subsidiary Hughes is no stranger to IFC. As well as being a long-time partner to Global Eagle, Hughes' Ka-band satellite service will initially power Thales' new FlytLIVE-branded inflight Internet on Spirit Airlines' Airbus A320 family of aircraft, when installations are finished. The forthcoming high-capacity SES-17 satellite will also support FlytLIVE.
But Inmarsat's new arrangement with Hughes is "completely separate" to the Thales FlytLIVE program and does not involve SES, Philip Balaam, president of Inmarsat Aviation, confirms to Runway Girl Network.
GX+ North America is being billed as seamlessly integrating the capacity of the Hughes JUPITER High Throughput Satellite (HTS) constellation across North America with the extensive worldwide coverage and resilience of Inmarsat's Global Xpress (GX) HTS satellite network. "Today between the two of us we have seven satellites in orbit and in four years' time, we'll have 15. We will layer additional capacity over as a function of time," says Balaam.
Hughes' new JUPITER 3 satellite is on track to launch in 2021, and with it will bring over 500 Gbps of additional capacity. With JUPITER 3, Hughes alone will have over a terabit of capacity over the Americas over several satellites.
"This unique strategic collaboration [with Inmarsat] leverages the full power of the JUPITER system, including the depth of capacity of our Ka-band High Throughput satellite fleet, as well as our JUPITER gateways and modems," says Paul Gaske, executive vice president and general manager, North America division at Hughes.
The Inmarsat/Hughes collaboration "provides a depth of capacity in the North American market which just hasn't been there in the past and is unlikely to be there in a resilient manner outside of this offer. We can layer GX capacity over that [JUPITER footprint]," says Inmarsat's Balaam.
But because the GX+ North America solution will also be global – with the ability to talk to Inmarsat's current GX constellation and future GX payloads – it gives aircraft operators and owners flexibility. "So, aircraft can leave North America and still have fantastic service," notes Balaam.
He acknowledges that Viasat – which powers high-capacity Ka-band connectivity on JetBlue, American Airlines and a portion of United's fleet – is "a competitor amongst others" in North America, but adds: "I'm not sure they're most important."
In an apparent swipe at rivals, the Inmarsat executive says: "There is a big difference which separates us from a lot of the other systems. This fully redundant, 15-satellite constellation is fully funded."
GX+ North America will be provided and managed end-to-end by Inmarsat. The London-headquartered firm will serve as "the overall deliverer of the service," explains Balaam to RGN, adding: "At the end of the day, the construct here is Inmarsat would be on the hook with the airline." Prototype flights are expected to start later this year with commercial availability scheduled for 2021.
Notably, GX+ North America will utilize ThinKom's Ka-band antenna, Kontron's server, and "smart dual aero modem technology" that intelligently chooses the optimal satellite path with no service interruption or delay for passengers, according to Inmarsat.
ThinKom's antenna hardware is certainly having a moment in aviation. Not only was its Ku-band antenna hardware white labeled by Gogo as 2Ku, and installed on thousands of aircraft, its Ka-band, mechanically steered, phased array VICTS-based antenna is also now being deployed as part of Thales' FlytLIVE program.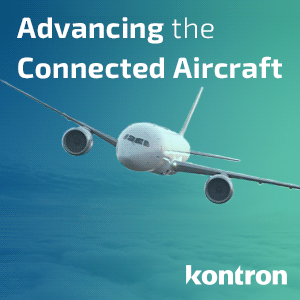 Traditionally, Inmarsat has faced difficulty in cracking into the North American market. Its GX satellites faced launch delays, and airlines turned to here-and-now IFC solutions to equip their fleets for more than a decade.
"We are positioning this [GX+ North America] as a competing solution to the legacy solutions which are available to the North American market. This is about changing the game of the North American connectivity market. We do not see any value in going through a legacy provider when what we're precisely trying to do is leapfrog everyone," says Balaam.
The Inmarsat/Hughes partnership is making its debut at a very difficult time for industry. Even before the COVID-19 crisis brought aviation to its knees, many IFC providers grappled with financial challenges. Airline passengers certainly want to avail of inflight connectivity – and their connectivity needs have grown exponentially amid the pandemic – but they are generally reluctant to pay for it, which is why a free browsing model is increasingly expected.
Global Eagle is set to exit Chapter 11 in the coming months with its debt cut in half, and satellite operator Intelsat is acquiring Gogo's commercial unit, in a vertical integration move that will pit Intelsat against fellow satellite operators Viasat and now the Inmarsat/Hughes pairing in North America.
Related Articles:
Featured image credited to istock.com/shironoso