Qatar Airways is laying claim to becoming the first "global carrier" to operate Honeywell's portable Ultraviolet (UV) Cabin System, saying the solution will further advance its hygiene measures on board.
The UV Cabin System bathes an aircraft cabin in ultraviolet-c (UVC) light, a practice used in hospitals, microbiology labs, and other applications.
Roughly the size of a beverage cart, the Honeywell system has extendable UV arms that treat aircraft seats and surfaces without using cleaning chemicals.
Six devices have already been delivered to Doha-based Qatar Airways, and will be operated by Qatar Aviation Services (QAS). The airline says it plans to acquire additional units in the near future in order to operate them "on board all aircraft turnarounds at Hamad International Airport (HIA)".
"We are pleased to be the first global airline to operate the Honeywell UV Cabin System on board our aircraft. In clinical tests, UV light has been shown to be capable of inactivating various viruses and bacteria when properly applied at specified doses," says Qatar Airways Group CEO Akbar Al Baker in a statement.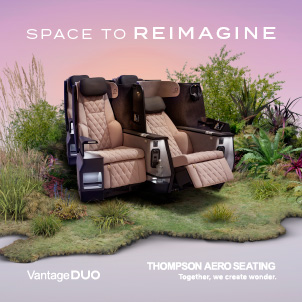 Qatar Airways' news falls on the heels of JetBlue's July announcement that it will be the first US airline to implement the Honeywell technology under a pilot program.
As part of a strategic partnership with Dimer LLC, Honeywell holds a worldwide, exclusive license to produce, advertise and sell the portable UV technology previously known as "GermFalcom" within the aerospace industry. Renamed the Honeywell UV Cabin System, the device is a 2017 Crystal Cabin Award finalist that has seen renewed attention amid the COVID-19 crisis.
Separately, Boeing has also entered the UV cleaning arena, announcing last week that it will license its new mobile UV cabin cleaning wand to Florida-based Healthe Inc.
Under the arrangement, Healthe will produce and distribute the commercial wand, helping airlines and potentially others combat the coronavirus pandemic, says Boeing.
Related Articles:
Featured image credited to Qatar Airways