New market conditions created by the COVID-19 pandemic together with the long-established needs of disabled flyers and the aging population are prompting interesting questions about whether or not many core design assumptions for the aircraft cabin are fit for purpose.
During a recent Passenger Experience Conference webinar, hosted by Reed Exhibitions and moderated by Flying Disabled founder Chris Wood, industry experts and disabled passenger advocates discussed what changes can be made to make air travel more accessible, especially as airlines adjust their fleets to accommodate longer flights on narrowbody aircraft.
As smaller aircraft are deployed on longer routes, airlines need to consider viable accessibility alternatives before legislation comes into effect that restricts their options, suggested Gina Emrich, a consultant with the Open Doors Organization who started her journey in aviation at American Airlines in 1987 and has focused on innovation and passenger experience improvements over her career.
"Even the regional jets are flying for five hours. People have always assumed those are short-haul flights, but what are you going do about those that are flying four and five hours? You can't ignore that," she said.
One topic debated by the participants was the notion that it might be best to clear the cabin of established structural norms and start from scratch, creating a more flexible and accessible space that could deliver optimized revenue for airlines while removing obstacles which make it difficult for limited mobility passengers to navigate the cabin.
Geraldine Lundy, who serves as director of the Accessible Travel Consultancy, suggested that designers need to focus on the Layout of Passenger Accommodation, creating LOPA plans which consider the needs of disabled and limited mobility passengers from the start.
One option would be to build more mobile/adaptable structures, said Lundy, who has over 20 years of experience in aviation and was responsible for a number of accessibility initiatives during her years at Virgin Atlantic.
She noted:
You can't put someone with a severe disability seated at an exit. You've got to find some way of opening up the aisle to get them somewhere — one row, at least — away from the door area, from the exit. Monuments may need moving in and out, or seats moving in and out.
A not-for-profit organization called All Wheels Up has been working to certify wheelchair fasteners on aircraft so that disabled passengers who use electric and properly-fitted manual wheelchairs can use their own equipment in-flight, rather than have to be transferred to a standard aircraft seat and risk that their checked equipment might be damaged en-route.
To address the movable furniture issue, Molon Labe Seating and design house JPA Design have tabled a wheelchair adaptable seat design.
Chris Wood recounted a design suggestion he had heard at an industry conference – that perhaps overhead bins could be removed to make room for alternative seating and flexible monuments, which prompted discussion.
"I think it would be wonderful to take everything out of the aircraft cabin and just design with what we know today," said Alaska Airlines inflight experience program manager Matthew Coder. "We're looking at designs that were put in place in the 50s …We carry those designs forward and forward."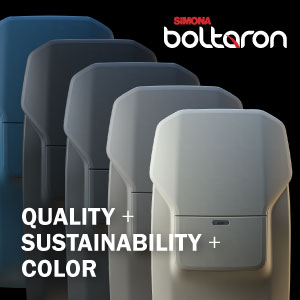 Coder suggested that the cabin design for the forthcoming Boom supersonic aircraft might be a starting point for consideration.
"They've taken everything out of the cabin, and they're starting over," he noted. "There are no overhead bins. The galleys are in really weird places. I encourage people to check that out, because that might inspire more creative thought around this topic." According to Boom, personal under-seat lockers will replace overhead bins.
The Alaska Airlines executive pointed out that it's important for designers to consider the functionality of new structures carefully, making them as intuitive as possible so that cabin crew don't require significant special training to assist passengers, and special tools are not needed to operate them.
New designs for Urban Air Mobility vehicles and new aircraft concepts might also serve as a basis of inspiration for radical new airline cabin design, said Molon Labe Seating chief executive Hank Scott.
"They're including wheelchairs from the start of the design," he said. "I think we should start seeing that with some of these regional jets that are going to go hybrid or electric, or even some sort of hydrogen fuel cell type aircraft. That opportunity is going to be there; and the shape of the aircraft may change as well.
"These flying wing designs provide a good opportunity to include accessibility from the start."
Main image credited to Molon Labe and JPA Designs.
Related Articles: