SmartSky Networks has filed a federal lawsuit against its former radio contractor, Wireless Systems Solutions LLC (WSS), after terminating the WSS contract and asserting that WSS misappropriated SmartSky's intellectual property.
SmartSky's lawsuit alleges improper actions by WSS, two related entities (DAG Wireless LTD and DAG Wireless USA), and three of their senior leaders.
"We have pledged to defend our intellectual property vigorously because it is critical to our success. In this situation, WSS failed to complete what it was contracted to do for SmartSky. Simultaneously, we believe WSS attempted to sell our product as its own, including through an alter-ego company formed after we began working with WSS yet involving the same people," said Ryan Stone, SmartSky President.
"This activity has caused a delay in SmartSky bringing our next-generation WiFi network to the aviation market," Stone said. "We're transferring WSS's former work scope to contractors who have performed well for us in the past on other aspects of our program."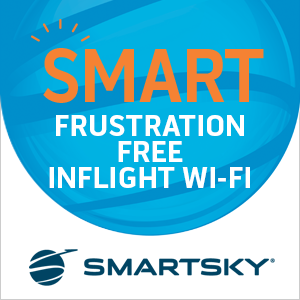 SmartSky recently closed on more than $40 million in additional equity funding, $10 million in new debt, and now expects to launch its network in 2021. Demand is increasing for connectivity on aircraft, and SmartSky believes there is plenty of runway for innovation in this space.
About SmartSky Networks
SmartSky Networks, LLC, based in North Carolina's Research Triangle, was formed in 2011 by senior telecommunications and aviation executives seeking to transform aviation through disruptive communications technologies and related tools. Working with leading technology partners, SmartSky is rolling out its innovative air-to-ground network. The network takes advantage of patented spectrum reuse, advanced beamforming technologies and 60 MHz of spectrum for significantly enhanced connectivity. SmartSky's network uniquely enables a productivity experience in the air similar to on the ground, including unmatched capacity for data transmissions both to and from the aircraft. This real-time, low latency, bi-directional data link makes SmartSky the best in-flight user experience and is a key enabler for new and enhanced apps, services, and hardware.