The coronavirus pandemic is a crisis for the airline industry, but it is also an opportunity to reevaluate the design of the passenger experience and apply the industry's top innovations.
In this series, we're looking at aircraft interiors innovations submitted for Crystal Cabin Awards (CCAs) which could support industry recovery. Reexamining seating is an important factor. As we have seen, airlines are already thinking of applying social distancing when they restart operations. Delta Air Lines announced it will leave middle seats empty and limit upgrades to ensure adequate passenger distribution.
This approach, while essential to the healthy continuation of service, will mean that airlines could lose money in operations, even as passenger numbers increase. Previous to the COVID-19 pandemic, IATA forecasted that airlines would have a global break-even load factor of 59%, with low yields on individual tickets offset by ancillary sales. This figure varies by region and from airline to airline, but it's a helpful tool to understanding the adjustments airlines will have to make in order to fly less-than-full aircraft while ensuring an economic recovery.
With social distancing applied to current LOPAs (layout of passenger accommodations), airlines can expect a maximum load factor of roughly 70% – that considers every third seat left empty. But it probably doesn't reflect all return-to-service requirements. For example, the Civil Aviation Administration of China (CAAC) is also requiring airlines to maintain three empty rows at the back of long-haul aircraft, where airlines can quarantine ill passengers in-flight.
Before the crisis, the average load factor in the industry had reached 82% and that is unlikely to be feasible in the new climate, both due to lower passenger demand and restrictions on aircraft loads. To go beyond breakeven on lower aircraft capacity, airlines will need to bolster yields on tickets, by saving costs and increasing airfares.
A straightforward way for them to save costs, while also meeting their environmental commitments, is to reduce the weight of cabin components. Fortunately, airlines have been making moves in this direction for years, but we continue to see interesting proposals for leaner seats that are also more comfortable for passengers.
For this year's Crystal Cabin Awards, Emirates and Safran submitted new futuristic and lightweight economy class seats, designed for the airline's Boeing 777X and A380 aircraft. The seats offer weight savings of 3.5 kg per passenger, depending on the IFE system installed, and are shaped to improve passenger living space. The airline estimated that these seats would contribute up to 255 tons in fuel savings and reduce of CO2 emissions by 800 tons per aircraft per year.
Designed along the same lines of thinking, Safran submitted its Modulair S seat, which is a CCA finalist entry that offers intriguing opportunities for airlines to improve long-haul travel.
An adjustable headrest transforms into a neck pillow to support passengers while they sleep, and shelf tray-tables can accommodate passenger devices while making more room for passenger items, allowing them to micro-nest. These features are bound to be attractive for longer flights, while maintaining a lightweight profile.
Recaro's 2019 Crystal Cabin submission for sleeping above the clouds (pictured at very top), which won in the category of Passenger Comfort Hardware last year, achieves similar aims. Two alternative long-range and short-range seat models improve body posture and reduce pressure points, while keeping weight in check. Recaro's Abrazo headrest adjusts to cushion the head and the flip cushion helps to support the lower lumbar area as passengers sleep.
A seat that certainly seems worthy of a future Crystal Cabin Award submission is HAECO's brand new Vector Light slimline, which, according to the firm, uses new materials and composite innovations to create a comfortable and lightweight living space, even when pitched at 28". RGN had hoped to try the seat in person at this year's Aircraft Interiors Expo, but the show was cancelled due to the coronavirus pandemic, with the next expo scheduled for April 2021.
There are also opportunities to optimize aircraft LOPAs, so that a greater share of high revenue seats can be fitted into a cabin. That would help improve the overall revenue mix if social distancing on board becomes the norm.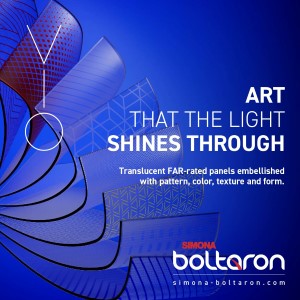 Business class suites, which had already become popular before the crisis, are likely to grow in favor because they offer the greatest protection to passengers in-flight – allowing them to isolate completely.
Leading the way, the Delta One Suite, which won a CCA for Cabin Concepts in 2017, was cleverly designed to optimize use of cabin square footage.
Collins Aerospace's new Frangible Suite Door, which was a shortlisted entry for this year's Crystal Cabin Awards, and similar closure mechanisms, may see greater demand as a premium seat option going forward.
As RGN contributor John Walton quipped in reference to the doored-suites trend: If you liked it then you (should) have put a door on it.
Related Articles: