What does premium economy look like? For most of the life of this middle cabin — launched in 1992 by either Virgin Atlantic or EVA Air, which is an interesting story in itself — airlines have largely agreed on the number of seats in each row. Eight on a Boeing 747 or 777 or Airbus A380, seven on the Airbus A330, A340 or Boeing 787.
But the A350 was different from the start, with early operators split about whether to install seven seats in a 2-3-2 configuration or eight in a 2-4-2 layout.
This split wasn't along the usual lines of airlines renowned for offering additional inflight comfort, either. Singapore Airlines and Cathay Pacific were offering eight seats across while Lufthansa and China Airlines fit just seven in the same space.
As deliveries have proceeded apace — at the end of July Airbus' orders and deliveries spreadsheet shows 295 of the A350 are in operation — the vast majority of airlines that have installed premium economy have chosen eight-abreast seating.
These 2-4-2 airlines include Delta, Air China, Vietnam Airlines, China Eastern, Philippine Airlines, Iberia, China Southern, Japan Airlines (in its domestic Class J product, which is akin to an international premium economy seat), Virgin Atlantic and British Airways. I understand that Air France and Aeroflot will also be installing eight-abreast seating in their own forthcoming A350s.
The one exception to the rule is, interestingly, Frenchbee, the long-haul low-cost carrier from Groupe Dubreuil, based in (unsurprisingly from the name of the airline) France. Its Premium Class is in the more spacious 2-3-2 configuration, which is especially interesting given that the ultra-narrow seats down the back are in the 3-4-3 layout.
(Another detail to note is Air Caraïbes, also from Groupe Dubreuil, which has 3-4-3 down the back in its economy Class Soleil, but the regular mainline carrier 3-3-3 economy class seats in its Class Caraïbes, which is a sort of 'premium economy lite' offering.)
One might have expected given the received wisdom — and experience with the Boeing 777's transition from nine-abreast to ten-abreast among full service airlines — that carriers would seek to maximize the "comfort canyon" between economy and premium economy in order to create the greatest demand for upselling to what is the most profitable cabin in the aircraft.
That would mean that carriers with better economy class seating should theoretically look to offer better premium economy seating, and vice versa.
It's fascinating to see that this does not seem to be the case, and it will be equally fascinating to see whether today's — and tomorrow's — increasingly mobile, vocal and social passengers notice the detail in space between eight- and seven-abreast.
Newer premium economy seats, like those in economy class, have in many cases been designed to give a feeling of more space compared with previous generations.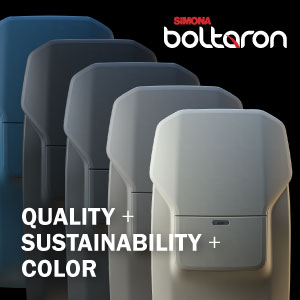 These design improvements could well mean that enough passengers don't notice enough of a difference to think that the extra price of premium economy — some two to three times that of economy class, as a general rule — is still worth it.
But the risk for airlines is that they might be slicing too much density off the meaty thighs of the premium economy golden goose.
The risk for passengers is even greater: if not enough people are upgrading to premium economy because economy class is "too nice", airlines will see pressure from their accountants to make economy class much less pleasant.
Could the eight-abreast A350 premium economy be what eventually drives regular economy seats into ultra-narrow ten-abreast configurations?
Related Articles: