As the Flight Shame movement gains traction in parts of Europe and some travelers vow not to fly, the aviation industry is under heightened pressure to improve its green credentials.
But even before the word "Flygskam" – Swedish for "flight shame" – entered the general lexicon in Europe, airlines had been focusing on strategies and investments to enable and promote more eco-efficient air transport.
After all, the climate crisis has been evident for quite some time, and globally, aviation is estimated to produce over 2% of human induced carbon dioxide (CO2 ) emissions.
Fleet renewal programs
For many carriers, the cornerstone to achieving near-term sustainability targets is a fleet renewal program that sees older, gas-guzzling jets replaced with newer, more fuel-efficient aircraft. For instance, Cathay Pacific chairman John Slosar this spring noted that aviation efficiency goes up about 15% every ten years. "So if you're two generations behind [with your fleet] you're 30% behind in terms of eco-efficiency."
Fleet renewal is certainly a key part of Virgin Atlantic's environmental strategy, with company vice president of customer experience Daniel Kerzner telling Runway Girl Network: "We look at it from an aircraft standpoint. How can we have the most sustainable fleet in the world? The introduction of the A350 and the 339 [A330-900neo] and retiring of some others. Having the most efficient aircraft in the world is really important for us. If someone really wants to fly, if someone wants to get to Manchester from Los Angeles, for us being able to give them a sustainable or more efficient way of getting there is really important to us."
At the end of June, KLM Royal Dutch Airlines celebrated the delivery of its first Boeing 787-10 in the context that the -10 is an an eco-friendly asset, adding to the carrier's growing 787 fleet. But outside of fleet renewal and efficiency gains, KLM strongly believes that sustainable aviation fuel (SAF) holds the answer to reducing CO2 emissions.
Sustainable Aviation Fuel
SAF already helps to fuel some flights today, but industry is in general agreement that production needs to dramatically increase to make a meaningful difference. "Sustainable aviation fuel is a necessary short-term option the commercial aviation industry has, to reduce CO2 emissions in the short term, in addition to fleet renewal and operational efficiency gains. However, not enough sustainable kerosene is currently being produced," says KLM. In May, the airline committed itself for a 10-year period to the development and purchase of 75,000 tonnes of SAF a year.
SkyNRG, which makes SAF primarily using regional waste and residue streams as feedstock, will play a crucial role, as it will develop Europe's first dedicated plant for the production of SAF in Delfzijl on the northern coast of the Netherlands, supplying KLM and others. "The construction of this facility, which is scheduled to open in 2022, is a concrete step towards fulfilling KLM's sustainability ambitions and contributing to the broader industry plan 'Smart and Sustainable'," says KLM.
Biofuel has long been on the menu for Virgin Atlantic's jets. On 24 February 2008, a Virgin Atlantic Boeing 747 made history by becoming the first aircraft flown by a commercial airline to use an 80/20 blend of conventional fuel and biofuel. More recently, in October of last year, Virgin Atlantic used the first batch of a new type of fuel from LanzaTech to fly a 747 between Orlando and London Gatwick.
Illinois-based LanzaTech explains its SAF production process thusly:
LanzaTech produces next generation 'advanced' fuels by recycling waste industrial gases like those produced from steel making and other heavy industrial processes. LanzaTech takes these waste, carbon-rich gases to first make ethanol. The ethanol can be used for a range of low carbon products, including jet fuel.
Virgin Atlantic is calling on the UK government to commit to making this fuel a commercial reality in the UK. LanzaTech, meanwhile, says it could have three UK plants running by 2025, producing up to 125 million gallons of sustainable fuel per year – enough to fly all Virgin Atlantic's UK outbound flights (as a 50:50 mix). The company recently received an injection of funding from bio tech investor Nova Holdings.
Cathay Pacific has put its money where its mouth is by investing in Fulcrum BioEnergy, a company that is turning municipal solid waste into jet fuel. The carrier has also committed to a long-term jet fuel supply agreement with Fulcrum. A Nevada plant is set to open next year, and the firm is "trying to prove there is a scalable technology", says Cathay's Slosar, because one of the big questions around biofuels is – how do you scale it and prove its efficiency?
Global carbon offsetting
Aiming to contribute to the aviation industry's commitment to carbon neutral growth from 2020, ICAO's Carbon Offsetting and Reduction Scheme for International Aviation (CORSIA) was adopted at the 39th session of the ICAO Assembly in 2016.
CORSIA has already technically started, as airlines operating international flights have been mandated to monitor their fuel consumption emissions and report them to their national authorities as of 1 January 2019.  Starting in 2021, CORSIA's voluntary pilot phase will begin, whereby airlines can buy carbon offsets to compensate for their growth in CO2 emissions. A mandatory phase begins in 2027.
The CORSIA program is not without controversy, however, with environmentalists bemoaning efforts to weaken the plan in advance of formal launch.
Fostering sustainability and goodwill on board
Airlines are also focusing on how to foster environmental sustainability on board. "What do you put on that aircraft? How much fuel are you using to carry those products and services to where you're going and how can we [be] more efficient and sustainable in that? And how can we put more products on the aircraft that are also sustainable for the environment and how can we do good by it?" These are the questions that Virgin Atlantic asks itself, notes Kerzner.
He points to Change Please coffee as being "a really good example" of how airlines can do good in the world. "The more coffee our customers drink on board, the more homeless people are [taken] off the street to work for that organization."
Technology will also play a role in improving aviation's green credentials. For instance, the self-aware cabin of the future will feature smart galleys that could help reduce food waste, enabling airlines to refine their catering purchases, reduce fuel consumption and ergo CO2 emissions.
"A big change is going to be technology, not for the aircraft but technology for customer experience. If you're a customer, you can tell us before you fly what you want to eat, or what you want from the amenity kit, or what you don't want," explains Kerzner. "Airlines typically overcater what they have on board which affects the environment. We want to give our customers all the things they want. But we also want to load less things you don't want on that aircraft. And we want that aircraft to be a more fuel-efficient aircraft."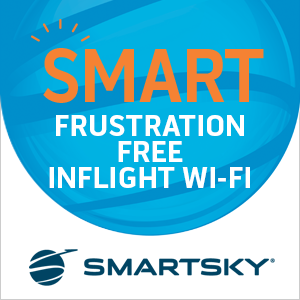 Improving aviation's impact on the environment is clearly a growing concern for the flying public. The Flight Shame movement is one obvious indicator. But according to an annual study by UK air navigation service provider NATS, a total of 60% of those asked as part of NATS' Aviation Index wanted to see reducing emissions made the top priority for the aviation industry, an increase of eight percentage points on the previous year.
"There is also evidence of growing willingness to pay some form of climate change levy on the price of a plane ticket – something many airlines already offer in the form of carbon offsets – the proportion agreeing rising from 30% to 38%," says NATS. To wit, the French government is instituting a new aviation tax from 2020 in order to add €180m of investment in transport modes with lower environmental impact, notably including rail.
Yet despite mounting concern about aviation's environmental sustainability, the number of people who believe flying should be discouraged "fell from 47% to 40%, even if this might have a negative impact on the environment", says NATS in reference to its study.
Choosing not to fly might be an option for individuals who live in countries with robust rail networks. But Virgin Atlantic founder Sir Richard Branson notes that the appetite for longhaul travel, specifically, is only getting bigger.
For Virgin Atlantic, being able to satisfy growth in markets like Asia and India with a sustainable aircraft with sustainable products on board and with a sustainable customer experience in curating those products "is our way to address that", says Virgin Atlantic's Kerzner.
"I don't think we're convincing somebody to fly. We're giving people a better way to fly. Virgin generally wants to make the world a better place. I don't think it's a marketing message, it's an ethos, it's a culture. If you work for Virgin, you are giving customers something better and you're making the world a better place."
Additional reporting by Juliana Shallcross in Los Angeles
Related Articles: