Much of the design innovation in business class seats over the last few years has focused on resolving the zero-sum problem with staggered seating now that direct aisle access is largely de rigeur for modern longhaul seats on airlines that want to lay claim to being reasonably premium.
Designers, airlines and seatmakers try hard to make the best of the zero-sum problem, but the fact that fewer than half of the seats in staggered cabins — like Rockwell Collins' Apex, Stelia's Solstys, Thompson's Vantage, Zodiac's SKYLounge, and others — are more private and mean there's less risk of being jostled in flight than the rest is still  a problem.
(And it's definitely fewer than half, as the result of US regulations that require at least fifty percent of seating next to the aisle to be accessible, they must have movable armrests, Qantas passenger experience supremo Phil Capps told your author when the airline introduced its latest business seat. This means they must be directly aisle-adjacent rather than window-adjacent. As a result, there are more of the aisle-adjacent than window-adjacent seats installed.)
So far, seatmakers and airlines have tried to solve the zero-sum problem in two ways: angles and doors. These have met with a varying amount of success.
The angle option is exemplified in Zodiac's Optima product, on which United's Polaris is based. The aisle-adjacent seats are raked backwards on an angle so the passenger looks out towards the aisle, meaning that a big part of the zero-sum problem, privacy and the shoulder-bumping issue, are mitigated. Overall, this works fairly well.
Thompson's Vantage XL+, meanwhile, first released as the Delta One Suite, fixes these two issues by adding a door, although most of the privacy benefits are realised only when the door is closed.
Thompson also offers a longer console as an option for aisle-adjacent seats, which can make them more attractive for passengers who like a lot of space to spread out.
The problem with these two approaches, however, is that they just mask the issue. If you like a window seat, the seats that are actually adjacent to the window are better than the ones adjacent to the aisle, because you can see more. Depending on your other preferences — bed length, elbow room, and so on — your mileage may vary.
What if designers actually made these less desirable seats truly more desirable, though? What if they developed the idea that the old B/E Aerospace came up with for Apex when it rolled out for JAL, or what Thompson does with Vantage, and added useful extra storage, perhaps with a series of drawers or compartments?
What if there were some way to leverage the additional space for a bigger screen, or a bigger tray table, or double beds in a "honeymoon" layout to kiss your sweetie goodnight, or if there were an option for an extra USB port and PED holder?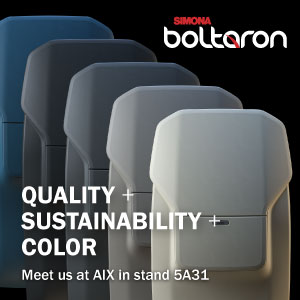 What if airlines and seatmakers truly catered to taller passengers — who often feel staggered seats can be confining — and added a couple of extra inches by hook or by crook (or by simply installing the seats further apart)?
What about adding a larger minibar to seats like Emirates' A380 product, or a larger touchscreen tablet for controlling the inflight entertainment system? What about layered laptop and tablet stowage options on the window-side console, which can be a few inches higher since nobody has to squeeze past it?
And what if airlines could design ways to brand (and monetise) these seats as some kind of "Sky Office", along the lines of what Swiss does with charging extra to reserve its "throne" single seats in the Vantage layout? What if the "Sky Office" ancillary also came with a set of extra perks, like free Internet, access to the first class lounge, extra frequent flyer miles, or similar?
Only some of these ideas have weight implications for the seats, which is of course an increasing concern for suppliers and airlines. But as we see the design of business class develop, particularly in the context of continuing appetite for ancillary fees and frequent flyer perks, perhaps there's some wider thinking to do about new strategies to really win the zero-sum game.
Related Articles: