Consider the humble overhead bin as you heft your carry-on luggage into it the next time you're on an aircraft. These carefully engineered pieces of equipment are among the most robust passenger-facing bits of kit on the plane, but a quiet revolution is taking place in helping passengers to bring more on board — for better or for worse — and there's serious money being invested into new bin technology by airframers and interiors suppliers.
New, larger bins on the Boeing's 777X, which arrives in 2020, broke cover this month as Lufthansa revealed two teaser images of its business class seat. The angle and shape of the bins is new, with a steeper rake of the cabin-facing surface that feels very reminiscent of the older aircraft of the 1970s and 80s, like the Lockheed L-1011 with its sharply angled bin fronts.
At first glance, they look deceptively petite, but Boeing promises your author that they are both larger and customisable, saying "the 777X new passenger experience will be achieved through a combination of uniquely combined elements for that product including a beautiful new spacious architecture, advanced lighting, increased storage capacity and larger windows."
Indeed, Eric Lindblad, vice president and general manager of Boeing's 777X program assures, "We do expect the way that we're configuring the overhead space means that we'll actually have more stowage for bags, and that was clearly one of the desires from our customer base as we were configuring the aircraft."
Nevertheless, says Lindblad, "we've been working with all of our customers on different concepts that allow them to take advantage of a large cabin feel. We've been experimenting with what they would like as transitions between the forward side of the airplane, between economy, business and first class. In particular, allowing them to have the flexibility that they need and still allow us to have a design that's flexible, that we could support in our production system."
That flexibility is attractive to airlines. Lufthansa, for example, appears to have decided not to install centre bins in business, leaving the only overheads over the window seats. It's by no means the first airline to try this. The idea, as previously seen on a number of airlines, is to open up the space and make it seem more airy.
This isn't always a good idea, though: it negates the option for an air vent, cabin acoustics are tricky things, and bigger spaces echo more sound. There's also an argument that having the bins closer overhead makes the space seem more cosy, particularly in business class where the seats are themselves designed to feel spacious. There's a lot of stuff to stow in modern premium cabins, whether that's bedding before pajama o'clock, clothing afterwards, or simply a large carryon plus laptop bag. And it can be awkward if the window seat passenger looks askance at someone from the centre section putting luggage in what they imagine is "their" bin, especially if any rearranging is required.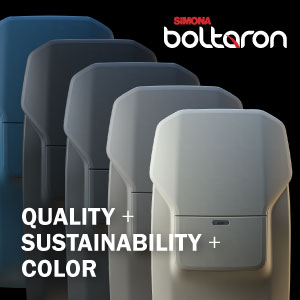 "We've got some options in the ways we're structuring the overhead to give it that large, open cabin feel and still allow the customers the flexibility that they need to configure the interior optimised for how they want to use it, obviously ensuring that we have plenty of room for their bags," Lindblad promises, noting that "what most passengers can't see is how much room there is between the interior architected or sculpted ceilings and the outside of the fuselage. Although there is a mountain of systems behind or above the architectural panels, what we've essentially done is allowed for the combination of the architectural panels and the stow bins to take advantage of some of that space that's above the ceiling itself."
Obviously, a higher bin means either a higher lip to the bin or a higher stretch to close it, which is problematic for shorter flight attendants and passengers. Airbus, indeed, is working on an as-yet-unreleased mechanism to solve this problem for the flip-up bins of the A320 Airspace cabin, which was not present at the mockup presented at the APEX EXPO this September.
Lindblad didn't have a strong 777X answer to this question on our call, noting a little unpersuasively that "if you can create a deeper bin, the lower edge of it when you go to close it is not a problem. It allows for a deeper section in the bin itself." Fortunately, there is still time for Boeing's cabin designers to get cracking if they aren't already.
Related Articles: