Roughly a decade ago Boltaron's Newcomerstown, Ohio facility held as much as a 60% market share of the plastic card stock for credit cards and hotel room keys. The firm had long mastered the PVC calendering process, which sees raw materials in powder form fused into a homogeneous molten mass, and fed into a series of heated revolving rollers that squeeze the material to a desired thickness. As you can imagine, card stock business was good.
"It was huge. It took probably at least 60% of our mind share as well," Boltaron director Adam Mellen told Runway Girl Network during a recent visit to the Ohio plant.
"More than that," insisted company president Dean Li.
At that time, Boltaron's thermoplastic sheet work for aerospace constituted just 10% of the business. But the firm shifted focus in 2010, when it exited the rigid graphic arts and card markets with the sale of its proprietary technology, formulations, and trade names to the Klöckner Pentaplast Group in Gordonsville, Virginia.
Remaining in the Newcomerstown facility, "that's when we started to invest in growing aerospace," says Mellen, explaining that in addition to offering higher margins, aerospace "required more technical innovation, which is really more our thing".
Boltaron added more extrusion equipment allowing for more custom colors, textures, and gauges; stepped up its marketing focus; and invested in product development. In 2014, it was acquired by Simona AG, and the Boltaron plant in Newcomerstown together with Archbald, Pennsylvania-based Laminations Inc., also acquired by Simona, were united under the Simona America umbrella, managed by a single senior management team.
The decision to focus on aerospace paid off. Boltaron saw double-digit growth nearly every year, and now boasts a 30-35% market share, says Mellen. Sekisui (Kydex) and Schneller are among its competitors.
In specific disciplines, like straight opaques used in seat dividers and other furniture, "it's probably even closer to 40%", says Mellen. And in translucents for premium class seats, "we probably are more than 50%" market share but it's a very small, albeit growing, market.
A notable example of Boltaron's translucent material is found on United Airlines' Polaris seat. Boltaron both provides the material and forms the pieces in-house – it is willing to do the latter for specialist projects that require exact precision.
While Boltaron certainly enjoys seeing its thermoformed content used on premium class seats, and in other aircraft interiors, its ability to provide thin parts which meet FAA fire retardancy standards for economy class seats has really been a big growth area for the firm. Recaro is a major customer, for instance.
Focusing on aerospace, particularly aircraft interiors, is not without its challenges. Airlines push heavily on the seat manufacturers and the OEMs on both the upfront and long-term maintenance costs.
"We talk about seat weight, you know, a little bit less now with fuel prices crashing but still, it's a pretty big concern for airlines as far as the long-term cost would go," notes Boltaron aerospace business segment manager Chris Corona.
The cost to repair those seats over time is also a big consideration. "So they want to have seats that are easily repairable, that don't break to begin with when they are hit with [passengers'] luggage."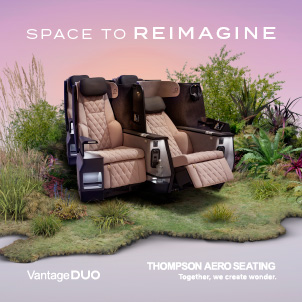 Airlines are also squeezing more and more seats into the finite space of the aircraft tube. They want to do that "while still meeting the same safety protocols, while still being somewhat comfortable", says Corona.
Among those safety protocols is head injury criterion (HIC) compliance. "So being able to send a seat down a sled as 16G forces and having that seat perform without cracking … Then flame, smoke and heat release. Obviously, flammability and those kinds of requirements really drive our business to a great extent."
Branding and design also come into play with virtually every airline "rolling out a new cabin market to brand themselves. And the OEMs kind of taking the lead, like Boeing with what they are doing with catalogue seats," says Corona.
But who leads the discussion with Boltaron? Is it the airline? The designer? Or the seatmaker, which ultimately holds the Technical Standard Order (TSO) for their seat, including for integrated IFE/seats?
"It starts with the designers," explains Mellen. "So what happens is we don't always know who the seat builder is. We typically do know who the airline is. So they may say, 'we are working on a program with Hawaiian but we don't know who they are going to award the program to', as an example. So we will go through and at that stage they're working in generality …They're much more concerned about the design."
"After it's specified by the airline and they pick the colour, the pattern, the texture, whatever it is they want, then typically they shop out, and that seat is designed in conjunction with a builder and that's when we start working with the seat OEM."
The seatmaker and Boltaron work together "to figure out how to make it work. That can be a great challenge because in the designer's office, anything goes. You are not really forming anything [large]. You are kind of doing things in theory."
In addition to requiring a vast array of colors, the cabin interior designers want "all the textures", different thicknesses, translucents and metallics, as well as the ability to "be able to format into a final part".
Boltaron stands at the ready to provide those options. As the only US manufacturer with calendering, extrusion and press laminating under one roof, the company produces high performance, monolithic and composite film and sheet products in 50 specialized grades in unlimited colors, patterns and textures, in gauges from 6 mil to 4 inches (10 cm).
"Extrusion is kind of our bread and butter process. Kind of the core of our capabilities," says Corona, noting that "typically we are doing opaques on that line, with 10 standard textures".
Calendering is where Boltaron gets "a lot of our thin film capabilities as well as our capabilities to do a lot of the translucents that really make us unique. And then press lamination allows us to incorporate those translucents maybe with an extruded sheet or you know metallics that we're able to calendar, and then incorporate those on top of a colour mesh opaque substrate that we make in our extrusion process."
This is the audience that is constantly struggling to compromise, notes Corona in reference to aircraft interiors. So rather than taking a one-size-fits-all approach, "it's much more customized when we start to figure out what are all the compromises that you're being faced with, and how do we incorporate them into the product that's going to work."
Roughly 95% of Boltaron's customers have customized orders. And the company prides itself on developing "new, unusual and difficult sheet parts", such as the FAA-compliant 9815 metallic sheet, which is both visually stunning and meets the heat release, flame, and smoke ratings. It takes anywhere from six months to two years for a full airline seat program to be really dialed up.
Boltaron has access to deep-bench research and development through Simona AG, which has sales offices around the world. That international reach is also useful given that seat manufacturers are outsourcing manufacturing to Asia and Europe. But the company also operates as a small business, giving it the flexibility to fill orders on short notice, which it sees as a competitive advantage.
"Dean [Li] can make a decision on the fly as far as, you know, where we need to invest, what kind of product we need to be doing on a local level. We don't have to go through various layers and waste time," notes Mellen. "So that kind of small business/small team sort of value really helps us get products to market much quicker than maybe some other people can."
Boltaron is clear about its focus going forward. "We want to be a major supplier of plastic sheet to the aircraft interiors industry, meaning that we want to be top specified at the leading seat manufacturers and we want to be the most recognized brand," says Corona. "We've come, like Dean and Adam were saying, quite a long way over the last 10 years, from … most seating manufacturers not even really knowing who we are to really being the top recognized brand. But we still have a lot of work to do and a lot of progress to make."
Adds Li, "It's not what you promise to the customer, it's what you deliver for the customers. That's what really matters."
Related articles: