In a sign of airlines looking to push the boundaries of traditional premium economy passenger experience — which has largely remained a recliner seat pitched at about 38" with about 20" of seat width in the over twenty years since its introduction — Aviointeriors has secured an airline customer for the Adagio PE version of its staggered Adagio platform, which was unveiled a year ago at the Aircraft Interiors Expo Asia event in Singapore.
The principle behind Adagio PE, and indeed the rest of the Adagio platform, is one that we've been seeing pop up in the pointy end of the aircraft quite frequently: the stagger. The key to increasing a sense of space, particularly in a layout like a 2-3-2 Airbus A330 premium economy, is to stagger each aisle passenger's shoulder space out of alignment with their neighbour, whether in a middle or window seat. This isn't exactly new to the industry, with Thompson's Vantage, for example, doing this in business class for the best part of a decade, but it is new in premium economy.
Adagio PE is not a flatbed, but seats with substantial recline and a footrest that start to approach the reclining armchair Z-bed style. LOPA diagrams seen by RGN shift the aisle seats slightly backwards from their neighbours, with window pairs also slightly angled towards the centreline of the cabin, a little like a reversed Rockwell Collins (former B/E) Diamond product. The centre trio, meanwhile, have each aisle seat angled slightly towards the aisle, with the middle seat of the three pointing directly forwards.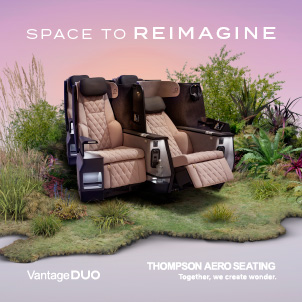 Notably, Aviointeriors' as-yet-undisclosed customer will take the more spacious business class version of Adagio in addition to the more compact premium economy version. "The customer realized that they will have not only the advantage from the maintenance point of view, but will also have an advantage from the look of the cabin point of view," company chief executive officer Ermanno De Vecchi tells Runway Girl Network.
"You will have a first class or business class depending upon the customer, and then you can have a premium economy class with the same LOPA, with the same style, but with different basic seats."
This approach is potentially both rewarding and risky. An airline that takes too much design language, let alone actual design, from its business class seat to bring back to premium economy risks narrowing the "comfort canyon" too much, leading potential business class customers to downgrade themselves to premium economy because it's a good-enough product.
Most airlines introducing new product categories have recently preferred to keep more distance. Singapore Airlines' premium economy is probably the best example of this, with completely new brand equity for its multi-supplier premium economy seats, while Delta Air Lines is the only significant counter-example. Delta has its signature waffle-stitched triangle-diamonds throughout its new Airbus A350, but it has been able to stretch the distance between business and premium with the use of the doored Delta One Suite product, and the fact that its premium economy is a relatively narrow 2-4-2 on the A350 cross-section. Nobody's going to be downgrading from the world's first business class suite without a second thought.
Aviointeriors plans to proceed with certification and production of the premium economy version of the Adagio platform at the same time as it produces the main business class model, De Vecchi says. "It's moving in a parallel way, and the customer I mentioned for Adagio will also sign an agreement for Adagio PE, as we call it. We will be able to start production — full production — in the end of next year."
Related Article: