As British seatmaker Acro continues to develop its product line, it is targeting an increasingly wide range of airline customers, expanding to fill in the gaps between its current barebones Series 3 and more fully featured Series 6 product, senior vice president for sales Alan McInnes tells Runway Girl Network.
Series 6 — the fully featured seat unveiled in partnership with Air New Zealand at the Aircraft Interiors Expo in Hamburg earlier this year — will first launch as a linefit installation on the Airbus A320. "Series 6 has had a phenomenal response, as you know. We're going to do a low-cost airline version of Series 6, with a simplified seatback, fixed-back seat, direct hinge table, so that it has a seat we can take to easyJet," McInnes says, using an example of the low-cost carrier market Acro is targeting with what it calls Series 6 LC.
Series 3 will continue to be aimed at "immature, rugged markets at the ultra-low-cost end of the scale. We'll then move into Series 6 LC for the top-end low-cost carriers into the charter leisure carriers. We then get into Series 6 non-IFE, and then top of the tree will be Series 6 IFE. That gives us a product strategy that takes us from ultra-low-cost to flag carrier, and we now tick every box," McInnes notes.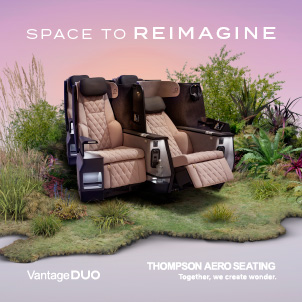 "Then, of course, we bolt on Series 7, so we do a two-class LOPA for US and Asia-Pacific, where they want two class, single-aisle LOPA. And that is where we will be in terms of our single-aisle strategy. We are now really starting to talk strongly about Series 8. We'll take Series 6 and do an actuated seat pan, and that would be a twin-aisle economy seat," McInnes says, noting that "we've had quite a few bits of interest. If somebody's operating an all-economy A330 or an all-economy 777, they say 'actually, we would take Series 6' but it's not going to be a seat that Emirates, Etihad or Qatar or any of the flag carriers are gonna buy. They're going to want an actuated seat pan. The underpinnings of that seat are good, so we use that and then look at an actuated seat pan, IFE integration a level above Series 6, and that will give us a seat that will probably come to market around 2020."
That would, of course, enable Acro to offer the seat for the 777X. Acro is also keen to secure linefit on the Boeing 737 family, which includes the 737 MAX, given that it has demonstrated experience with Boeing narrowbody airlines including British LCC Jet2, Polish leisure carrier Enter Air, and Danish-Lithuanian hybrid Primera Air. "Boeing has said market will dictate," McInnes says, "but I keep saying to Boeing, 'Well, that's us with three customers that are taking aircraft from you and saying we want Acro seats and taking bare aircraft from you'."
"Enter Air," McInnes says, "have signed up for their 737 MAX 8s. They'll take Series 6 delivering, but they'll take the aircraft bare and do a post delivery modification. Primera, who are going to take A321s, will also take that on their 737 MAX 9, and Primera is launch customer for Series 7," Acro's narrowbody business, widebody premium economy product. They'll deliver the aircraft line fit with the full LOPA Series 6, and in a post delivery mod, Series 7 will go on."
In terms of Primera, McInnes notes, "I think they've got eight A321s delivering this year. Then they've got eight 737s delivering next year, as well as a further quantity of A321s. They're gonna do a split, so they're the launch customer for 737 MAX 9 LR."
For the barebones Series 3, McInnes says, the company has orders currently spanning as far out as 2022, McInnes says, joking that "we'll continue making that one." Currently, "we've got linefit program running for Spirit and for Allegiant, and we're going to announce another linefit program and contract" on the Airbus A320 family of aircraft, although McInnes declined to name the customer, noting that Series 3 has "orders out to 2022 now, probably, so we'll continue that."
Related Articles: