The aviation industry faces unique challenges in striving to transform its production and operations to ensure a greener future. IATA and its members have committed to the ambitious goal of reaching net-zero emissions by 2050, and intense research and development is being seen in fields like Sustainable Aviation Fuel (SAF) and hydrogen- and battery-powered aircraft.
But what about the thousands of aircraft flying today and the sustainability of their heart — the aircraft cabin? For a long time, the development of new aircraft cabin products has focused on weight reduction, as moving weight simply costs the airline money. Weight reduction itself is a well-explored field among aircraft part manufacturers, with many patents, especially for seats. While weight reduction is a significant lever in moving towards net-zero, it is by no means the only one.
The implementation of sustainable engineering principles, such as design for repair, reuse, as well as the use of circular and sustainable materials, will significantly impact the economic and ecological sustainability of the aircraft cabin, especially when done at scale.
For the aviation industry, this demands a shift in mindset, transitioning from a linear business model to embracing the circular economy.
While refurbishment of used cabin materials is a well-established field within the aviation industry in order to supply used serviceable material as a cost saver, at the end-of-life a cabin part still ends up in a landfill. This landfill not only has a significant environmental impact but also results in the waste of valuable resources.
The aviation industry and its organizations can draw inspiration from the sustainable initiatives undertaken by other industries and accelerate their efforts to address key issues.
Sustainable Materials & Circularity
Sustainability has been a prominent concept in relation to cabin interior materials for quite some time, often focused on achieving weight reduction but also using renewable resources, such as Lufthansa Technik's AeroFlax® or Diab quality panels.
However, when we take into account the scarcity of raw materials and adopt a full circularity approach, we find that there has been relatively less progress in this area.
Other industries are faster to innovate in this field. It is certainly worth it to have a look, and get inspired. The automotive industry sees successful cooperations between established automakers and innovative start-ups in this field. An example is Mercedes-Benz and Israel-based start-up UBQ, which uses sustainable plastics. Germany-based AMSilk also provides biofabricated silk to Mercedes-Benz.
Additionally, there are collaborations between long-established manufacturers like Aquafil, who provide Econyl® (their nylon material made from waste) to BMW for carpets and floor mats. Bamboo is also starting to play a role as a sustainable and fast-growing natural material for interiors, such as being used for carpets in selected Mercedes-Benz models.
I often hear representatives of the aviation industry express concerns about the suitability of partnerships with startups and other industries due to different regulations and higher safety standards. However, I firmly believe that through joint research, development, and engineering, similar partnerships amongst manufacturers can lead to successful adaptations of materials that meet the stringent aviation standards.
Traceability & Material Labeling
Materials made for recycling are a fundamental requirement for advancing circularity. As cabin parts, those will be in use for years, sometimes even decades. To enable circularity, it is necessary to easily identify the material and assembly process of a part at the end-of-life phase. This allows for efficient disassembly and collection of the materials for recycling and reuse in new applications.
While this may seem complex, time-consuming, and potentially expensive, other industries have shown that the benefits in terms of economic and ecological gains outweigh the costs. For instance, the fashion industry (e.g., H&M), electronic industry (e.g., Fairphone), and food industry (e.g., IBM Food Trust) have successfully implemented material labeling using various technologies, ranging from RFID to blockchain. These labeling systems enable effective recycling processes.
By adopting similar approaches, the aviation industry can enhance its commitment to circularity and contribute to the reduction of virgin resource consumption. 
Modular design
Aside from the development of material circles, the application of classic design engineering methods for sustainable design is an essential layer in achieving net-zero emissions. Parts manufacturers and modification providers are already familiar with designing for long maintenance intervals and quick removal and installation to minimize aircraft downtime. By incorporating a circularity approach into the design process, such as creating more modular components and monuments, we can further enhance the potential for re-use and repair. This approach not only aligns with sustainability goals but also offers practical advantages in terms of operational efficiency and cost-effectiveness. The products of Fairphone (cell phone) and Swapfiets (bicycles) are great examples of achieving excellent modularity for repair, which can also be transferred to modularity for customization when thinking of the aircraft cabin.
Mindset and togetherness
In the aviation industry, we are often a group of tech geeks who are passionate about the technology behind our solutions. However, as mentioned earlier, implementing circularity requires us to shift our mindset. Companies like Patagonia serve as examples of ingraining sustainability into their culture from the start. Additionally, the cycling industry fosters a community-based approach with Shift Cycling Culture, while the automotive industry provides great success stories about start-up and corporate partnerships. Let's draw inspiration from these examples and broaden our own perspective to accelerate sustainable design for aircraft cabin parts.
This article is written by Nicole Noack and has been enhanced with the assistance of Lex, an AI writing assistant, to ensure professional English standards are met.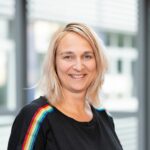 About The Author
Nicole Noack has 20-plus years of history in aviation and mobility. Her focus is on sustainable engineering, maintenance and operations. She held various leadership positions at Lufthansa Technik AG and founded the Independent Aircraft Modifier Alliance with international industry partners before she switched to micro mobility.
She currently works as an independent hardware advisor and keeps tight relationships with aviation by mentoring for the Sustainable Aero Lab. 
Related Articles: