This week, KLM Royal Dutch Airlines unveiled its newly renovated KLM Crown Lounge in Houston's IAH airport as part of a global project of improving the comfort and customer experience of its international lounges. One of just four KLM lounges in the world, situated within Terminal D of the airport, the 3,962 square foot lounge now offers 100 seats. 
The main transformations in the lounge include new flooring, wallpaper, fixtures, and upgrades to the bathroom. The lounge has also been refitted with new spacious and comfortable furniture, embodying sleek designs and ergonomic forms, incorporating sustainability with the inclusion of long-lasting materials and circular elements such as eco-leather and recycled materials.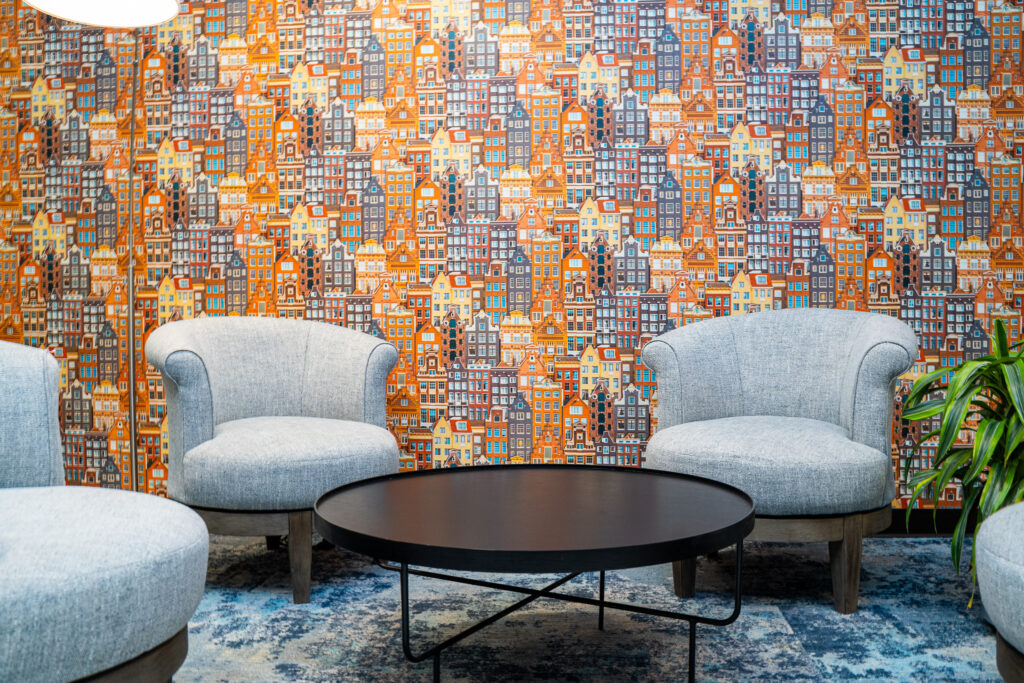 A signature KLM Delft Blue house display will showcase the various miniature houses from over the years, each depicting a real Dutch building. The houses serve as a unique gift for the World Business Class passengers traveling on international flights, with the newest one, house #104, being released October 7th, 2023. Guests will also find a series of wall art inspired by the three cabins and in-flight catering experience that awaits them on board. The warm and inviting color palette of blue, grey, black, and copper brown is finished off with touches of the distinctive KLM Blue. 
"Investment in signature lounges at international stations are the cornerstone of elevating the premium customer experience, aligning perfectly with our commitment to investing in our new World Business Class and our recently introduced Premium Comfort cabin. Branded lounges add to the connection with our customers in delivering our brand promise of creating memorable experiences." said Marleen van de Pol, Vice-President Customer Experience at KLM.  
"Houston is one of our top markets in the US, and this upgraded lounge is a wonderful new offer, reaffirming our dedication to providing travelers with the utmost comfort and convenience. We look forward to welcoming our valued passengers in soon, providing an experience that will make their time at the airport as memorable as the destination itself" said Eric Caron, General Manager of North America at Air France KLM.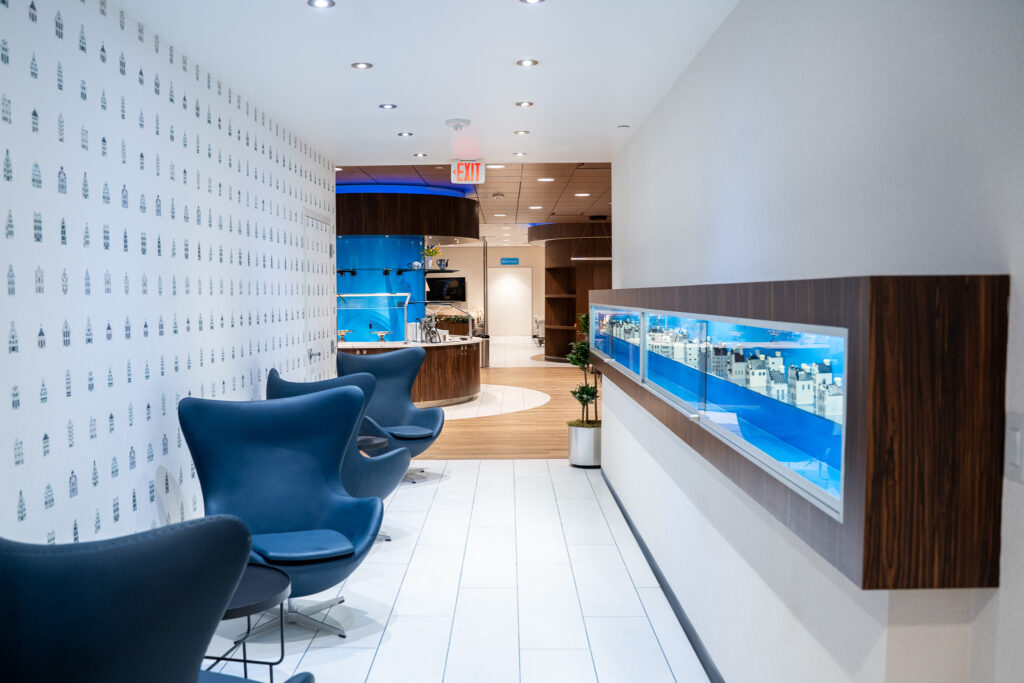 Visitors can enjoy breakfast, lunch and dinner meals through a self-service buffet, with hot and cold food options, salads, and daily soups. Cold and hot drinks are also available including sodas, juices, wine, beer and spirits.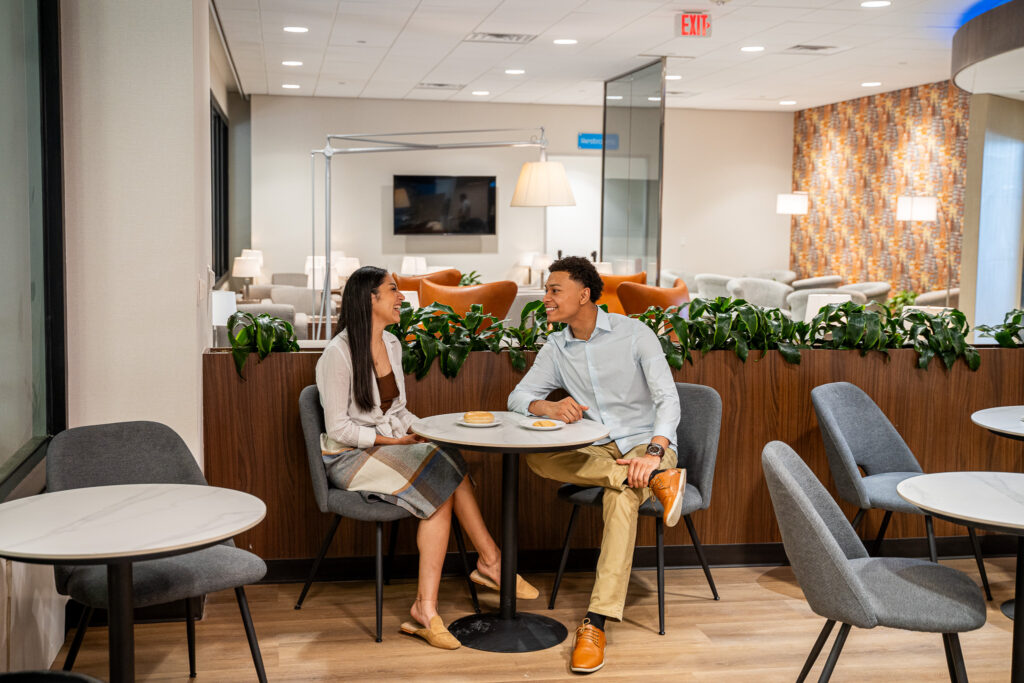 The KLM Crown Lounge welcomes qualifying business passengers from KLM, Air France, and their SkyTeam partners, as well as Sky Team Elites, Priority Pass, Dragon Pass and Lounge Key. The lounge operates between 6:00 and 21:00 hours.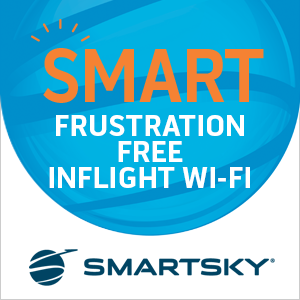 In addition to the renovated lounge, passengers from Houston will be able to fly the 787-9 Dreamliner, which will begin flying from Houston this Winter season, starting October 29th. This state-of-the-art aircraft features KLM's World Business Class with direct aisle access, KLM's new Premium Comfort Class introduced last year, and Economy Class. Travelers connecting through Amsterdam are encouraged to experience the KLM Crown Lounge at Schiphol Airport, offering unprecedented levels of comfort, convenience, and inspiration. KLM's Crown Lounge at Toronto also went through a recent renovation, part of KLM's wider investment into the lounge experience.  
KLM in the United States  
In the US, KLM flies from 14 hubs, with 75 flights per week this Winter. KLM is proud to be part of the Air France-KLM Joint Venture with Delta Air Lines, offering the largest transatlantic network ever this season. Together with Delta Air Lines, the airlines offer more than 600 weekly departures from North America to Europe, connecting passengers even beyond to Africa, India and Asia. KLM serves over 160 destinations via our award-winning Amsterdam Schiphol hub. For US airports outside of Houston, KLM customers have access to Air France or its partner lounges. 
About KLM Royal Dutch Airlines 
For over a century, KLM has been a pioneer in the airline industry. KLM is the oldest airline still operating under its original name and aims to be the leading European network carrier in customer centricity, efficiency and sustainability. The KLM network connects the Netherlands with all of the world's key economic regions and is a powerful engine driving the Dutch economy. KLM Royal Dutch Airlines is part of the Air France–KLM Group and is also a member of the global SkyTeam Alliance, which has 19 member airlines. 
All images credited to KLM