United Airlines recently announced it is in the process of adding Braille signage in the cabins of its mainline fleet, including for seat row numbers and within and around aircraft lavatories.
As a blind traveler, I'm excited about the increased level of independence that the addition of this tactile reading system will provide while flying. United deserves a lot of credit for going above and beyond minimum compliance and finding innovative ways to improve air travel for passengers with disabilities.
After reading United's statement, I got to thinking about areas in the onboard experience where having Braille signage would help. While my Braille skills are admittedly weak — and more broadly, Braille literacy is declining — I do know enough to read signage and not do something embarrassing like accidentally walk into the women's restroom on the ground.
Finding my seat
Being able to independently find my seat may be one of the biggest benefits of this signage. At present, when I pre-board for a flight, I rely on a flight attendant to help me locate my seat. While I could count the rows to find my seat, some airlines skip row numbers so that's not a reliable method to use.
Adding Braille in consistent locations will help me to easily ascertain where I am and roughly how far I need to go in order to find my seat.
In the lavatory
The addition of Braille to lavatory signage will also benefit me. United's press release isn't exactly clear about how signage in and around the lavatories will work, but I can envision a few scenarios where the signage would help.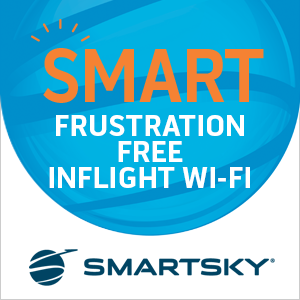 The first scenario is being able to tell if a particular lavatory is currently occupied. The only way I can determine this without assistance now is to try the door and see if it opens, which is far from ideal and, I imagine, pretty jarring for whoever might be in the lavatory.
Having Braille labels on items within the lavatory will make it much easier for blind passengers to know what's what in a lavatory. For example, I've always struggled to locate the button to flush since they never seem to be located in the same place. Braille on or near the button will make it easier to find so I'm not hunting around aimlessly and pushing random things to see what might happen.
Then, when returning from the lav to my seat, I will be able to find my seat row, and not require assistance from crew or a fellow passenger.
The addition of Braille to mainline aircraft cabins is the latest in a long string of accessibility improvements executed by United over the years. The US major has also deployed a standard-setting inflight entertainment system with a plethora of accessibility features, and improved the accessibility of its mobile app.
These latest changes, though seemingly small in the grand scheme of things, will have a significant impact for blind travelers who can read Braille and I hope other airlines follow United's lead.
Related Articles:
Featured image credited to United Airlines