At just 229 miles as the crow flies, United's route between Washington Dulles (IAD) and New York LaGuardia (LGA) has become one of my most frequented yet loathed flights. When it goes well the trip can be under three hours door to door as opposed to a four- to six-hour journey by rail, but it often does not go well.
I rely on airline mobile apps more than the average passenger, and United embarrasses the competition with its iOS app. As my evening departure time approached I noticed that the app began providing contextual and location aware in-terminal navigation, arming me with the quickest route to the TSA PreCheck line and bypassing the checkin counters because I had no checked bag.
This is a fantastic feature for passengers who want to get from their office to the gate in as little time as possible.
On my walk to the terminal I clicked through the app in the hope that I could list as 'standby' for the 55-minute earlier flight to LGA. Although the flight status page for the earlier flight listed seven passengers already on the standby list, the app also said there were zero passengers listed for zero seats available. I confirmed my addition to the standby list and to my surprise I ended up in the number one spot.
I proceeded to the gate for the standby flight and inquired with the gate agent if the odds of getting a seat were in my favor. He was confident I would make it even though the flight was listed as full, as misconnects and no-shows are a fact of life this summer. I also learned that I ended up as number one on the standby list as every other listed passenger seemed to be an employee non-revving. After just a few minutes, the computer automatically processed the entire standby list and assigned me a seat in Economy Plus. Score!
United recently cut back on the daily frequencies between LGA and IAD due to severe air traffic congestion in the Northeast, but also upgauged all flights from the CRJ550 with luxurious interiors to the decidedly less lovely but higher capacity Embraer E175 to make up for offering fewer flights.
Boarding of this Mesa Airlines-operated United Express flight began right on time, but I quickly wished I had opted to board last. It was a scorchingly hot and humid day in Virginia, with afternoon temperatures hovering near 100F/38C. It was immediately clear that this E175 had an inoperable auxiliary power unit which meant no air conditioning until the engines started, a fact later confirmed with some excellent communication from the flight crew.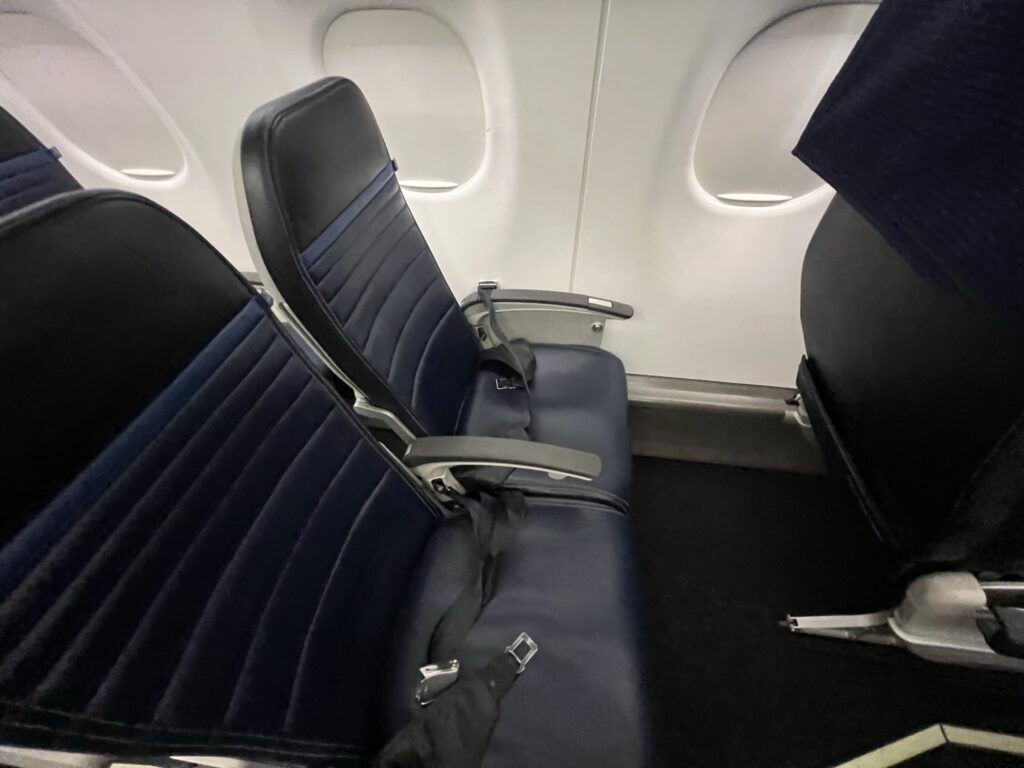 Although ground air was attached, it was doing little to cool the aircraft. The gate staff thankfully got the flight buttoned up on time and the ground crew was ready to go with an air start unit to get the engines going as quickly as possible. Sure, I was now drenched in sweat from sitting in a sauna-like aircraft for 30 minutes, but I was getting home an hour earlier (more like four hours earlier, more on that later) so I accepted it and moved on.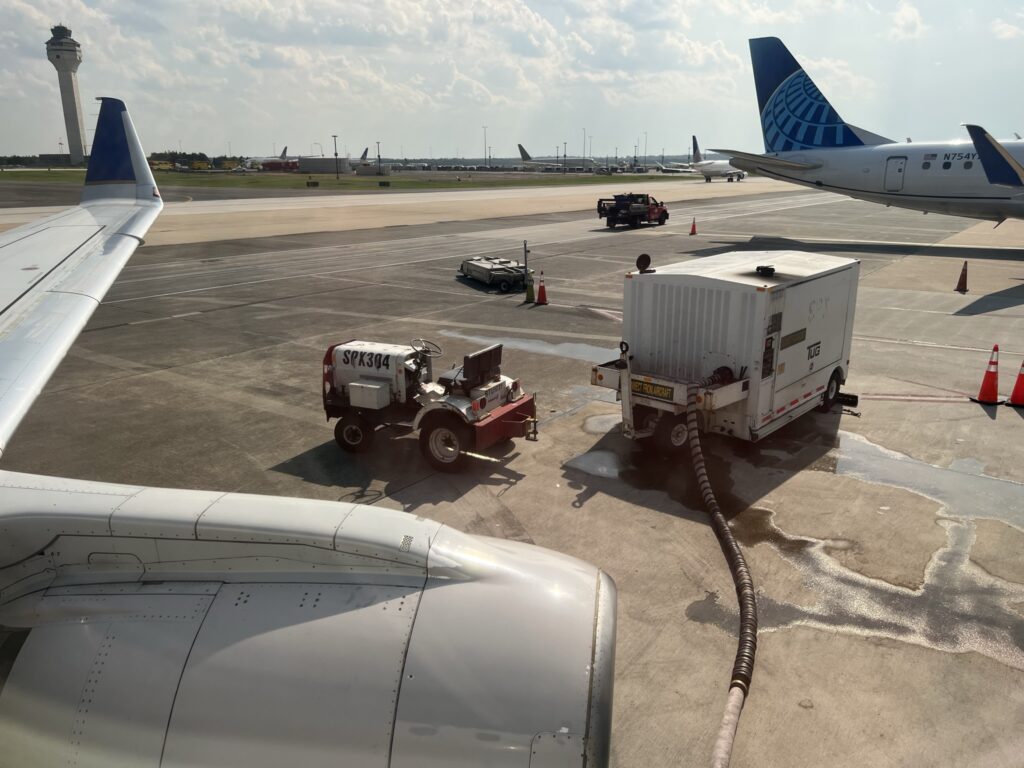 The flight itself was the typical unremarkable regional jet experience. Sometimes there is a water service in economy, sometimes there isn't. I honestly can't remember for this particular flight.
The legacy Gogo ATG-4 inflight Wi-Fi worked very briefly, complete with streaming entertainment and free messaging. But the lack of power outlets in economy on the E175 stings, especially since the smaller CRJ550 offers it.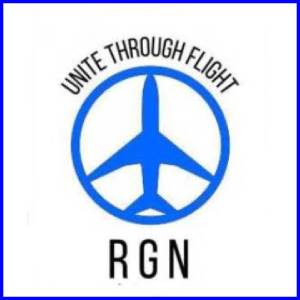 With just a brief delay after landing at LaGuardia we blocked into the gate 17 minutes early, a big victory for this often delayed flight.
My original flight also landed early, but less than an hour later landed at a then severely congested LaGuardia. The flight, complete with the coworker I abandoned by moving to the earlier flight (sorry, Lisa), took more than three hours to get to the gate.
At the end of the day, United's excellent iOS app saved the day by making it easy to list standby on an earlier flight, even if I literally paid for it in sweat.
Other major US airlines need to take notice as United is leaving them in the dust with its app. The competition has fallen far, far behind.
Related Articles:
All images of United's operations credited to the author, Jason Rabinowitz