Gearing up to launch Embraer E175 service between Bermuda and the US East Coast, new entrant BermudAir has turned to celebrated design house Factorydesign to create its stunning new all-business "aisle-class" seating configuration, which will debut on 1 November.
Launching service on 31 August, BermudaAir will initially offer a more traditional 2-2 seating configuration on its E175s, but with only half the seats sold to ensure extra space for all passengers. It has leased two E175s from Azorra.
Once the new aisle-class suites are installed, however, passengers can expect a 1-1 configuration featuring plush recliners, a privacy wall, a personal workspace and dining area, plus personal carry-on baggage storage within each suite. It is not immediately clear which seatmaker is manufacturing the suites.
Complimentary wireless entertainment and inflight messaging will also be available. "Once onboard connect to our BermudAir Wi-Fi network from your own device. We are delighted to offer you complimentary access to a range of TV programmes' movies' magazines' and more' as well as the ability to send and receive text-based messages using WhatsApp," says the start-up airline.
Factorydesign director and CCO Peter Tennent in a statement on LinkedIn says: "At Factorydesign Ltd we are hugely proud and privileged to have created a truly unique cabin environment for BermudAir.
"This exciting new airline will run services from the US East Coast to Bermuda in a private jet-style environment and for a fraction of the cost. Initially starting with a pair of seats sold as one; just wait for the converted all business class cabin to arrive."
Tennent explains that, by removing the inboard seat and replacing it with furniture, "these converted suites provide every passenger with far greater levels of privacy and comfort, enhanced side furniture and additional stowage. The suites are complemented by a sophisticated, premium cabin environment with delightful touches, such as the lighting which bathes the cabin in blue light on the way to USA, and pink light on the way to Bermuda. If you've ever caught a bus in Bermuda, you will know why."
Notably, BermudAir says it has also "jettisoned the overhead compartments — something no other airline has done before" but assures that passengers will have "plenty of room to store one carry-on and one personal item in your seating suite".
This is not the first time we've seen overhead bin removal, however. Part 135 operator JSX famously jettisoned bins on board its ERJ-145s, after a Covid-era 1-1 configuration was warmly received by passengers.
All-business configs are also not novel. French boutique carrier La Compagnie operates service from Newark, New Jersey to Paris Orly, Nice and Milan. And British Airways' all-premium A318 'baby bus' plied US-UK flights before Covid sealed its fate.
But with plush interiors and favorable pricing, BermudAir is offering a compelling new option for travelers bent on experiencing the picturesque beaches of Bermuda.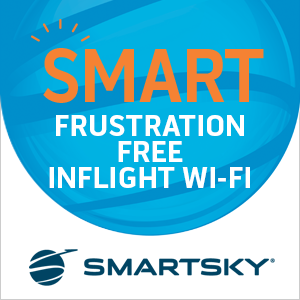 BermudAir will launch service from Bermuda L.F. Wade International Airport (BDA) to Boston Logan International Airport (BOS) and Westchester County Airport (HPN), near New York City, on 31 August.
According to the carrier's booking engine, flights to Fort Lauderdale-Hollywood International Airport (FLL) are presently scheduled to begin on 22 September.
"We are excited to launch BermudAir as Bermuda's first carrier, maintaining our commitment to start filling seasonal service gaps and establish frequency of service to and from the island this fall," says BermudAir founder and CEO Adam Scott in a statement.
"Our mission to elevate the travel experience for everyone and provide well-timed, traveller-centric, stress-free flights on these new routes is just the beginning. Establishing this year-round service is a first step in our journey to redefine the travel experience and we look forward to rolling out our phased introduction of BermudAir's aisle class."
Related Articles:
Featured image credited to Azorra